Kyle Henry talks sex on film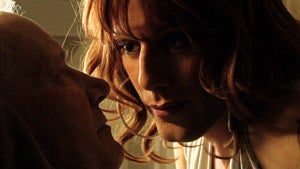 Four short films exploring transgression and sexual intimacy combine to make Kyle Henry's (MFA '99) excitingly subversive feature anthology, FOURPLAY.
Playing February 8-14 at Austin's Alamo Drafthouse Village (preceded by a special fundraiser screening for the Austin Film Society), FOURPLAY's sexually graphic stories manage to "exist in a realm that is neither pornographic nor prurient" [Austin Chronicle]. Standing on their own, two of the shorts, "Tampa" and "San Francisco," screened at the Cannes and Sundance Film Festivals.
Austin Chronicle's Pick of the Week, FOURPLAY has attracted overwhelmingly favorable reviews:
"The fact of the matter is this: FOURPLAY is so good, so uncomfortably revelatory and so resonant that the word needs to get out quickly. This is…one of the most provocative features of the year. It's like four perfect short stories from Flannery O'Connor or Eudora Welty." [The Austin American Statesman]
"Henry's film goes well beyond sexual transgressions, delving deep into the human condition." [Smells Like Screen Spirit]
". . . often funny, sometimes poignant, always unconventional and playfully erotic." This "smart and funny film shows … that sexuality encompasses so much more than physical flesh and bone." [Austin Chronicle]
FOURPLAY is not the first of Henry's critical successes. The recipient of many Austin Film Society Texas Filmmaker Production Fund grants, he premiered his narrative directing debut, the feature ROOM, at Sundance and Cannes in 2005. It went on to be nominated for two Independent Spirit Awards, including the John Cassavetes Award for best low-budget narrative.
In addition to narrative filmmaking, Henry is no stranger to documentaries, directing features such as UNIVERSITY INC., about the corporatization of higher education, and AMERICAN COWBOY, about a gay rodeo champ, which won a Student Academy Award. He edited Heather Courtney (MFA '00, Lecturer)'s Emmy-winning WHERE SOLDIERS COME FROM and eight other feature docs, including Sundance award-winning feature MANITO and PJ Raval's (Associate Professor, MFA '00) and Jay Hodges's TRINIDAD (Showtime).
RTF Department Chair Paul Stekler speaks highly of his former student. "Kyle Henry is such a talented filmmaker, not only a fearless director, but one of the best editors working in film that I know. I'm so proud that he came out of our program at UT."
Currently, Henry teaches film at Northwestern University in Chicago. We caught up with him prior to FOURPLAY's Austin Alamo Drafthouse run, to learn more about the film and his career.
What do you see FOURPLAY contributing to the cinematic tradition of depicting sex on screen?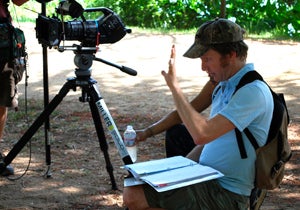 First and foremost I see FOURPLAY as helping in some small way to create culture conversation around sex as a powerful life-changing force in our lives. And I wanted to concentrate mostly on the positive aspects of this act. While shame and fear help create tension, comedy, and drama around the act of sex in FOURPLAY, I didn't want to punish the audience or the characters for participating in acts that viewers might find deviant. Sex is a major part of our lives and should be at least as prevalent and normalized as violence in our cinema as a story-telling device and tool to explore human behavior and psychology.
You've referred to directors Nicolas Roeg, Ken Russell, and Lindsay Anderson as inspirations, particularly for "their anarchic subversion of power through expressive excess." Can you elaborate?
These Brits were never afraid to push things "over the top" and use "bad taste" if necessary to communicate their point of view. They ask their viewers to dive into a full sensory experience, to identify with characters across the wide spectrum of humanity, while at the same time satirizing and critiquing power arrangements within society. For example, in almost all his biopics Ken Russell took on the deification of artists, whether it was Gustav Mahler's courting of fascists and converting to Christianity in order to advance his career or Claude Debussy's abusive womanizing, bringing both artists down to earth and off their pedestals. But at the same time Russell really overwhelms your senses with the music and imagery, forcing the viewer to confront the enigma of how sometimes very flawed people can make such beautiful art.
The film has potential to push audience members to or even past the edges of their comfort zones. What have been some of the responses to this kind of tension?
Laughter, tears, catharsis, anger, walkouts, spontaneous clapping, booing, you name it. I hate sitting through a film with quiet respect like attending a boring sermon; I want my films to involve the viewer and force a response. Do you agree or not with the suppositions we're putting forth about sex? Do you see yourself in these characters or do you revile them? The choice is yours, but when I plunk down my money and expend time and effort to go see a movie, I want to see something extraordinary. I want to have an experience that I'll never forget. So that's what I shoot for each time I make a film.
Can you talk a little bit about how you navigate your own vulnerability as you walk the line between a professional academic and an artist?
If I didn't continue to takes risks as an artist to become more human, to see more of life, to express myself in the most emotionally engaging and critical way possible, I don't think I'd be of much use to my students. The danger of appearing foolish happens every time you tell a vital truth about yourself and the world, but it is this revelation that makes the work necessary. I comport myself as a professional in both my academic and artistic work though, and strive to make both environments safe spaces where vulnerability can be expressed but within the confines of respect and dignity for all participants.
How do you think your experience as an editor, particularly on documentaries, has affected your work as a fiction film director?
I'm interested in making work with as much subtext and life as possible, just like most documentaries contain from the word go. But you don't get there always through improvisation and spontaneous dialogue. In real life people aren't normally confused about blocking, subtext, dialogue, et al, and a lot of stumbling around in low-stakes drama doesn't necessarily make a cathartic and/or entertaining film. I work with good writers who write wonderful dialogue and stories. Then I try to work with trained actors who add life and possibilities through performance and play. Often, I shoot scenes at least three different ways with actors' playing out various intentions. The possibilities are mixed and matched in editing via my "bullshit meter," which I think has become trained through watching so many real people over the years in thousands of hours of documentary dailies, to tell if an actor believes what they're doing and is in the moment, versus struggling to project an idea of something and failing. 
You've been to Cannes with two films now—the short "Tampa" from FOURPLAY and your first narrative feature, ROOM. Have you noticed any differences in audiences' receptivity to your work in Europe vs. stateside?
I do think audiences in Europe take cinema more seriously, perhaps more akin to novel writing here in America. You sometimes get more pointed and critical questions at European film fests, which I love because I love to hear the wide range of reactions that work elicits. This is where the excitement is at when attending a screening—the conversation and the debate that ensues, none of which now I take personally and often I find enlightening and surprising.
How did R.E.M.'s Michael Stipe become attached to the film?
Michael Stipe became involved after his C-Hundred Film Corp partner, filmmaker Jim McKay, shared with him a copy of FOURPLAY: SAN FRANCISCO, the first short to be completed. Michael said we had him from the first line of dialog, "Hello Aliya, this is Anne." Michael is an artist who supports other artists across many disciplines, as long as the work sparks his interest and he feels what the artist is doing needs to exist and needs support that can't be found in the commercial world. I was lucky to also have both Jim and Michael as executive producers on my feature film ROOM, so you never know what connections you will make over the years and what they will lead to.
Were there any challenges working with the dog in "Skokie"?
Yep, it's a dog, and even with two trainers, it wants to be a dog. We shot the dog with two cameras, mostly with no sync sound, which really helped because the trainers often needed to use audible commands. Again, dog = trouble. But we knew that going into the process so we also built in extra time... and had alternate strategies like smearing peanut butter on the side of the actress's face (facing away from the camera) if we needed some affectionate licking.
What were your main takeaways from the RTF program?
It was and is a great time to experiment, to creatively play, to push yourself to the limit of what you think is possible, to be true to your core being and make works you are proud of, to work with others and learn how to both give and receive criticism. I think I came out the other side with perhaps not a ready-made career but a more fully formed character, which in the end has sustained me as much as or more than any technical skills that I also picked up along the way.
You made FOURPLAY with your partner, Carlos Treviño, who wrote three of the four shorts. Can you describe what your collaboration style looked like?
Succinctly: mutual respect, admiration and honesty. We also try, as much as possible, to cordon off the professional from the personal relationship. In my personal life, he and I are there for each with unconditional support and love. Professionally, we had to learn ways to offer criticism and advice to each other that didn't damage that special relationship.
What would be your advice for a young filmmaker just starting out?
Try to be true to yourself but also define why your films need to exist in the world, if only for yourself. If you can come up with that reason for each project, it helps weather the storms that surely will come with each new film. And cultivate and nurture a creative gang. Film is not a solitary activity.
---
FOURPLAY is playing from Feb 8-14 at the Alamo Drafthouse Village, each screening followed by a Q&A with Director Kyle Henry. Not rated, 80 min. Written by Carlos Treviño and Jessica Hedrick. Cinematography by PJ Raval. Starring Sara Sevigny, Amy Jean Johnson, Danielle Rene, Atticus Rowe, Jose Villarreal, Paul Soileau, Gary Chason,  and Cyndi Williams.