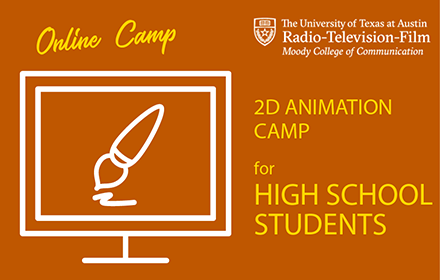 Online Camp
Make your imagination come to life this summer! During this two-week course, students will learn the basics of 2D digital animation as well as storytelling strategies. Each student will complete a short film that demonstrates their unique point of view. No previous animation experience required; however, return campers are welcome.
More details | What you'll need | Instructor | Session info (click here or see sidebar)
---
Snapshot
This workshop combines scheduled real-time virtual class meetings via Zoom, asynchronous material, and independent work.
Ages: 14–18 yrs.
Number of weeks: 2
Session dates: 7/26/21/-8/2/21 (new dates!)
Meeting schedule: M-F: 4:00 pm–6:00 pm CT (new times!)
Tuition: $360
---
Details
Meets for two weeks, Monday–Friday, between 4:00 pm and 6:00 pm CT over Zoom.
---
What you'll need at home
Computer with:
Wi-Fi / Internet access
Webcam
Microphone
Software / Apps
Pencil 2D (free animation software)
Zoom (free virtual conferencing app)
Accessories
Mouse or Drawing Tablet

Wacom Tablet or Stylus (optional)
 

Computer Headphones / Earbuds (recommended)
Other
Paper (computer paper or drawing paper for use as needed)
Pencil/pen (for use as needed)
Camera (optional)
---
Instructor: Brynne McGregor
Currently pursuing her MFA in Film and Media Production at The University of Texas at Austin, Brynne McGregor is a multimedia filmmaker working with celluloid film, found images, and hand-drawn rotoscope animation.
As an undergraduate at The Ohio State University, Brynne published her thesis, "In the Presence of Other Bodies: Ear-Opening Internal Sound in Nicolas Philibert's In the Land of the Deaf" in Film Matters Magazine. Her short films have screened internationally at festivals including Ann Arbor Film Festival, Athens International Film Festival, Aurora Picture Show's Extremely Short Film Festival, Columbus International Film Festival, Sjon International Anthropological Festival, and Visions Film Festival.
Session Information
Note: new dates & times
7/26/21/-8/2/21
2 weeks, M–F
4 pm–6 pm CT w/breaks
Ages: 14–18 yrs.
$360