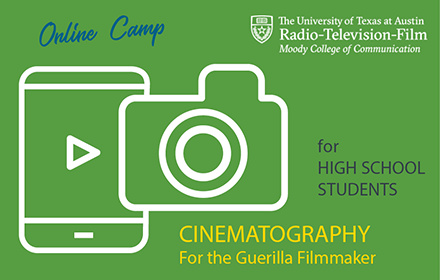 Online Camp
In this virtual intensive, we will explore how to make the best-looking film out of what you have available. Using smart phones, tablets, or cameras (whatever devices you have at home), students will complete multiple 1-to-2-minute shorts over the two-week course, in order to explore the many facets of cinematography. They will push their skills in composition, lighting, movement, and visual storytelling, while refining technical basics and learning to adapt those essential skills to any situation. We will also explore the history and traditions of the art of cinematography from early film to today's vast media landscape. Designed for content-creators, storytellers, and camera aficionados alike, this course will help you take your filmmaking to the next level.
Register for Session 1 by June 21
Register for Session 2 by July 12
More details | What you'll need | Instructor | Session info (click here or see sidebar)
---
Snapshot
This camp combines scheduled real-time virtual class meetings via Zoom, asynchronous material, and independent work.
Ages: 14–18 yrs
Number of weeks: 2
Session dates: Session 1: 6/28/21–7/09/21; Session 2: 7/19/21-7/30/21
Meeting schedule: M-F: 10:00 am–11:30 am CT+ final screening
Tuition: $595
---
Details
Students will create at least three 1-2 minute short films, each one exploring a different aspect of cinematography.
Virtual office hours / supervision:
M-F by appointment: 2 pm–4 pm CT
Rough Outline of Curriculum
Week 1
Monday—Introduction to Visual storytelling
Tuesday—Introduction to Camera and Framing Basics
Wednesday—Introduction to Lighting Basics
Thursday—Go over recreation exercise and present ideas for first short
Friday—How a Cinematographer preps for shoot day
Week 2
Monday—Critique Framing shorts
Tuesday—Camera Movement Analysis
Wednesday—Critique Movement shorts
Thursday—Lighting Analysis Part 2
Friday—Help polish off and finish shorts
---
What you'll need at home
Camera (either):
Smartphone with video recording capabilities (optional: with removable lenses)

DSLR digital video camera (1080 p minimum)
Computer: Laptop or PC with:
8GB RAM minimum & 16GB RAM or more recommended

Wi-Fi

Web cam

Microphone
Devices – Other:
External Hard Drive or Cloud-Based Storage (500GB minimum)

Tripod or camera stabilizer (such as iphone handlebar or shoulder rig) (optional)

Microphone (optional)
Software / Apps
Nonlinear editing software. One of the following:

Adobe Premiere Pro (preferred)
(a month-long subscription= $31.49/mo; can also subscribe to an annual plan or bundle with the Creative Cloud monthly or annual plan) 

Avid Media Composer (preferred)
(Free: 1-month trial. Or, 1-yr subscription for ~$24/mo; month-to-month subscription: ~$35/mo)

Final Cut X, iMovie, DaVinci Resolve also accepted

Zoom (free)
---
Instructor: Sebastian Valdivieso Jáuregui
Sebastián is an Ecuadorian-Colombian filmmaker who loves light, riding his bike, and petting any dog he meets. Sebastián's draw to storytelling comes from his life spent immersed in various languages and countries. He spent his childhood growing up in Brazil, Colombia, and Ecuador; he went to university in Mexico; and he is now pursuing his MFA at the University of Texas at Austin. Now that Sebastián is living for the first time outside of Latin America, he is incorporating his heritage and voice into his filmmaking by exploring the relationship between magical realism and hardship – a topic that was originally pioneered by some of his heroes such as Gabriel Garcia Marquez. Sebastián is particularly interested in characters who display a quiet resilience, a long-term grit, even in the face of insurmountable tragedy. His works seek to de-dramatize adversity as he investigates what allows survivors to endure. In this way, he hopes to familiarize his audience with struggle to incite global change.