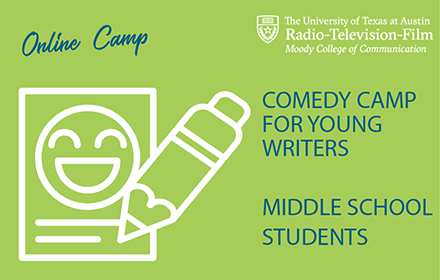 Online Camp
Are you a future Late Night TV host? A TikTok star in the making? A future cast member of Saturday Night Live? This virtual summer camp will help you hone your skills to be a comedy writer. Students will explore writing jokes, developing their own funny characters, and writing sketch comedy. Students will participate in short, improvisational games as a way to brainstorm funny material, and will learn how to write and revise their comedy jokes and scenes. The camp will end in a virtual showcase on Friday.
More details | What you'll need | Instructor | Session info (click here or see sidebar)
---
Snapshot
This workshop combines scheduled real-time virtual class meetings via Zoom, asynchronous material, and independent work.
Ages: 11–13 yrs.
Number of weeks: 1
Session dates: 6/28/21-7/2/21
Meeting schedule: M-F: 10 am–3:30 pm (with breaks)
Tuition: $285
---
Details
Meets Monday–Friday, between 10 am and 3:30 pm CT:
10 am–12 pm CT– Morning Meeting via Zoom
12 pm–2 pm CT– Independent Work Time
2 pm–3:30 pm CT – Afternoon Check-in via Zoom
---
What you'll need at home
Devices:
Software / Apps
Word processing software. Some suggestions:

Google docs
Microsoft Word
Pages

Scriptwriting software (optional). Some suggestions:

Zoom (free virtual conferencing app)
---
Instructor: Hayley Daniels
Hayley Daniels is an MFA Screenwriting student at the University of Texas at Austin, and writes sitcoms and teen comedy features. She performs improv comedy with her team SwitchBlade at ColdTowne Theater in Austin, Texas. Hayley grew up in Virginia, earned a Bachelor of Arts in Theatre with a minor in Creative Writing from William and Mary, and trained in sketch and improv comedy at the Push Comedy Theater. For 3 years, Hayley served as a theatre teacher for pre-teens and teens at Newport News Public Schools.