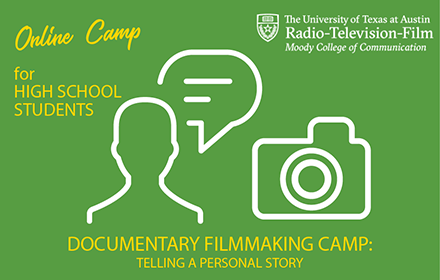 Online Camp
Learn to become a wildly creative and bold documentary filmmaker. This intensive workshop will focus on pushing your creativity to its edge through visual storytelling with topics ranging from inventive story structure to playful cinematography, sound design and editing tricks. Using archival footage, home videos, social media, and original cinematography, students will apply what they learn to create an immersive 3-5-minute documentary film. Each week, students will screen their work with their classmates and engage in guided discussions. Bring your sense of adventure!
More details | What you'll need | Instructor | Session info (click here or see sidebar)
---
Snapshot
This camp combines scheduled real-time virtual class meetings via Zoom, asynchronous material, and independent work.
Ages: 14–18 yrs.
Number of weeks: 4
Session dates: 7/6/21-7/30/21
Meeting schedule: Meets 2x/week on Tu/Th: 10:00 am–12:00 pm CT;
Office hours/ supervision by appointment:  F: 10:00 am–3:00 pm CT;
Tuition: $595
---
Details
Scheduled Meetings:
Over the course of four weeks, meets twice a week.
Tuesdays & Thursdays: 10:00 am–12:00 pm CT
Virtual office hours / support set up
Friday - 10AM–3PM, Instructors will be available on Zoom.
Camp overview:
Week 1: Intro to Documentary; Refine Story Ideas; Develop a Pitch
Week 2: Interview Techniques; Intro to Editing
Week 3: Find the Story in Post; Edit for Documentary
Week 4: Sound Mixing & Screenings
---
What you'll need at home
Devices:
Smartphone or Digital Camera

Computer. Whatever computer you have.

The more RAM, the better. 8GB RAM minimum & 16GB RAM or more recommended

Wi-Fi

Web cam

Microphone

External Hard Drive (optional)

Tripod (optional)
Software / Apps
Nonlinear editing software. Recommended Programs

Adobe Premiere Pro
(1-yr subscription for $21/mo; month-to-month subscription: $31.49/mo; or bundled with the Creative Cloud monthly or annual plan) or

I Movie

Adobe Media Encoder (optional)

Zoom (free)
---
Instructor: Robert Hope
Robert Hope is a filmmaker originally from Northern California. He trained and worked professionally as an actor in classical theater before making a shift towards documentary filmmaking. He loves to tell personal and character-driven stories about outsiders and mental health.
Robert recently completed a personal documentary about living on an ex-commune in Los Angeles.  The film premiered at the Oscar qualifying Amdocs Film fest and is set to play at Dead Center Film Festival in June. Robert also produced a queer sci-fi film set in the California redwoods, Amanda Test_1, which premiered at HBO's Outfest and found a large online audience on the sci-fi youtube channel Dust. He's also a TikToker with over 200k followers. Robert is currently an MFA candidate in Film Production at the University of Texas at Austin.
Session Information
7/6/21-7/30/21
4 weeks, 2x/wk
Tu&Th: 10 am-12 pm CT
F: office hours by appt
Ages: 14–18 yrs.
$595