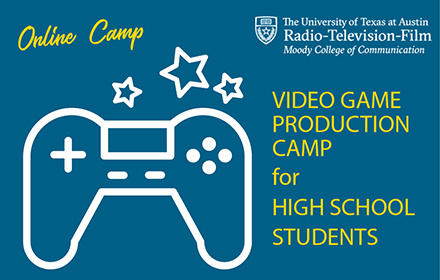 Online Camp
Do you like to play video games? Have you ever wanted to make your own video game? Join us as we create a game from the ground up! We will build fully 3D environments that are beautiful and fun to play!
Each student will be the "lead" on their own level, using Unreal Engine. No prior knowledge necessary...this is a great way to learn how the basics of 3D game design. Participants will emerge with a fully playable demo level of their own design using content created inside of Unreal Engine.
Please make sure that your computer meets the minimum requirements; this camp is not possible to complete on a MAC.
More details | What you'll need | Instructor | Session info (click here or see sidebar)
---
Details
This workshop combines scheduled real-time virtual class meetings via Zoom, asynchronous material, and independent work.
Ages: 14–18 yrs.
Number of weeks: 4
Session dates: 6/28/21-7/23/21
Meeting schedule: Mondays & Thursdays, 3:30-5:15 pm CT
Office hours: Fridays by appointment between 4-6:30 pm CT
Tuition: $595
---
What you'll need at home
Devices:
Computer

Windows 10 OS (No Macs: this camp is not possible to complete on a MAC)
8GB RAM minimum & 16GB RAM or more recommended
NVIDIA or AMD GPU with at least 4gb VRAM
Quad Core CPU (At least 2.5 ghz i5 up to faster i9 or any new AMD Ryzen CPU)
Wi-Fi
Web cam
Software / Apps
Unreal Engine (free download)

Zoom (free virtual conferencing app)
---
Instructor: Deepak Chetty
As Assistant Professor of Practice in the University of Texas at Austin Department of Radio-Television-Film, Deepak Chetty is a Director, Cinematographer, VFX specialist and XR explorer based out of Austin, Texas.
He received his BFA in Film Production from Pratt Institute in Brooklyn, NY, and his MFA in Film Production from UT Austin.
His film Hard Reset was named  "Best 3D Live Action Short" (it was shot natively in stereoscopic 3D) by the Advanced Imaging Society, honored the same year among other winners such as The Martian by Ridley Scott and Star Wars: The Force Awakens by J.J Abrams. Hard Reset also won him the Best Director award from the Catalyst Content Festival (formerly ITVFest) which counts HBO and The National Academy of Television as main sponsors. Hard Reset has been distributed by Gunpowder and Sky where it is featured on their curated Sci-Fi network DUST where cross-platform it has gathered over half a million views. A feature adaptation of the project has been optioned and is in pre-production.
As a director and consultant for high concept commercial and industrial pieces, he works with media production company Revelator. His recent projects include work for companies such as USAA, National Instruments, Tenaris, and Spredfast.
As a cinematographer, his work on short films has been featured at festivals including Slamdance, SXSW, The Hampton's International Festival, and Austin Film Society's "10 under 10" program. In the feature film arena, he served as cinematographer on The Love Inside, directed by UT alums Mark Smoot and Andy Irvine, which was distributed by Gravitas Ventures and is available across all VOD platforms.
As a motion graphics and VFX specialist, he got his start while living in New York creating motion graphics for internationally broadcasted documentary films such as HBO's Roman Polanski: Wanted and Desired and Pure Fragment Film's Blank City. In 2012 his animated short parody Looper 8-Bit went viral and received acclaim from the nerdier parts of the internet including the original film's director Rian Johnson and its star Joseph Gordon-Levitt.
Recently, his feature film VFX credits include Noel Well's film Mr. Roosevelt, Rooster Teeth's Lazer Team, and Travis Matthew's Discreet.
On television, his VFX work includes Rooster Teeth and Michael B. Jordan's Gen: LOCK, and PBS's Fixing the Future.
In the world of XR (Virtual Reality/Augmented Reality/Mixed Reality), he is a partner and Head of Post Production at Digital Quilt, a full-service XR company based out of Los Angeles whose clients include Uber, Stanford Medical, Wendy's, Electronic Arts, NBC/Universal, Reebok, Vice, and The Washington Post among others.
He has spoken internationally about Virtual Production, Real-Time Rendering, and XR including workshop and panel appearances at SXSW, Austin Film Festival, the Austin Film Society, the Online News Association, The Monterey Institute of Technology and during the Goldsmith Lectures held by UT's School of Architecture. 
At UT, his XR work has led to large collaborative projects with the Department of Radio-Television and Film, the School of Journalism, the College of Fine Arts, and the Texas Advanced Computing Center. 
You can view his work and leave him a message by visiting deepakchetty.com.
Session Information
6/28/21-7/23/21
4 weeks, M & Th
3:30-5:15 pm CT;
Fri: Office hours by appt, 4-6:30 pm CT
Ages: 14–18 yrs.
$595