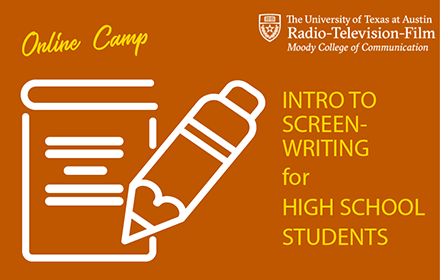 Online Camp
This summer, teenagers can let their creative imaginations run wild while learning the craft of screenwriting. In this two-week screenwriting course, taught by RTF grad students at UT, campers will study scenes from screenplays; watch and discuss movie clips and short films; learn about character, setting, dialogue, and structure; and write screenplays. They will collaborate with other creative teens as well as write their own original short scripts.
Register for Session 3 by July 19
More details | What you'll need | Instructor | Session info (click here or see sidebar)
---
Snapshot
This workshop combines scheduled real-time virtual class meetings via Zoom, asynchronous material, and independent work.
Ages: 14–18 yrs.
Number of weeks: 2
Session dates: Session 1: 6/28/21–7/9/21; Session 2: 7/12/21–7/23/21; Session 3: 7/26/21–8/6/21
Meeting schedule: M-F: 10 am–11 am lecture/discussion; 1–3 pm workshop CT
Tuition: $595
---
Details
Meets Monday–Friday, between 10 am and 3:00 pm CT:
10 am–11 am CT– Morning lecture/discussion via Zoom
11 am–1 pm CT– Independent Work Time
1 pm–3 pm CT – Afternoon Check-in via Zoom
---
What you'll need at home
Devices:
Software / Apps
Scriptwriting software. Some suggestions:

Zoom (free virtual conferencing app)
---
Instructors: Rikki Bleiweiss & Jerold Wallace
Session 1: Rikki Bleiweiss
Rikki Bleiweiss is a graduating Screenwriting MFA student at the University of Texas at Austin. Her work has been recognized by numerous screenwriting competitions and film festivals, including Austin Film Festival, Slamdance Film Festival, Sundance Institute, Humanitas, Screencraft, WeScreenplay, and Launch Pad Pilot & Feature Competitions. She was previously a semifinalist for the Disney-ABC Writing Fellowship. Rikki is originally from Houston, Texas.
Sessions 2 & 3: Jerold Wallace
Jerold Wallace is a second-year Screenwriting MFA student at the University of Texas at Austin. His writing typically falls within the comedy and horror genres. On top of his own writing, he served as a Teaching Assistant for the Screenwriting 101 course for multiple semesters, leading feature and TV workshops with undergraduate students. Before becoming a screenwriter, he spent close to six years teaching middle school in Phoenix and Houston.