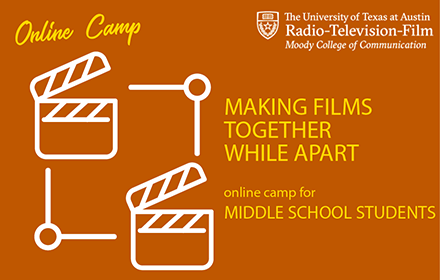 Online Camp
Films are typically made alone by one person with no outside help. Right?... WRONG. Filmmaking isn't a solitary process. It's a team effort. It's working together. It's collaboration.
But how do we collaborate with others when we can't physically be on a film set or around others for an extended period of time? Well, luckily, filmmaking isn't just one thing. Filmmaking is also versatile. It's also fluid. It's also problem-solving.
So, let's solve that problem. Let's find a way to collaborate, learn together, and make films as a group, while apart. That's where this camp comes in...
In this two-week camp, we'll focus on two main objectives. First, we'll introduce and build core filmmaking skills through daily exercises, exploring such topics as storytelling, screenwriting, cinematography, sound, and editing. Then second, we'll utilize those new skills and create a collective short film where everyone contributes a piece to the puzzle.
How are we going to make a film together when we're not in the same place as one other? That's where the creativity comes in. Sounds like a fun problem to solve. Right?... RIGHT.
So let's collaborate. Let's solve problems. Let's try something new. Let's learn from our mistakes and then try again. Let's make a rewarding film and show it off to our friends and family. Put simply, let's make films together (even while apart). And let's have fun while we do it.
More details | What you'll need | Instructor | Session info (click here or see sidebar)
---
Snapshot
This camp combines scheduled real-time virtual class meetings via Zoom, asynchronous material, and independent work.
Ages: 11–13 yrs
Number of weeks: 2
Session dates: 7/19/21-7/30/21
Meeting schedule: M-F: 10:00 am–4:00 pm CT with breaks
Tuition: $440
---
Details
Daily Schedule:
10 am–12:30 pm:   Welcome, morning lecture, Individual exercise—with 15 minutes of breaks
12:30 pm–1:30 pm:    Lunch break
1:30 pm–4 pm:   Exercise review, Afternoon lecture, Group exercise, Daily wrap up–with two 15-minute breaks
---
What you'll need at home
Note: we will both send out a survey and hold an orientation and tech support appointments online before the start of camp to make sure you are all prepared.
Camera (one of the following):
iPhone (iOS 13 or later)
Android (version 10 or later)
DSLR, Mirrorless, GoPro, or equivalent camera with video capabilities
Computer:
Mac (OS 10.13 or later) or PC (Windows 10 or later)
8GB of RAM (16GB recommended)
25GB of free hard drive space (internal or external drive)
Webcam
WiFi connection (at least 25 Mbps)
Additional Accessories:
Headphones (w/built-in microphone preferred)
Software - smartphone
Software - computer
---
Instructor: 
Veronica Maciel
Veronica was born in Mexico but considers herself a global citizen. She is smitten by human nature and as a current MFA candidate in Film Production at UT Austin, she is interested in telling stories that awaken empathy from the audience, projects that help overcome barriers of language, politics, religion or geography, and develop a narrative that appeals to the deepest human emotions.
Her work as a Director and Producer with 'Pagana Films" has been awarded internationally with the Sony Production Awards, Latin American Short Film Competition and nominated to the Mexican Ariel Awards and Latin Grammy.