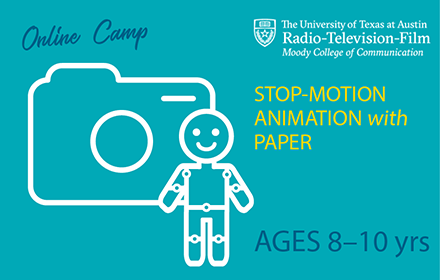 Online Camp
Your kids will learn the magic of stop-motion animation as they bring their imagination to life. Campers will start out by sampling a variety of stop-motion animation techniques and then will use their new skills to make their own short films.
Parents: we will need your help with setting up their animation stations, both prior to and at the start of the session. (Don't worry: we'll walk you through it!) However, by the end of the week, campers will learn to make animations on their own and will leave with the technical skills and animation-making setups they need in order to continue making films for the rest of the summer and beyond.
Sign up just this session or also for our claymation camp the previous week. No prior animation experience is necessary. Return campers are also welcome.
More details | What you'll need | Instructor | Session info (click here or see sidebar)
---
Snapshot
This workshop combines scheduled real-time virtual class meetings via Zoom, asynchronous material, and independent work.
Ages: 8–10 yrs.
Number of weeks: 1
Session dates: 7/5/21–7/9/21
Meeting schedule: M-F: 10:00 am–12:00 pm CT and 12:30 pm–1:30 pm CT
Tuition: $185
---
Details
Meets for one week, Monday–Friday, 10:00 am–12:00 pm CT and 1:00 pm–2:00 pm CT
---
What you'll need at home
Note: We are here to support you! We will send out surveys and hold orientation sessions before camp to make sure you have everything you need in place. Here is a helpful video for setting up our workstation.
Class Meeting Device:
This device will require:
Wi-fi / Internet access
Webcam
Use of a web browser
Built-in microphone
Zoom app installed (We will walk you through Zoom).
Can be one of the following
PC Desktop or Laptop
Chromebook
Mac Desktop or Laptop
Tablet (IPad, Kindle, etc.)
Capture Device
Digital Camera / photo recording device for taking stop-motion photos
This should be a separate device from the Class Meeting Device. It needs to be able to take photos and have either Bluetooth or a USB cable. We recommend keeping it fully charged. Please note: this device will not be available for anything other than animation during the designated class hours. (Please bear this in mind if kids will be using a parent's smartphone.)
Can be one of the following:
Smartphone: Android
Smartphone: iPhone
Tablet (iPad, Kindle, etc.)
Digital camera (DSLR camera, etc.)
HueHD USB digital camera

Note: the Hue animation software that comes with the camera isn't supported by newer Operating Systems; however, because it comes on a gooseneck stand, the USB camera won't need a tripod and can support overhead shooting.

Hue HD Pro version - has a longer neck than the standard version, bulit-in light, and bulit-in microphone
Camera Stabilization:
In order to achieve an animated effect, it is important to keep the camera still while shooting. This support must allow for overhead shooting.
Can be one of the following:
Tripod for camera device
Camera stand
Use Hue camera with built-in stand (see above)
Software / Apps:
Stop Motion Studio (free version suffices; you can also upgrade to Pro version for $10)
Zoom (free virtual conferencing app)
Accessories:
Computer Headphones / Earbuds (recommended but not required)
Craft Materials:
This camp is very hands-on and engaging! To make everything work, we ask that you gather all craft materials prior to the start of camp.
Here is a list of materials that apply to our stop motion camps.
---
Instructor: Emily Shapiro
Emily received her BFA at Massachusetts College of Art and Design, concentrating in experimental animation. Her background in arts-based human services and education, working with the disability community, has encouraged her to explore the intersection of filmmaking and activism. Her most recent film is called And You See Me, a short documentary about a community of mixed-ability improvisational dancers in Austin.