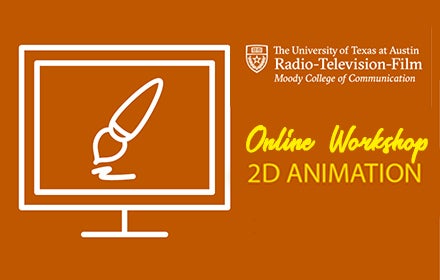 Online Workshop
In this four-week course, students will learn the basics of 2D digital animation and explore a variety of storytelling strategies. Foregrounding storytelling as an immediate art, each week, students will complete a short project demonstrating technical principles and personal point of view. Any level of animation experience is encouraged.
More details | What you'll need | Instructor | Session info (click here or see sidebar)
---
Snapshot
This workshop combines scheduled real-time virtual class meetings via Zoom, asynchronous material, and independent work.
Number of weeks: 4
Session dates: 8/2/21–8/26/21
Number of meetings per week: biweekly plus access to instructor for one-on-one instruction
Meeting schedule: M/Th [last week will be M/Tu]: 6:00 pm –8:00 pm CT
(with optional office hours by appt.)
Tuition: $320
---
What you'll need at home
Computer with:
Wi-Fi / Internet access
Webcam
Microphone
Software / Apps
Pencil 2D (free animation software)
Zoom (free virtual conferencing app)
Accessories
Mouse or Drawing Tablet

Wacom Tablet or Stylus (optional)
 

Computer Headphones / Earbuds (optional)
Other
Paper (computer paper or drawing paper for use as needed)
Pencil/pen (for use as needed)
Camera (optional)
---

Instructor: Emily Shapiro
Currently pursuing her MFA in Film & Media Production at the University of Texas at Austin, Emily received her BFA at Massachusetts College of Art and Design, concentrating in experimental animation. Her background in arts-based human services and education, working with the disability community, has encouraged her to explore the intersection of filmmaking and activism. Her most recent film is called And You See Me, a short documentary about a community of mixed-ability improvisational dancers in Austin.
Session Information
8/2/21–8/26/21
4 weeks, 2 meetings per week
M/Th (wks 1-3) 6:00 pm–8:00 pm CT
M/Tu (wks 4) 6:00 pm–8:00 pm CT
$320