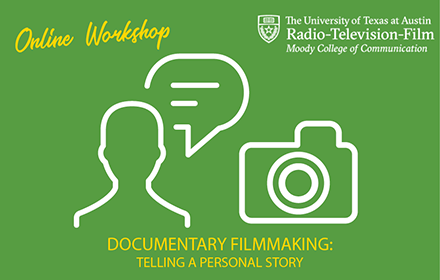 Online Workshop
Locate stories within you. By researching personal archives and public collections, we will create new works from found archival footage. Also, we will be filming something original using smartphones, digital cameras, or laptops, depending on the story. Through this workshop, we will be reinventing a solitary, craftsmanlike cinema. Topics covered will include creative strategies within archival research, documentary storytelling techniques, editing with multiple media formats, and designing sound in any non-linear editing platform. This is an online production and post-production intensive workshop that will require some significant production and editing work outside of class sessions. There will be a healthy critique and discussion every week regarding students' work.
Final Project: 5-10 min. short, non-fiction film. Screening with Q&A in the last week.
More details | What you'll need | Instructor | Session info (click here or see sidebar)
---
Snapshot
This workshop combines scheduled real-time virtual class meetings via Zoom, asynchronous material, and independent work.
Number of weeks: 4
Session dates: 6/28/21 - 7/21/21
Number of meetings per week: two 2-hour meetings, plus access to instructor office hours for one-on-one instruction
Meeting schedule: M/W: 5 pm – 7 pm CT
(with optional office hours by appt, on Fridays between 10 am and 3 pm)
Tuition: $775
---
Details
Here's a bird's eye view of what we will cover, week-by-week:
Week 1: Introduction to Documentary Form, Discussing Story Ideas & Developing a Pitch

Week 2: Interview Workshop, Production and Archival Research, Basic Editing Techniques

Week 3: Organizing the Edit, Finding the Story, Preparing for Rough Cut

Week 4: Understanding Sound Design, Preparing for Delivery, Final Screenings with Q&A.
---
What you'll need at home
Devices:
Smartphone or Digital Camera

Computer: Laptop or PC with

8GB RAM minimum & 16GB RAM or more recommended

Wi-Fi

Web cam

External Hard Drive (optional)

Tripod (optional)
Software / Apps
---
Instructor: Sachin Dheeraj
Sachin is an engineer turned filmmaker from India. He is currently pursuing an MFA in Film Production at the University of Texas at Austin where he is studying both fiction and non-fiction media. His short documentary "The Bubbleman" premiered at SXSW Denius Longhorn Showcase in 2018 and has also played at many festivals including in the 22nd Annual Cine Las Americas International Film Festival and 2020 Edition of Cinequest Festival in the USA. He also attended the Summer Filmmaking Initiation workshop at Film and TV School of the Academy of Performing Arts in Prague (FAMU), Czech Republic, where he had the opportunity to collaborate with peers from different cultural backgrounds. Through cinema, he seeks to explore literature, science, philosophy, and life. Over the next few years, he would like to grow as an influencer and tell stories that demand an urgent conversation.
Session Information
6/28/21 - 7/21/21
4 weeks, 2 meetings per week
M/W: 5 pm - 7 pm CT
One-on-One Supervision
by appt.
Friday 10 am - 3 pm
$775