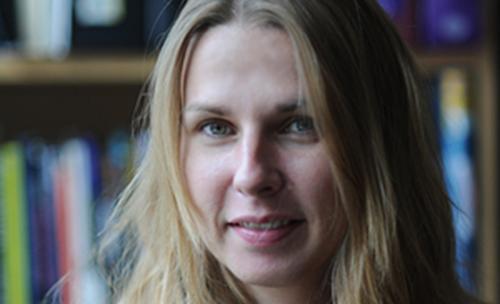 Thursday, August 30, 2018
3:30 PM - BMC 5.208
Amelia Arsenault, Senior Advisor, Research and Evaluation, U.S. Department of State and Assistant Professor, Georgia State University
Arsenault's talk will focus on the evolution of big data in the media industries and the implications for global media ownership and power.
Big Data ®evolution: Datafication, Media, and Power
Arsenault's talk will focus on the evolution of big data in the media industries and the implications for global media ownership and power. The demand for more data-financial or otherwise- has long been a driving force in the media industries. The datafication of media and the application of big data services to that data, however, are facilitating the digital realization of networks of competition and collusion on a much larger scale than those previously witnessed in the analogue form of joint ventures and the trade of goods and service. Her talk will focus on the key ways that "big data" is being leveraged to normalize the convergence of new and old media networks. She will highlight how the conflation of production, distribution, and marketing functions has allowed for new economies of scale and synergy amongst formerly integrated, but largely disparate departments and spheres of influence, and further complementary connections between traditional information companies like IBM, media content driven players like Time Warner, and companies like Amazon and Microsoft that control the hyperscale networks through which media data flows.
Amelia Arsenault is Assistant Professor of Communication at Georgia State University. She is currently on a two-year leave from GSU serving as Senior Advisor in the Public Diplomacy Research and Evaluation Unit in the Office of the Under Secretary of Public Affairs and Public Diplomacy in the Department of State where she provides guidance on long-term research strategies on subjects related to international communication. She has an extensive record of academic and professional publications related to media industries, global media ownership, network theory, new media, and public diplomacy. She was previously a non-resident fellow at the USC Center on Public Diplomacy at the Annenberg School for Communication, a resident fellow at the Center for Media, Data, and Society and the Institute for Advanced Studies at Central European University, and the Media and Democracy Research Fellow at the University of Pennsylvania Annenberg School. She is a member of the Editorial Collective of the open-access journal, Media Industries and served as co-Managing Editor (with Alisa Perren) from 2012 to 2017.  She holds a B.A. in Film and History from Dartmouth College and an MSc in Global Media and Communication from the London School of Economics and Political Science, and a PhD from the University of Southern California Annenberg School.