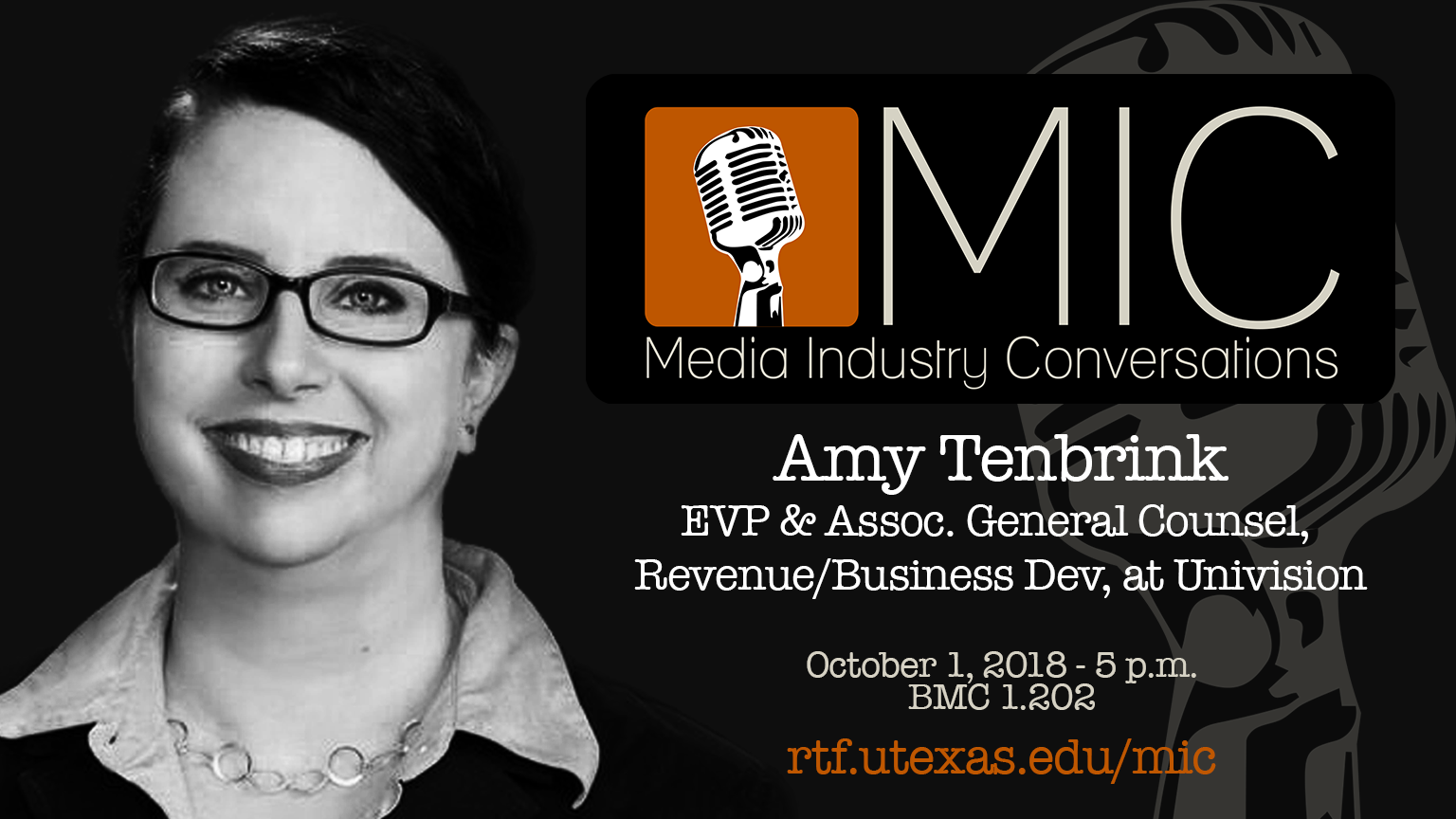 Amy Tenbrink (EVP & Assoc. General Counsel, Revenue/Business Dev, at Univision Communications)
When: Monday, October 1, 2018 - 5-6:15 p.m.
Where: BMC 1.202
Amy Tenbrink discussed her career trajectory, her roles and responsibilities as EVP and Associate General Counsel of Revenue/Business Development at Univision Communication, and her views on the current state of the television industry.
Amy Tenbrink's Biography 
Ms. Tenbrink currently serves as Executive Vice President and Associate General Counsel – Revenue and Business Development, for Univision Communications. In this role, Ms. Tenbrink both leads the legal team with respect to all revenue-generating businesses and other initiatives for Univision (including content distribution and advertising sales) and serves as a strategic business advisor with respect to those same businesses and initiatives. Prior to this role, Ms. Tenbrink served as the Senior Vice President Business Affairs for Univision, and led the content distribution legal team in deals ranging from traditional MVPD distribution to innovative digital arrangements. Before joining Univision, Ms. Tenbrink was Director and Senior Corporate Counsel for DISH Network, where she first supported a wide range of business units (including consumer, commercial and advertising sales) and later, led the legal team for DISH's content acquisition group, which negotiates billions of dollars in content deals annually. Prior to her work at DISH, Ms. Tenbrink worked in private practice, focusing primarily on technology, intellectual property, and finance. Ms. Tenbrink holds degrees with honors from both the University of Southern California and the Georgetown University Law Center.