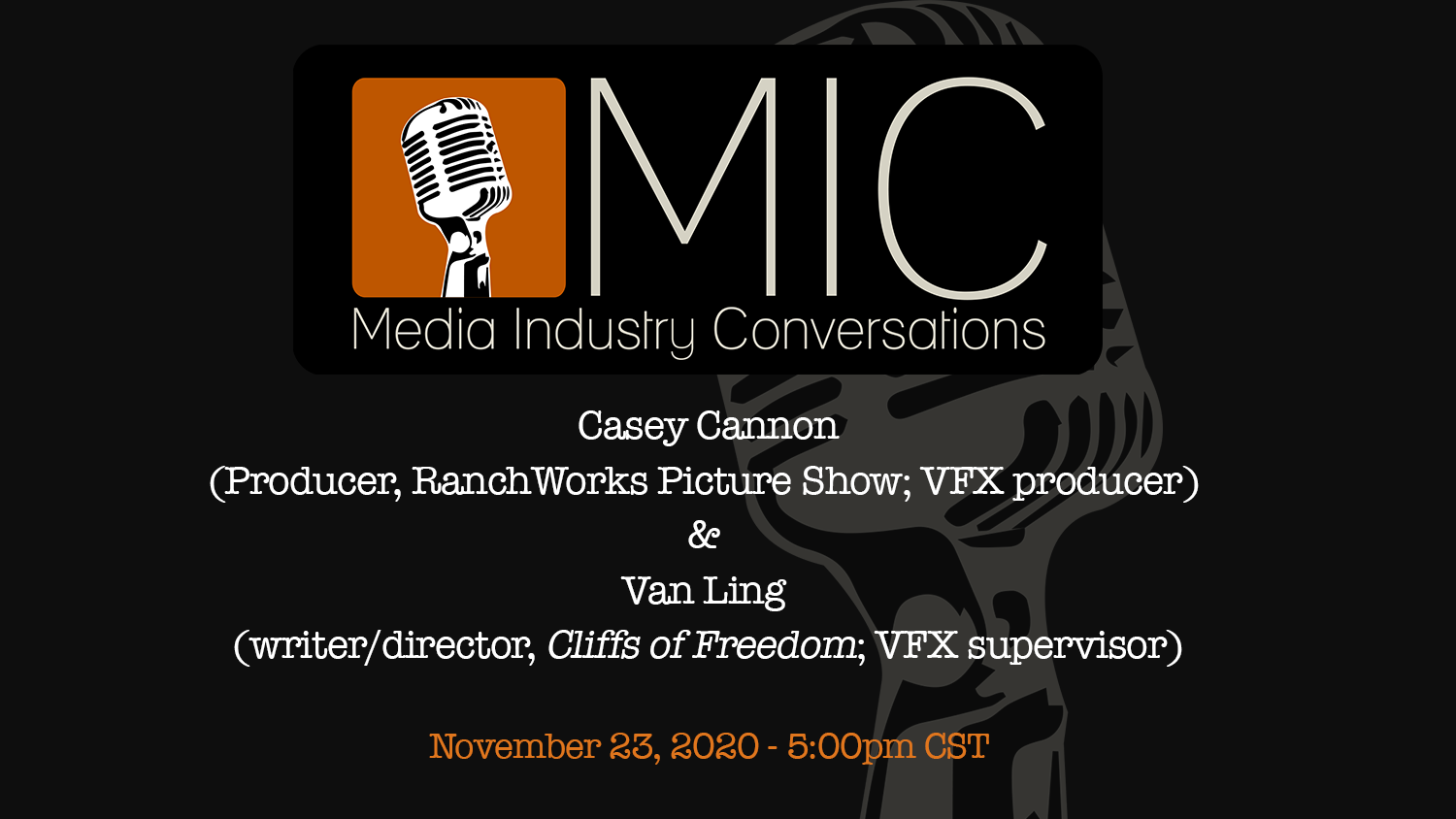 Casey Cannon (Producer, RanchWorks Picture Show; VFX producer) and Van Ling (writer/director, Cliffs of Freedom; VFX supervisor)
When: Monday, November 23, 2020 - 5:00-6:15pm CST
Please join us for a Q&A session where we discuss the career trajectories, roles and responsibilities, and views on the current state of the media industries of both Casey Cannon and Van Ling.
To register, please fill out this form and we will send out the Zoom webinar link the day-of. 
Casey Cannon's Biography 
After thirty years in the film, music and entertainment industries, working on everything from Max Headroom and Titanic to Vanilla Sky and The MTV Movie Awards, creative hyphenate Casey Cannon made her full feature film producing debut on Cliffs of Freedom, released theatrically in 2019.
Coming up the ranks while working at such diverse companies as Vidal Sassoon, Coca-Cola, Sony Music and in the then-nascent computer graphics division of visual effects powerhouse Industrial Light & Magic, Cannon proved versatile enough to guide projects ranging from fashion and brand marketing to music and film. While working on films such as Back to the Future II and The Hunt for Red October at ILM, Cannon developed her creative problem-solving talents and soon started her own boutique company, Banned from the Ranch Entertainment, and became a respected visual effects and computer graphics producer on such films as Congo, Doctor Dolittle, Hollow Man, Jerry Maguire, Stir of Echoes and many more, while also finding the time to work with the Joffrey Ballet on their Billboards program featuring the music of Prince.
Working with up-and-coming filmmaker Van Ling in the early '90s on both a number of music and concert videos as well as the Terminator 2 Special Edition kickstarted nearly three decades of collaboration on dozens of high-profile feature films and other new media projects, which culminated in their work on Cliffs of Freedom for Aegean Entertainment, which had spent a decade trying to bring a feature film version of its story to fruition before Cannon was able to use her industry acumen to make it happen.
A member of the Producers Guild of America and the Visual Effects Society, Cannon continues to develop projects for both classic and new media formats through her company Creative Hyphenates, and has also used her ever-expanding talents to advise and help other up-and-coming filmmakers realize their visions.
Van Ling's Biography 
A graduate of the USC Cinema School, writer/director Van Ling managed to take a home-made Aliens Halloween costume he built on a dare in 1986 and parlay it into a 30-year film career. After gaining the attention of producer Gale Anne Hurd and director James Cameron, he spent eight years getting his "graduate education" at Cameron's side, on the sets and behind the scenes of such films as The Abyss and Terminator 2, where he was able to hone his love of filmmaking, storytelling and visual effects on the ground floor of the digital filmmaking revolution.
After joining forces with longtime producing partner Casey Cannon, Ling spent another decade creating visual effects and computer graphics on such films from Titanic, Starship Troopers, and Twister to Dr. Dolittle, Not Another Teen Movie and many more, while also branching out into laserdiscs, DVD and then Blu-ray creation, where he became one of the pioneers of in-depth special features and innovative menus, garnering multiple awards for such titles as the Special Editions of The Abyss, T2, Independence Day, and the first six Star Wars films on DVD. After adding effects/graphics work for both TV (HBO's John Adams, AMC's The Walking Dead), branded design (creating several of the well-known THX trailers seen in theatres) and theme park attractions (Disney's Star Tours: the Adventures Continue) to his body of work, Ling was eventually able to combine his storytelling and visual skills by making his feature film writing and directing debut on Cliffs of Freedom for Aegean Entertainment, which opened in theaters in 2019.
When not working on new entertainment projects, Ling continues to bring his years of experience in storytelling, design, graphics, visual effects, editing and producing to studio projects as an independent consultant, ranging from innovative home entertainment features to worldwide theme park attractions. In addition, Ling is an active member of the Academy of Motion Picture Arts and Sciences and has served for more than a decade as a Board Member of the Visual Effects Society, and is known for editing inspiring year-end visual effects montages for both organizations. He is also a member of the Directors Guild of America, the Producer's Guild of America and the Screen Actors Guild.