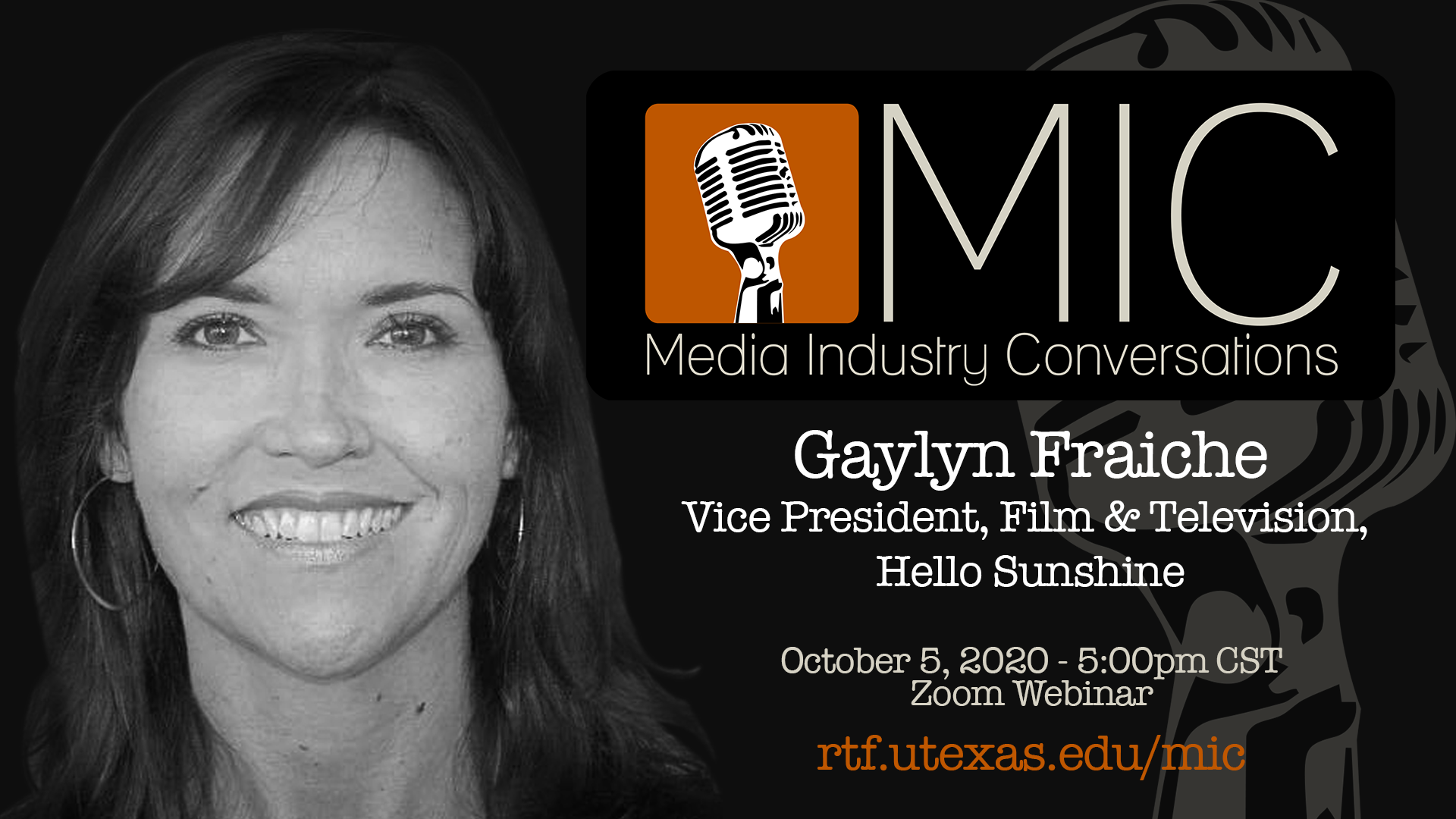 Gaylyn Fraiche (Vice President, Film & Television, Hello Sunshine)
When: Monday, October 5, 2020 - 5:00-6:15 pm CST
Please join us for a Q&A session where we discuss Gaylyn Fraiche's career trajectory, her roles and responsibilities as the Vice President of Film and Television at Hello Sunshine, and her views on the current state of the media industries.
To register, please fill out this form and we will send out the Zoom webinar link the day-of. 
Gaylyn Fraiche's Biography 
Gaylyn Fraiche moved to Los Angeles three weeks after graduating with a film degree from The University of Texas at Austin. She landed her first job in her first week in Los Angeles at a busy television production company and worked in different capacities on 13 made-for-TV movies and three series.  She served as the Script Coordinator on the CBS series Johnny Bago for Executive Producers/Writers Peter Seaman and Jeffrey Price and Executive Producers Robert Zemeckis, Frank Marshall and Steve Starkey.  
Gaylyn's first experience in feature films was as Oscar-Winning Director Curtis Hanson's assistant on The River Wild, starring Meryl Streep and Kevin Bacon. She worked for Hanson for almost two years, including over four months on location in Montana and Oregon, through the release of the movie and through early development of L.A. Confidential. From there she worked as Oscar-Winning Director Kathryn Bigelow's assistant on Strange Days.
She began working at Castle Rock Pictures for CEO Martin Shafer on such films as The Green Mile, Best in Show, Miss Congeniality, and Proof of Life, developing relationships with filmmakers including William Goldman, Frank Darabont, Taylor Hackford, Tony Gilroy, Sandra Bullock, Hugh Grant, Christopher Guest and Rob Reiner. She was promoted to Creative Executive and Director of Development.
In 2005 she joined Producer Debra Martin Chase and became the Executive Vice President of Martin Chase Productions. Her television credits at Martin Chase include: Producer of two American Girl movies for NBC; Lovestruck the Musical for ABC Family; and Co-Producer of the successful Disney Channel musical Lemonade Mouth. She was the production executive for Martin Chase on the second and third installments of The Cheetah Girls franchise for The Disney Channel. Her feature credits include Executive Producer of 2012's Sparkle, starring Whitney Houston and Jordin Sparks, Co- Producer of Just Wright, starring Queen Latifah and Common and Co-Producer of The Sisterhood of the Traveling Pants 2.  
Transitioning to Vice President of Movies for MarVista Entertainment, she produced The Swap and Pants on Fire for The Disney Channel, Tiny Christmas for Nickelodeon, The Truth About Christmas for Freeform and a number of movies for Hallmark and HMM.     
She is currently VP of Film and Television for Reese Witherspoon's Hello Sunshine with a focus on Romantic Comedies.    
An experienced Executive who shepherds projects through development, production, post production and release, Gaylyn has worked on set on movies shot in India, New York, New Mexico, Pittsburgh, Detroit and many parts of Canada.