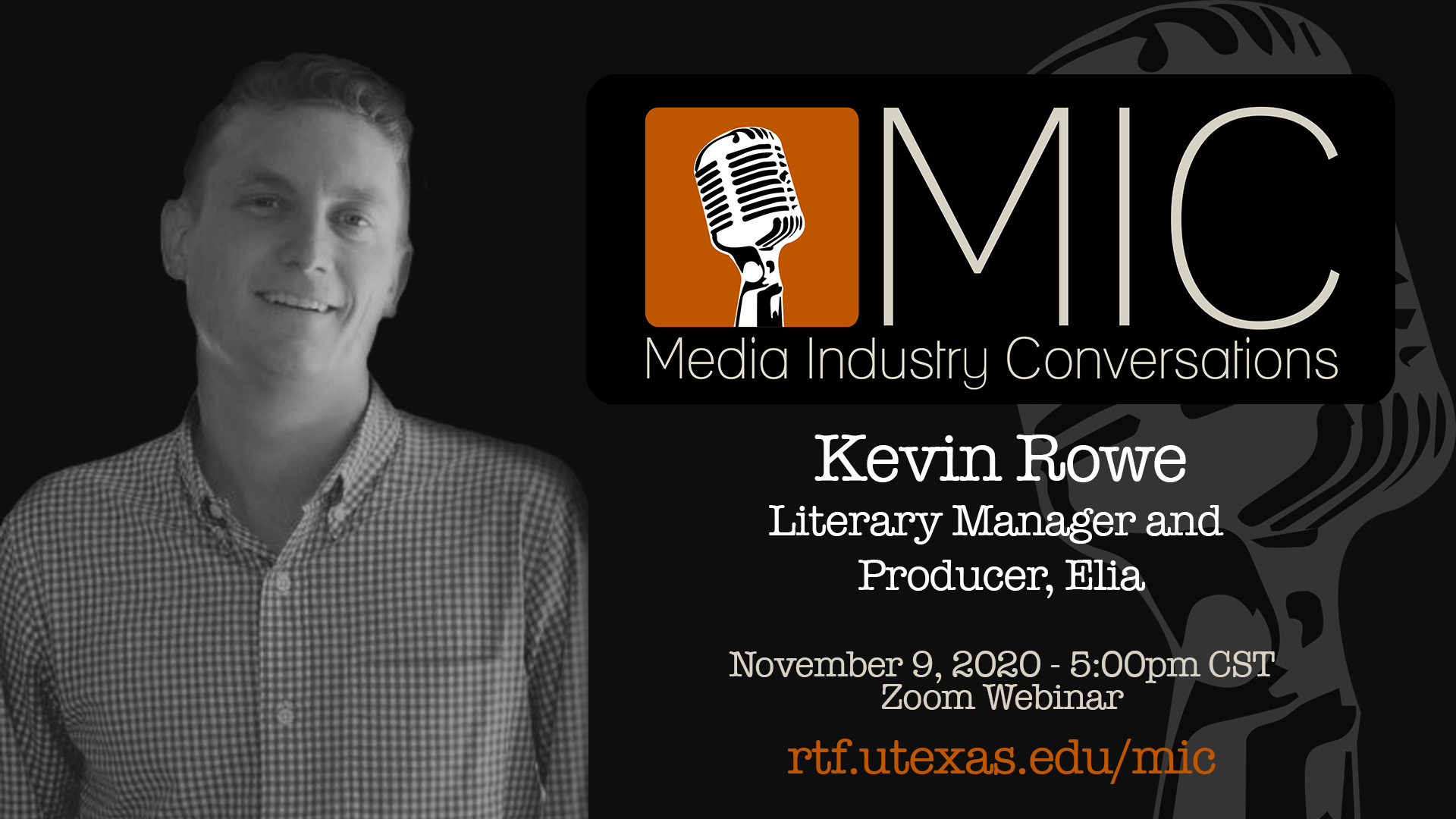 Kevin Rowe (Literary Manager and Producer, Elia)
When: Monday, November 9, 2020 - 5:00-6:15 pm CST
Please join us for a Q&A session where we discuss Kevin Rowe's career trajectory, his roles and responsibilities as a literary manager and producer, and his views on the current state of the media industries.
To register, please fill out this form and we will send out the Zoom webinar link the day-of. 
Kevin Rowe's Biography 
Kevin Rowe founded Elia, a new management/production company based in Los Angeles in strategic partnership with the Oscar winning studio A24. He and the company focus on representing writers and filmmakers, and producing in film, television and theatre. Rowe put together Ari Aster's hit film Hereditary which has been praised by filmmakers like Martin Scorsese, Steven Spielberg and Bong Joon-ho, as well as critics and gone on to be a massive commercial success, becoming the biggest ever opening for A24, as well as A24's highest-grossing film worldwide. Rowe also has Janicza Bravo's Zola, which premiered at Sundance to rave reviews and is scheduled for a wide theatrical release from A24 when theaters reopen. In theatre, Rowe put together Jeremy O. Harris' Slave Play, which took over Broadway last Fall and is on the Tony short list for this year, and is a New York Times Critics' Pick, with Harris is being hailed as "the queer black savior the theater world needs."
Rowe also produced Low Tide, which A24 released in 2019 and is about to go into production on two films; The Starling Girl, which stars Thomasin McKenzie and was developed in the Sundance Labs, and then Love Me which stars Dev Patel and Kristen Stewart. In television, he is developing shows with Amazon, AMC, FX, and HBO. Rowe grew up in Cleveland, Ohio and is a graduate of the University of Texas at Austin and previously worked at The Gersh Agency, and two talent management firms; Principato-Young Entertainment (now known as Artists First) and Odenkirk-Provissiero Entertainment.