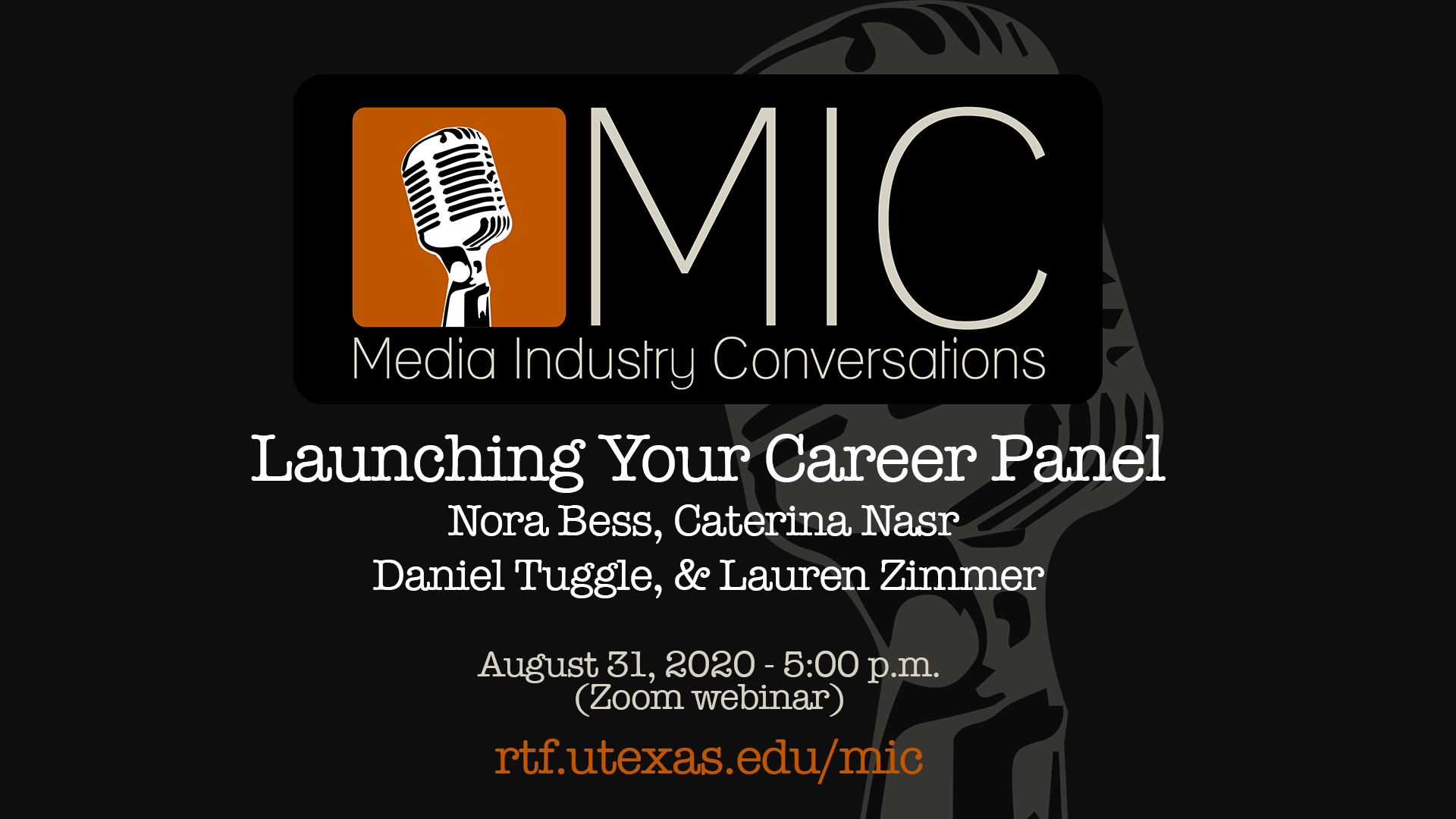 Launching Your Career Panel (Corporate)
When: Monday, August 31, 2020 (5:00-6:15 pm CST)
Nora Bess (Marketing Coordinator, HBO), Caterina Nasr (A&R Manager, Elektra Music), Daniel Tuggle (Associate, Content Strategy & Analysis, Netflix), Lauren Zimmer (Creative Department Manager, The Third Floor) discuss their career trajectories, the scope of their work, and their views on the current state of the film and TV industries.
Speaker Biographies 
Nora Bess (Marketing Coordinator, HBO)
Nora Bess is a Program Marketing Coordinator at HBO, where she coordinates execution and creative development of marketing campaigns for HBO series and documentaries. In her role, she owns social media strategy and profiles for shows, identifies and manages promotions partnerships across emerging technology, fashion, events, and media and manages creative development of a wide variety of marketing assets such as key art, trailers, and social content. She has worked on campaigns for shows including Watchmen, Insecure, and Westworld and currently manages social and promotions for Lovecraft Country.  Prior to joining HBO, Nora completed the Page Program at NBCUniversal where she had assignments at NBC News Digital and Saturday Night Live. Nora graduated from UT Austin in 2017 with degrees in Plan II Honors and Radio-Television-Film. She currently lives in New York City.
Caterina Nasr (A&R Manager, Elektra Music)
Caterina Nasr is an A&R Manager at Elektra Music Group (Elektra Records, Fueled by Ramen, Roadrunner Records) based in New York City. Originally from Houston, Texas, Caterina's love for music sparked from a mix of early 2000s top 40 radio, her sibling's pop punk CD collection, and 2010s fan girl Tumblr. While going to college at University of Texas at Austin, she began to pursue the music business world interning at C3 Presents, Austin City Limits Radio, and CAA. Her passion for songs and artist development led her to a job right out of college at Warner Music Group at Elektra Records/Fueled By Ramen home to Twenty One Pilots, Brandi Carlile, Young the Giant, Panic! At the Disco and more working on the A&R team under President Gregg Nadel . Her first year at Elektra, she helped sign alternative pop band The Band CAMINO and is now working with artist such as Chloe Moriondo, Brynn Cartelli, Sebastian Javier and more. Caterina's goal is to make records that are as formative to people today as the songs/albums she loved growing up and discover artists whose talent and drive can touch fans across the globe.
Daniel Tuggle (Associate, Content Strategy & Analysis, Netflix)
Daniel works at Netflix, where he advises Original Film executives on slate strategy, talent deals, acquisitions, and other matters related to the company's Original Film initiative. Daniel primarily works on bigger budget projects, such as Extraction, 6 Underground, and Da 5 Bloods. Prior to Netflix, Daniel was a consultant at Oliver Wyman, a global management consultancy. At Oliver Wyman, Daniel provided strategic guidance to C-suite executives across a variety of sectors, including telecom, aviation, and private equity. Daniel holds a B.S. in Radio-Television-Film and a B.B.A. in Finance from The University of Texas at Austin.
Lauren Zimmer (Creative Department Manager, The Third Floor)
Lauren Zimmer is a visual effects production coordinator and department manager based in Los Angeles, California. Most of her work focuses on pre-visualization and virtual production. She has worked on various shows, including Ready Player One, Spider-Man: Far From Home, Terminator: Dark Fate, 6 Underground, Rise of the Tomb Raider, and Ghost of Tsushima. Most recently, she works as the Creative Department Manager at The Third Floor Inc. where she works with senior supervisors and department heads to establish better workflows for the company. She hopes that whatever is next she can help continue to contribute to the importance of storytelling in the film & television industry.