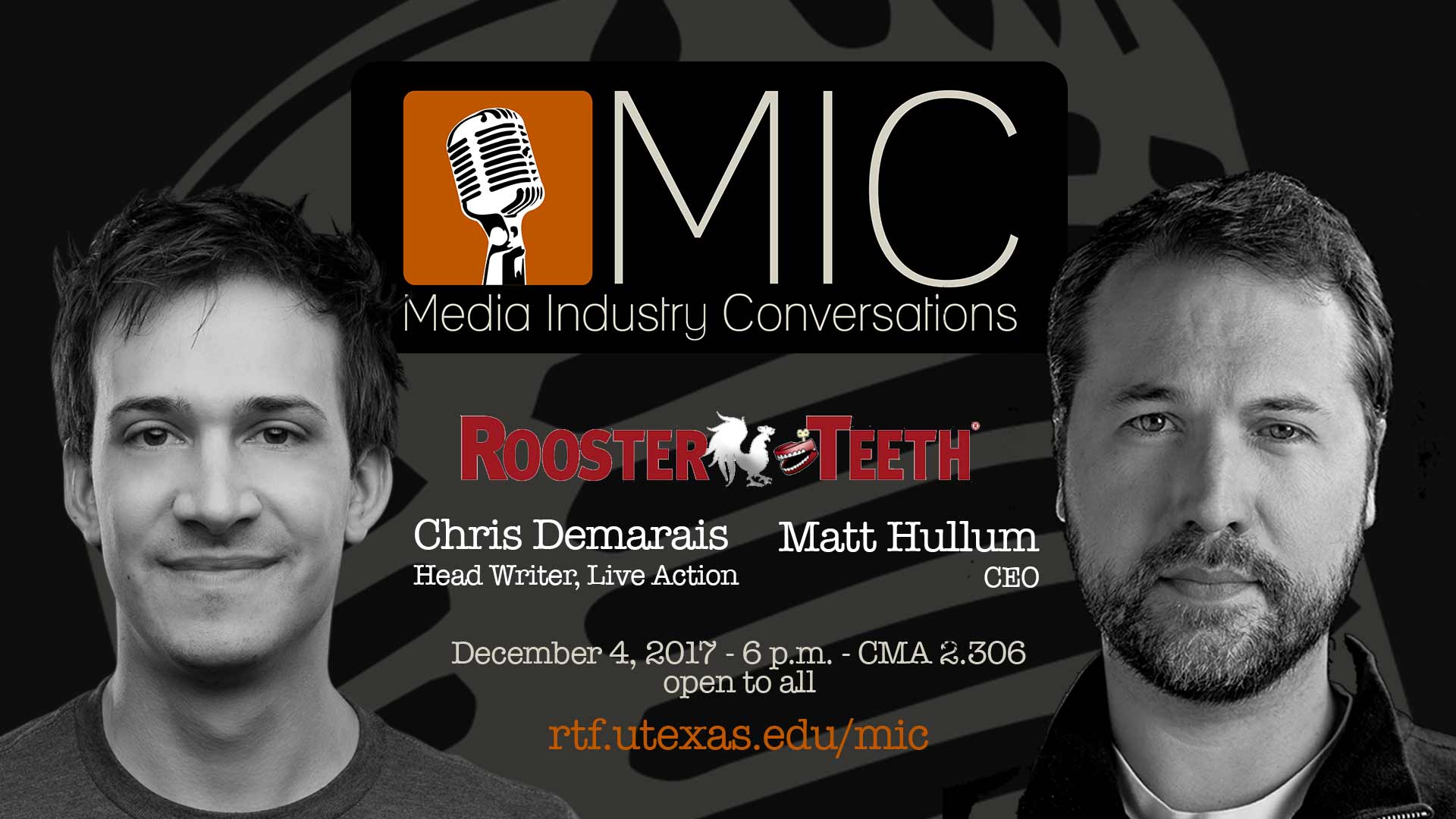 Matt Hullum, CEO at Rooster Teeth, & Chris Demarais, Head Writer, Live Action at Rooster Teeth
When: Monday, December 4, 2017 - 6 - 7:15 p.m.
Where: CMA 2.306 (Seating is first come, first served.)
Please join us for a Q&A session where we discuss Matt Hullum's and Chris Demarais's career trajectories since their time as RTF Majors, their roles and responsibilities as Lead Creatives at Rooster Teeth, and their views on the current state of digital media and multi-platform entertainment.
Matt Hullum's Biography 
Matt is the CEO of Rooster Teeth, a pioneering media and entertainment company that boasts more than 30 million subscribers and 5.6 billion video views across its YouTube network. He serves as Executive Producer of all of the company's marquee productions, including RWBY, the first American anime to be imported into Japan by a major studio (Warner Bros. Japan), and its first drama series, the post-apocalyptic thriller Day 5. 
As a Director/Producer, Matt helmed Rooster Teeth's first feature film, the sci-fi comedy Lazer Team, and has directed more than 30 national television commercials, 40 short films, and a half dozen music videos.  He also co-directed seven seasons of Rooster Teeth's iconic web series, Red vs. Blue. 
In addition to his work as a director, Matt has produced visual effects and animation for such diverse studio pictures as Driven, Scooby-Doo, and the Sponge Bob SquarePants Movie. Matt appears in front of the camera from time-to-time, and remains a starring member of the cast of Red vs. Blue, voicing the characters of Sarge, Doc, O'Malley, Wyoming and Maine. Matt currently lives in Austin, TX, with his wife and two sons and knows all the best Mexican restaurants in town. 
Chris Demarais's Biography
Chris Demarais is one of the lead creatives at Rooster Teeth and is the star and co-creator of the hit shows Social Disorder and A Simple Walk Into Mordor. He's also a writer and director on some of the company's most high profile projects including Day 5, The Gauntlet, Immersion, this bio, RT Shorts, and Lazer Team, Rooster Teeth's first feature film.
In 2009, Chris graduated from The University of Texas at Austin where he received two Bachelors of Science (B.S.) — in Radio-Television-Film and in Corporate Communication.