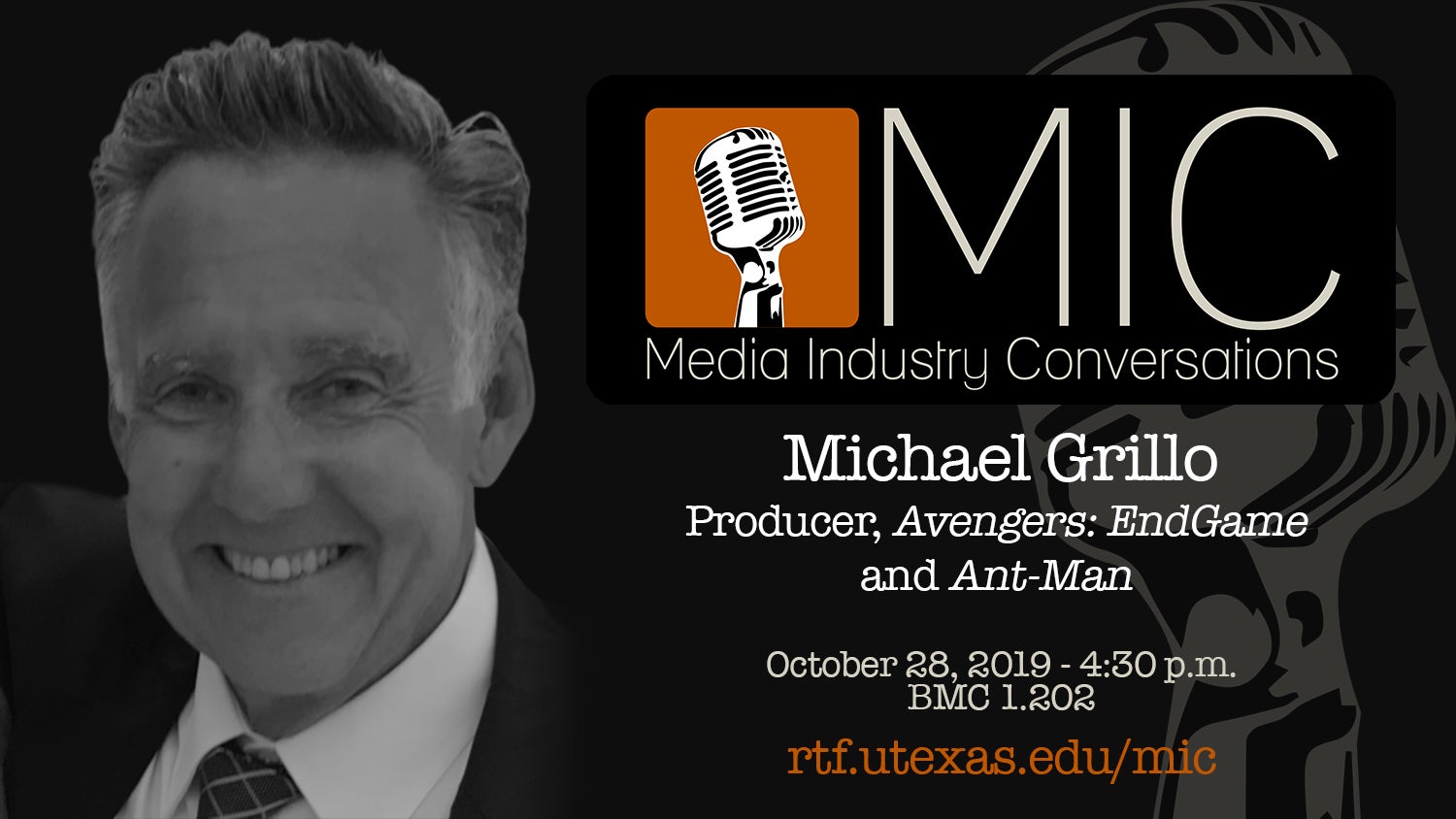 Michael Grillo (Producer, Avengers: Endgame, Ant-Man)
When: Monday, October 28, 2019 - 4:30-6:15 p.m.
Where: BMC 1.202
Please join us for a Q&A session where we discuss Michael Grillo's career trajectory, his roles and responsibilities as a prolific film producer, and his views on the current state of the media industries.
Michael Grillo's Biography 
Michael Grillo started his career in production as a DGA trainee on Young Frankenstein and The Towering Inferno. He became the 2nd assistant director on Fun with Dick and Jane; New York, New York with Martin Scorsese; and The Deerhunter which won the Best Picture Oscar that year.
He moved up to first assistant director on numerous productions including Breaking Away, Heaven's Gate, Inside Moves, Cat People, Young Doctors in Love, The Man with Two Brains, The Woman in Red, Thief of Hearts, and Irreconcilable Differences. 
He started his long collaboration with director Lawrence Kasdan as his first assistant director on Body Heat and The Big Chill. With Mr. Kasdan and Mr. Charles Okun, he executive produced Silverado, I Love You To Death, and Wyatt Earp; was co-producer on Cross My Heart; and produced Grand Canyon and The Accidental Tourist, for which he received an Academy Award nomination for Best Picture. Later, he produced Defending Your Life, directed by Albert Brooks; The Trigger Effect, directed by David Koepp; and executive produced The Green Hornet.
He was executive producer on DreamWorks' first feature film, The Peacemaker, and served as DreamWorks head of feature film production management from 1996 thru 2005. At DW's, he oversaw such productions as Gladiator, American Beauty, Cast Away, and Saving Private Ryan. He moved back to executive producing with The Uninvited.
For Marvel he executive produced The Amazing Spider-Man, Captain America: The Winter Solder, Ant-Man, Avengers: Infinity War, and Avengers: EndGame. Mr. Grillo has received 2 DGA Awards for Best Picture as assistant director and is a member of the Academy of Motion Pictures Arts and Sciences and the Directors Guild of America.