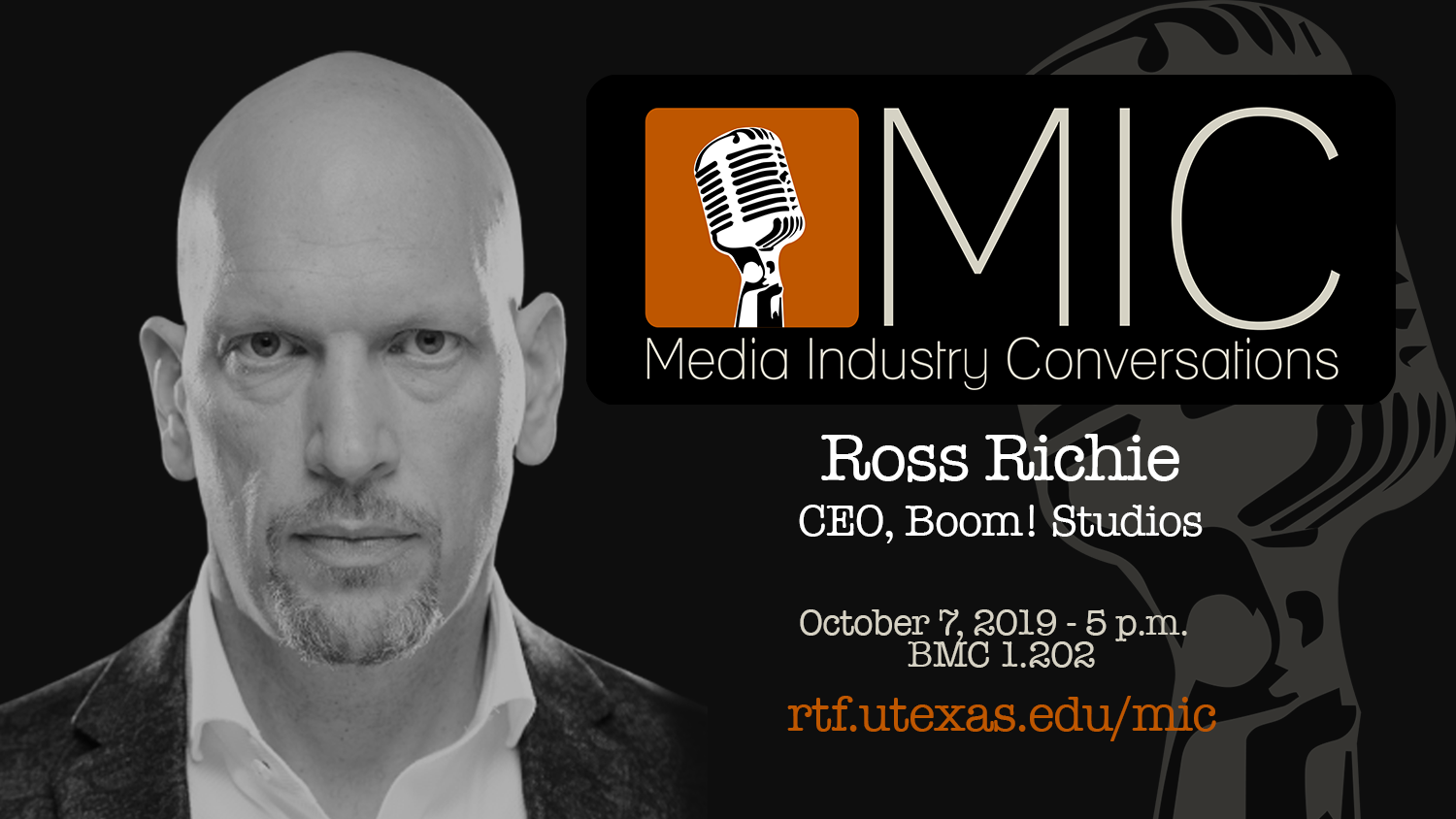 Ross Richie (CEO, Boom! Studios)
When: Monday, October 7, 2019 - 5-6:15 p.m.
Where: BMC 1.202
Please join us for a Q&A session where we discuss Ross Richie's career trajectory, his roles and responsibilities as CEO at Boom! Studios, and his views on the current state of the media industries.
Ross Richie's Biography 
Ross Richie founded BOOM! Studios in the spare bedroom of his apartment in June of 2005 — the company went on to win Wizard Magazine's "Best New Publisher" four months later. Since then, BOOM! has won "Publisher of the Year (under 3%)" from Diamond Comics Distributors 9 times, Eisner, Harvey, and GLAAD Awards, and published 5 New York Times best-sellers. Ross has been profiled in the Wall Street Journal, The New York and Los Angeles Times and written guest columns for The Hollywood Reporter.
He produced the movie 2 Guns starring Denzel Washington and Mark Wahlberg and is currently a producer with a first look deal with 20th Century Fox. BOOM! series such as Lumberjanes, Mouse Guard, and Adventure Time have sold millions of copies worldwide and the first issue of BOOM!'s Mighty Morphin Power Rangers outsold every series Marvel Comics shipped in March of 2016. 
Ross has published legendary authors such as  R.L. Stine, James Wan, John Carpenter, Alan Moore, Grant Morrison, Brian Azzarello, and George Perez, and published global brands such as Joss Whedon's Buffy the Vampire Slayer, Angel, and Firefly, Charles Schulz' Peanuts, Jim Davis' Garfield, Jim Henson's Dark Crystal, Labyrinth, and Fraggle Rock, Planet of the Apes, Big Trouble in Little China, Escape from New York, Kong of Skull Island, Games Workshop's Warhammer and Warhammer 40k, Cartoon Network's Steven Universe, Regular Show, Ben 10, and Adventure Time, as well as Nickelodeon's Rocko's Modern Life and Rugrats. Vice Chairman of 20th Century Fox Emma Watts called Ross' company BOOM! Studios "an IP mega-library."  Ross is originally from San Antonio, TX.