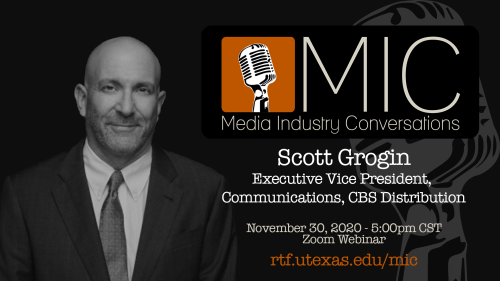 Scott Grogin (Executive Vice President, Communications, CBS Distribution)
When: Monday, November 30, 2020 - 5:00-6:15 pm CST
Please join us for a Q&A session where we discuss Scott Grogin's career trajectory, his roles and responsibilities as the EVP of Communications at CBS Distribution, and his views on the current state of the media industries.
To register, please fill out this form and we will send out the Zoom webinar link the day-of. 
Scott Grogin's Biography 
Scott Grogin serves as Executive Vice President, Editorial Communications for CBS Entertainment and is responsible for written communications for the CBS Television Network, and CBS Television Studios.  Mr. Grogin, who reports to Chris Ender, Executive Vice President, Communications for ViacomCBS, also disseminates the company's daily ratings messaging and assists the company's domestic and international program distribution businesses and the company's labor and legal departments with their press releases, divisional announcements, speeches and media relations.
Mr. Grogin joined CBS as Executive Vice President, Communications for CBS Television Distribution in December 2016, where he was responsible for media relations, inter-divisional communications and messaging for the company's top-rated slate of syndicated programming.  He moved to CBS Entertainment in January 2018.
Prior to joining CBS, Mr. Grogin spent 17 years as head of global communications for Fox Networks Group, where he was in charge of corporate media relations for that company's domestic and international broadcast and cable businesses.  He also spent 6 years at NBC (now NBCUniversal) in various publicity and communications roles.  He began his career in television as an account executive at Los Angeles-based Rachel McCallister and Associates.
Mr. Grogin is a proud University of Texas Longhorn and serves as a liaison to the university's UTLA program, which is designed to create a pathway for UT students to study, intern, and ultimately enter the entertainment business.