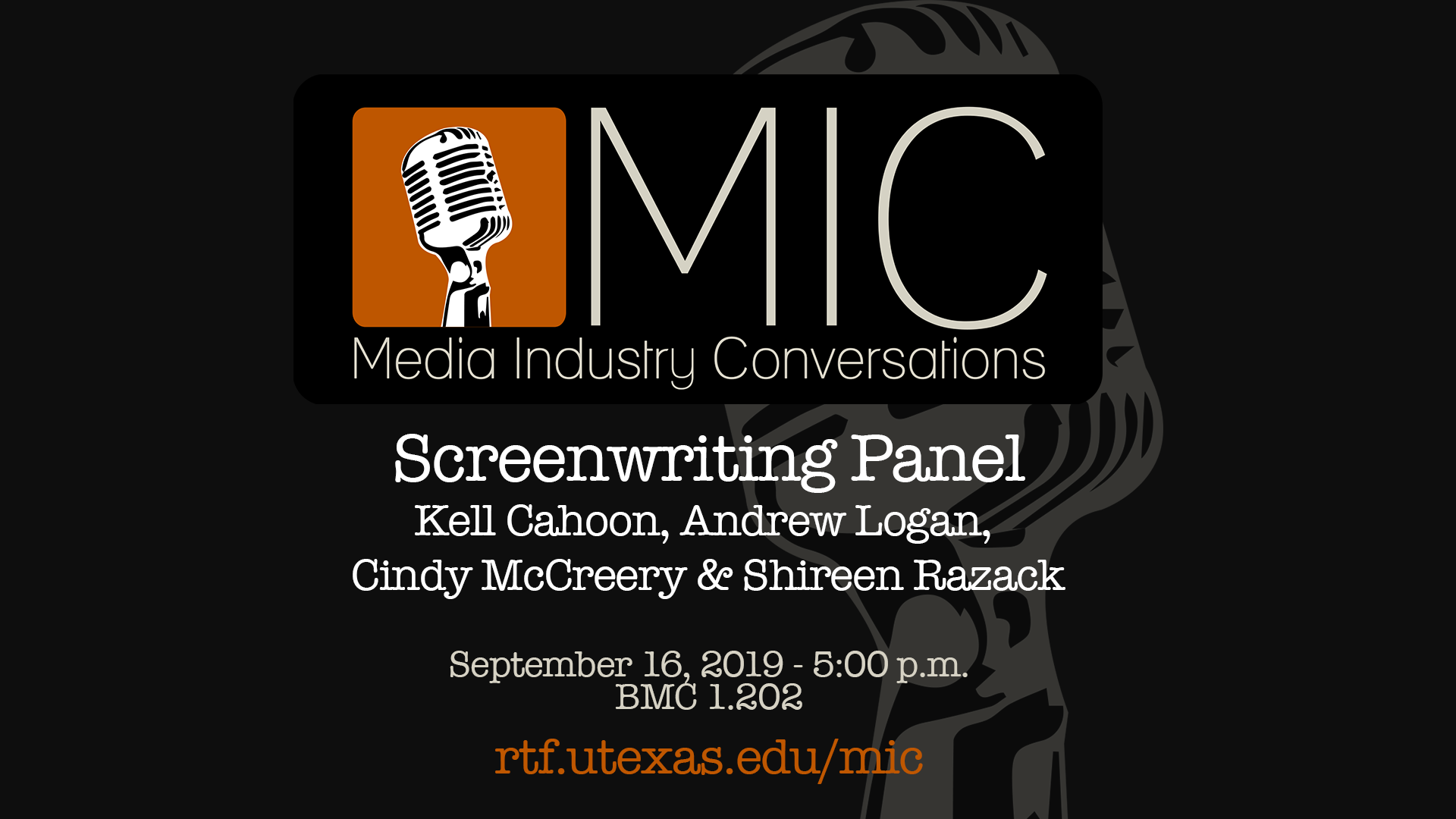 Screenwriting Panel
When: Monday, September 16, 2019 - 5-6:15 p.m.
Where: BMC 1.202
Kell Cahoon (Psych), Andrew Logan (Chappaquidick), Cindy McCreery (Haven, RTF Associate Professor), and Shireen Razack (New Amsterdam) discuss their career trajectories as writers for various series and films, the scope of their work, and their views on the current state of the film and TV industries.
Speaker Biographies 
Kell Cahoon (Psych)
Kell Cahoon was born and raised in Midland, TX. He graduated from UT Austin in 1982 with a BBA and moved to New York to work in investing banking. He returned to Austin in 1985 and attended the McCombs Graduate School of Business where he received an MBA. 
In 1990, against all better judgement, Kell decided he wanted to be a writer. He quit his job, gave away his suits and moved to LA where slept on the floor of his friends' apartment for six months. His fortunes improved when he met his writing partner, Tom, and after four years of toiling in obscurity the two became an overnight success when they sold a story idea to Larry David, co-creator of Seinfeld.
Kell and Tom went on to write for The Larry Sanders Show, NewsRadio, Just Shoot Me, and King of the Hill. During these fruitful years, Kell met his wife, Debbie, and they had two sons, Lucas and Charlie. In 2008 they moved to Austin to raise their sons closer to his family in Texas and hers in New York.
For five years, Kell commuted to LA to write and produce the series Psych. In 2015, he co-produced the film My All American, the inspirational true story of UT football legend Freddie Steinmark.
These days Kell continues to write while he and his wife raise their two sons and enjoy the good life in Austin.
Andrew Logan (Chappaquidick)
Andrew Logan is a writer and producer based in Austin, TX. He was named one of Variety's 10 Screenwriters to Watch in 2017 along with his writing partner, Taylor Allen. Together they were listed on the 2015 Black List for the screenplay they wrote called Chappaquiddick, a political thriller that chronicles the true story of what is described as the seven most dramatic days of Senator Ted Kennedy's life. The film, directed by John Curran, and starring Jason Clarke, Kate Mara, Ed Helms, and Bruce Dern, had its world premiere at the 2017 Toronto International Film Festival and was released in theaters nationwide by Entertainment Studios. 
Additionally, Andrew co-produced two 2014 Sundance Film Festival premieres: Kat Candler's Hellion, starring Aaron Paul and Juliette Lewis, and Todd Rohal's Rat Pack Rat, which won the Special Jury Prize for Unique Vision. He also produced Until We Could, a short film directed by David Lowery & Yen Tan and narrated by Robin Wright & Ben Foster, which screened at Outfest Film Festival and the Cannes Court Métrage in 2014. 
Most recently, he produced 6 Years directed by Hannah Fidell and the documentary The Jones Family Will Make a Way. Both premiered at SXSW in 2015. He also is an executive producer on Rick Alverson's Entertainment, which premiered at the 2015 Sundance Film Festival. 
Andrew also served as a story consultant on the documentary Richard Linklater—dream is destiny, which premiered at the 2016 Sundance Film Festival. 
Cindy McCreery (Haven, RTF Associate Professor)
Cindy McCreery was a Walt Disney/ABC Feature Writing Fellow and has since sold feature projects to New Line Cinema, Walt Disney Studios, Paramount Pictures, Nickelodeon, National Geographic Films, Warner Brothers, MGM, Branded Entertainment and Lionsgate. She also writes for television and has sold projects to SyFy Channel, Disney Channel, NBC, TNT, Televisa USA, Universal Television and AMC's Shudder. Cindy has been teaching screenwriting and television writing since 2004 at UCLA, UC Santa Barbara and is currently an Associate Professor at The University of Texas at Austin in the Department of Radio-TV-Film.
Shireen Razack (New Amsterdam)
Shireen was born in Canada to Indian-Trinidadian parents but mostly raised in Fort Worth, Texas. After graduating from The University of Texas at Austin with Bachelor of Science degrees in Advertising and Radio/Television/Film, she side-tripped into a career in advertising that took her from Texas to New York City.
After achieving the title of Associate Media Director, managing media planning departments for the entire Eastern seaboard on the Nissan account, she finally moved to Los Angeles to pursue her dream of writing for television. She soon thereafter was admitted to the CBS Writers Mentoring Program, which helped launch her career. 
Over her 10-years in TV, Shireen has worked on NBC's Trauma, JJ Abrams' Undercovers, Kevin Williamson's The Secret Circle, TNT's Rizzoli & Isles, SyFy's Haven, ABC Family/Freeform's Shadowhunters and is currently a Co-Executive Producer on NBC's New Amsterdam.
Shireen is an active member of the Writers Guild of America West and is repped at Verve Talent & Literary Agency.