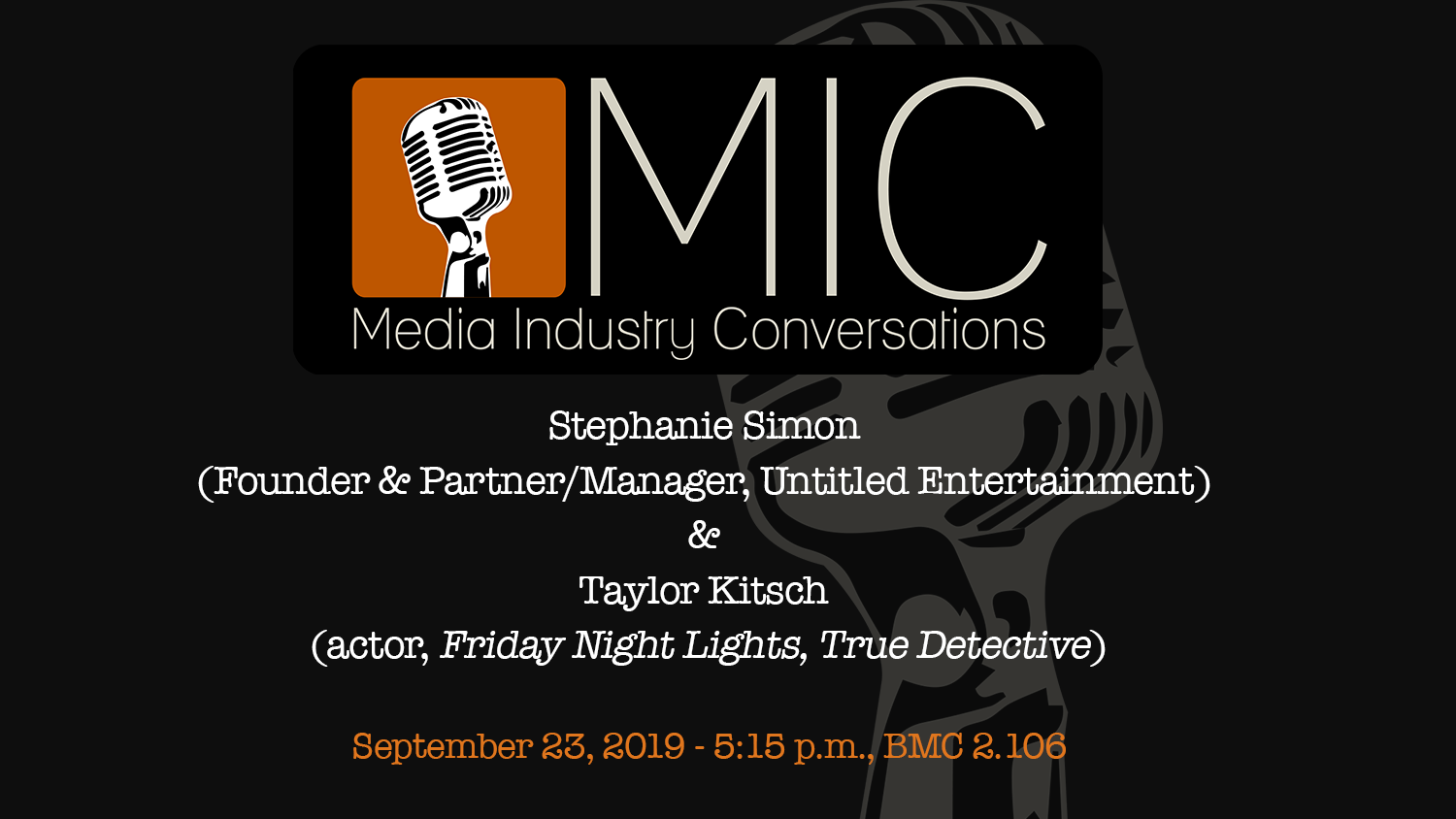 Stephanie Simon (Founder & Partner/Manager, Untitled Entertainment) & Taylor Kitsch (Friday Night Lights, True Detective)
When: Monday, September 23, 2019 - 5:15-6:30 p.m.
Where: BMC 2.106
(Note time and location changes.)
Please join us for a Q&A session where we discuss Stephanie Simon's career trajectory, her roles and responsibilities as a partner and manager with Untitled Entertainment, and her views on the current state of the media industries. 
As a special treat, one of her clients—film and TV actor Taylor Kitsch (Friday Night Lights, True Detective)—will join us to discuss the actor/manager relationship as well as his experiences as both an actor and writer in Hollywood. 
Stephanie Simon's Biography 
Founder and Partner of Untitled Entertainment Stephanie Simon has built a stellar reputation in the entertainment industry representing a variety of renowned artists such as Ashton Kutcher, Jane Fonda, Skyler Gisondo, Ariana Grande, Pom Klementieff, Taylor Kitsch, and Hunter Schafer, among others. Founded in 1998 by Stephanie and her business partner Jason Weinberg, Untitled Entertainment is one of the leading talent management companies in the industry with offices in Los Angeles, New York and London specializing in personal representation, film and television production, brand management, and social networking. Under her leadership, Stephanie has fostered the growth of managers and talent alike. Prior to forming Untitled Entertainment, she worked in PR at United Artists and PMK in addition to serving as a Production Assistant on The David Letterman Show, Live! With Regis and Kathie Lee, and on the set of Hello Again starring Shelley Long and Gabriel Byrne. Stephanie also worked as an assistant to Farrah Fawcett and Shelley Long in the beginning of her career. Originally from Montclair, New Jersey, Stephanie earned her BA at Hunter College in New York as well as studying at George Washington University in Washington, DC. Stephanie now lives in Los Angeles with her husband and five children. 
Taylor Kitsch's Biography 
Taylor Kitsch can most recently be seen staring as infamous cult leader, David Koresh, in Paramount Network's hit television series Waco. Next, Taylor will be seen in the feature 21 Bridges, produced by Joe and Anthony Russo, alongside Chadwick Boseman, Sienna Miller, Stephan James, and J.K. Simmons. Currently, he is shooting StudioCanal's and Bron Studios' WWII thriller television series Shadowplay, along with Michael C. Hall and Logan Marshall-Green. Prior to that, Taylor can be seen in Joseph Kosinski's most recent film, Granite Mountain opposite Jennifer Connelly and Miles Teller.  Additionally, Taylor was seen alongside Colin Farrell, Rachel McAdams and Vince Vaughn in the HBO series True Detective.  Taylor can also be seen in the HBO's Emmy Award Winning movie, The Normal Heart alongside Mark Ruffalo and Julia Roberts, based on the Tony Award Winning Play directed by Ryan Murphy.  Taylor's last film was his role in The Grand Seduction, alongside Brendan Gleeson, which made its debut at the 2013 Toronto International Film.
Lone Survivor marks Kitsch's second film directed by Berg.  In addition, Berg directed him on NBC's critically acclaimed sports drama Friday Night Lights (FNL), in which Kitsch played the role of Tim Riggins, a troubled Texas high-school fullback who struggles to find his identity while wrestling with personal demons.  The fifth and final season of the series premiered on April 15, 2011, and ran throughout the summer season.
In 2012, Kitsch was seen in Oliver Stone's Savages, which tells the daunting story of a fight against Mexican drug cartels.  Kitsch starred alongside the riveting Salma Hayek and Benicio Del Toro.  Earlier that year, he starred in Peter Berg's Battleship, alongside Liam Neeson, Rihanna and Alexander Skarsgård and Disney's 2012 live-action film John Carter, directed by two-time Academy Award® winner Andrew Stanton (WALL-E, Finding Nemo).
Kitsch starred in Steven Silver's The Bang Bang Club as Kevin Carter, one of four young photojournalists whose graphic images drew the world's attention to the last stages of apartheid in South Africa.  Based on a true story, this gripping drama portrays the stresses, tensions and moral dilemmas of working in situations of extreme conflict.  The film premiered at the 2010 Toronto International Film Festival and was screened on April 21, 2011, at the Tribeca Film Festival and was released theatrically the following day.
During one of FNL's summer hiatuses, the prolific actor filmed the 2008 feature Gospel Hill, alongside Julia Stiles, Danny Glover, Angela Bassett and Samuel L. Jackson.  Directed by actor /director Giancarlo Esposito, the story focuses on a bigoted former sheriff of a Southern town and a civil-rights worker whose intersecting lives are still haunted by events that took place decades before.  
Kitsch, who grew up in British Columbia, Canada, began his career in 2002, when he moved to New York to study with renowned acting coach Sheila Grey.  He landed his first major feature film back on familiar ground (Vancouver) the very next year in David R. Ellis' cult classic Snakes on a Plane, starring Samuel L. Jackson.
His additional feature film credits include Renny Harlin's horror flick The Covenant; Betty Thomas' comedy John Tucker Must Die; and Gavin Hood's 2009 sci-fi action-adventure, X-Men Origins: Wolverine, in which he starred as Gambit alongside Hugh Jackman, Liev Schreiber, Ryan Reynolds and his John Carter co-star Collins.