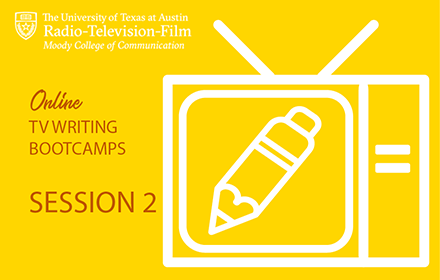 Online Workshop
You've got your series bible and your pilot outline, now what? Over 10 weeks, participants will write the first draft of their pilot as outlined in the Pilot 1 Workshop and begin revisions on their second draft. In virtual workshop sessions, participants will receive feedback from their instructor and cohort, as well as discuss reading assignments and pre-recorded lectures.
Prerequisites: TV Writing Pilot I or have a fully developed show bible and pilot outline
What you'll need | Instructor | Session info (click here or see sidebar)
---
Snapshot
This workshop combines scheduled real-time virtual class meetings via Zoom, asynchronous material, and independent work.
Number of weeks: 10
Session dates: 1/12/23–3/23/23 (no class on March 16th)
Number of meetings per week: one 3-hour meeting/wk
Meeting schedule: Th: 7:00 pm–10:00 pm CT
Tuition: $625
---
What you'll need at home
Devices:
Software / Apps
Zoom (free virtual conferencing app)

Screenwriting software. Some suggestions:
---
Instructor: Sarah Grodksy
Sarah Grodsky is an East Coast born screenwriter living on the West Coast with a gray tabby cat named Merlin. They currently work for Emmy nominee Amy Talkington, assisting in the development of new TV series. Sarah's pilots have been shortlisted by The Sundance Institute, NBC's Writers on the Verge, Austin Film Festival, and Screencraft Pilot Launch. Their short, B***h's Tit, was selected by the Women Texas Film Festival in 2018. They also penned Denius Showcase selections Failure to Yield and Ursus. Sarah has an MFA in Screenwriting from UT Austin RTF and a BFA in Theatre Performance from Montclair State University.
Session Information
1/12/23–3/23/23 (note: no class 3/16)
10 weeks, 1 meeting per week
Th: 7 pm–10 pm CT
$625