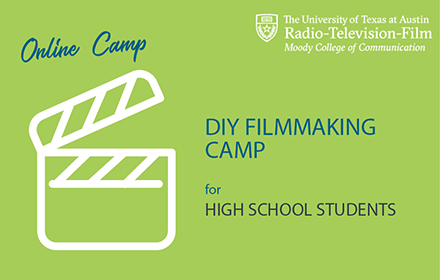 Online Camp
Using the fundamental elements of visual storytelling, this online production course will help students utilize resources they have to make a short film. Each student will shoot practice exercises to hone their skills in writing, directing, shooting, and editing; students will then apply those skills to a 3-5 minute short video project of their very own.
More details | What you'll need | Instructor | Session info (click here or see sidebar)
---
Snapshot
This camp combines scheduled real-time virtual class meetings via Zoom, asynchronous material, and independent work.
Grades: 9th–12th
Number of weeks: 3
Session dates: 6/13/22–7/1/22
Meeting schedule: Meets 5 hrs/wk plus supervision

M/W/F: 11 am–12 pm CT and
M/W: 3 pm–4pm CT
Supervision by appt: T/Th: 10 am–12 pm CT

Tuition: $595
---
Details
Scheduled Meetings:
The course takes place over the course of three weeks with hour-long meetings on M/W/F 11 am–12 pm and M/F 3 pm–4pm CT. There will also be office hours for supervised meetings with instructors on T/Th to discuss individual projects or questions.
Virtual office hours / supervision:
Supervision by appt: T/Th: 10 am–12 pm CT
Camp topics include:
Fundamental elements of visual storytelling
Writing and developing story
Working with actors, including first-time actors
Basic camera and audio techniques
Editing film with Adobe Premiere
Distribution for shorts and starting out as a young filmmaker
Session overview:
Week 1: Writing, developing, cinematography, audio
Week 2: Pre-production planning, Production, Shooting
Week 3: Editing, Workshopping, Re-shoots/ Pick-ups, Distribution
---
What you'll need at home
Devices – Required:
Smartphone with video recording capabilities OR digital video camera (camcorder, DSLR, etc.)

Computer: Laptop or PC with

8GB RAM minimum & 16GB RAM or more recommended

Wi-Fi / Stable Internet

Webcam

Built-in Computer Microphone
Devices – Optional:
External Hard Drive (optional)

Tripod or Camera Stabilizer (such as iphone handlebar or shoulder rig) (optional)

Separate Microphone (optional)
Software / Apps
Adobe Premiere Pro
(a month-long subscription= $31.49/mo; can also subscribe to an annual plan or bundle with the Creative Cloud monthly or annual plan) 

Zoom (free)
---
Session Information
6/13/22–7/1/22 - 3 weeks
Meets 5 hrs/wk + supervision
M/W/F: 11 am–12 pm CT & M/W: 3 pm–4 pm CT
Supervision by appt: T/Th: 10 am–12 pm CT
Grades: 9th–12th
$595