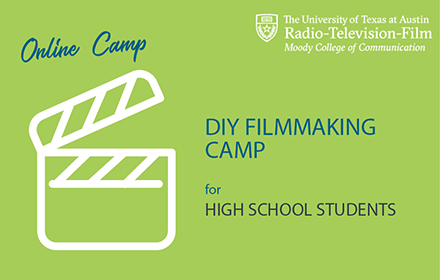 Online Camp
Using the fundamental elements of visual storytelling, this online production course will help students utilize resources they have to make a short film. Each student will shoot practice exercises to hone their skills in writing, directing, shooting, and editing; students will then apply those skills to a 3-5 minute short video project of their very own.
Register for Session 1 by June 21
More details | What you'll need | Instructor | Session info (click here or see sidebar)
---
Snapshot
This camp combines scheduled real-time virtual class meetings via Zoom, asynchronous material, and independent work.
Ages: 14–18 yrs
Number of weeks: 3
Session dates: Session 1: 6/28/21–7/16/21
Meeting schedule: Meets 5 hrs/wk plus supervision

M/W/F: 11 am–12 pm CT and
M/W: 3 pm–4pm CT
Supervision by appt: T/Th: 10 am–12 pm CT

Tuition: $595
---
Details
Scheduled Meetings:
The course takes place over the course of three weeks with hour-long meetings on M/W/F 11 am–12 pm and M/F 3 pm–4pm CT. There will also be office hours for supervised meetings with instructors on T/Th to discuss individual projects or questions.
Virtual office hours / supervision:
Supervision by appt: T/Th: 10 am–12 pm CT
Camp topics include:
Fundamental elements of visual storytelling
Writing and developing story
Working with actors, including first-time actors
Basic camera and audio techniques
Editing film with Adobe Premiere
Distribution for shorts and starting out as a young filmmaker
Session overview:
Week 1: Writing, developing, cinematography, audio
Week 2: Pre-production planning, Production, Shooting
Week 3: Editing, Workshopping, Re-shoots/ Pick-ups, Distribution
---
What you'll need at home
Devices – Required:
Smartphone with video recording capabilities OR digital video camera (camcorder, DSLR, etc.)

Computer: Laptop or PC with

8GB RAM minimum & 16GB RAM or more recommended

Wi-Fi / Stable Internet

Webcam

Built-in Computer Microphone
Devices – Optional:
External Hard Drive (optional)

Tripod or Camera Stabilizer (such as iphone handlebar or shoulder rig) (optional)

Separate Microphone (optional)
Software / Apps
Adobe Premiere Pro
(a month-long subscription= $31.49/mo; can also subscribe to an annual plan or bundle with the Creative Cloud monthly or annual plan) 

Zoom (free)
---
Instructors: Camille Morales-Zayas and Edem Dotse
Edem Dotse is a product of prosperity gospel, imported telenovelas, hiplife music and YouTube comment sections. Born and raised in Ghana, his passion for filmmaking was sparked by a music video experiment in college. Three years later, it then led him to the world of advertising. There, he worked as a copywriter and set PA on commercials and corporate videos. His short narrative film, "Coping", co-written with Caren Akoto-Adade, deals with schizophrenia and the challenges of mental healthcare in Ghana. It received the Human Rights Award at the Scottish Mental Health Arts Festival in Glasgow. His follow-up project was the experimental music film "Waves/The Water", a collaboration with artist Sutra. It was exhibited at the OGU Mag Gallery in Tokyo, as well as venues in London, San Francisco and Yaoundé. His work so far explores the effects of spirituality on the mind, parent-child dynamics, class relations and identity. He is drawn to marginalized characters because, to quote Djibril Diop Mambéty, "they do more for the evolution of a community than the conformists". He believes that vulnerability and community are an artist's greatest assets. He hopes to gain insight into the immigrant experience (in leaving his lifelong home, Accra), and to share African stories, in all their nuance and complexity, with the world.
• • • • • • • • • • • •
Camille Morales-Zayas is a filmmaker from San Juan, Puerto Rico. She graduated from the University of Puerto Rico at Mayaguez where she majored in English Literature with a minor in Film studies. She also attended the University of Carlos III in Madrid where she studied Film production and explored her love for international cinema.
Her love for filmmaking began in high school, where she first took a Film Analysis class and has been making movies ever since. She aspires to make films that tell intimate stories people can relate to and hopefully find solace in. Ultimately, she hopes to one day work as a Director in her own production company alongside other filmmakers she meets along the way and loves working in any collaborative experience she can.
A few of her favorite movies (because who can ever pick one) are The Virgin Suicides, Blackkklansman, Three Billboards Outside of Ebbing Missouri, and El Secreto de Sus Ojos (Secret in Their Eyes). In her free time, you'll find her obsessing over her pets, music, food, and all things HBO.
Contact for Questions
Explore kids' camps.
See adult workshops.
Session 1: 6/28/21–7/16/21
Session 2: 7/19/21–8/6/21
Session Information
6/28/21–7/16/21
3 weeks
Meets 5 hrs/wk + supervision
M/W/F: 11 am–12 pm CT &
M/W: 3 pm–4 pm CT
Supervision by appt: T/Th: 10 am–12 pm CT
Ages: 14–18 yrs.
$595