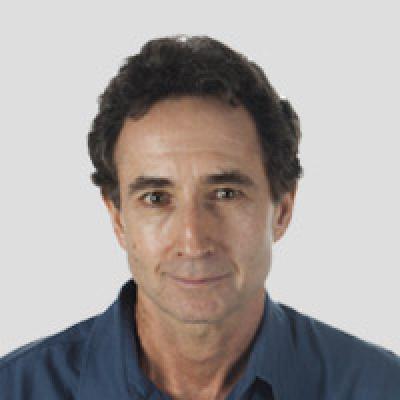 ---
Department of Radio-Television-Film
Email:
Phone:
Office:
CMA 6.128B
Ben F. Love Regents Professor in Communication
Andrew Shea is a versatile, award-winning director, screenwriter, and producer who has enjoyed success in film, television and theatre. His films have premiered at several of the most prestigious and selective film festivals in the world: the Cannes Film Festival, the Sundance Film Festival, the Tribeca Film Festival, SXSW, DOC NYC, and the International Documentary Film Festival Amsterdam (IDFA).
Andrew began his career in Santa Fe, where he founded the New Mexico Repertory Theatre, a regional professional company that grew to become the largest theatre in the history of the state. During his years in New Mexico Andrew directed and produced over forty plays. In the early 90s, he moved to Los Angeles where he opened a new chapter of his career as an independent feature filmmaker. As one critic put it, life teaches the characters in Andrew's films a whole new set of three R's: Ruin, Revenge, and Redemption. Santa Fe (Sundance Film Festival/HBO), starring Gary Cole, Lolita Davidovich and Tina Majorino, explores the destructive allure of cults; The Corndog Man (Sundance Film Festival/Sundance Channel), featuring Noble Willingham (nominated for an Independent Spirit Best Actor award for his performance) as a boat salesman haunted by the past, explores the connection between torment and regret; Forfeit (SXSW/Showtime), starring Billy Burke, Sherry Stringfield, Gregory Itzin and Wayne Knight, is at once a heist caper, a psychological thriller and a modern morality tale of reckoning and revelation; Take My Breath Away, the story of a condemned inmate who sells the rights to film his execution in the California gas chamber as a music video, was one of two American shorts that were invited to screen in the International Critics Week of the 1993 Cannes Film Festival.
During his years in Los Angeles Andrew also worked as a television writer. He co-wrote the television movie, Beat of a Different Drum, for ABC, Fox Television Studios and Edmonds Entertainment. He also co-wrote a drama pilot for ABC and Fox Television, The Crew, set in the world of college rowing.
Andrew is a native of New York City, which is the principal location of his first documentary, Portrait of Wally, the story of a Nazi-looted painting by Egon Schiele that was discovered on the walls of the Museum of Modern Art in 1997, triggering a historic court battle that pitted the Manhattan District Attorney, the United States Government and the heirs of a Viennese gallery owner against a major Austrian museum and MoMA. The film premiered at the Tribeca Film Festival in April, 2012, to excellent notices. Seventh Art Releasing released the film following its Tribeca premiere in art house theatres nationwide and also booked it in numerous fine art museums, film festivals, universities, and community centers. The film is now available on major VOD platforms.
Andrew's second documentary was Wrestling Alligators, the story of James Billie, the driving force behind the multibillion-dollar Indian gaming industry and the former Chairman of the Seminole Tribe of Florida, the only Native American Indian Tribe that never surrendered to the United States and never signed a peace treaty. The film screened at IDFA, the Denver Film Festival, the Palm Springs International Film Festival, the Austin Film Festival, and the Florida Film Festival. 
Andrew's most recent release, Buzz, produced in association with Peter Berg and Matthew Goldberg of Film 45, premiered at DOC NYC and was acquired by Endeavor Content and HBO. Buzz was conceived as a sports-themed documentary about Pulitzer Prize-winning reporter and author Buzz Bissinger revisiting his beloved book Friday Night Lights on the occasion of the book's 25th anniversary, but evolved into a deeply personal story about marriage and authenticity when Bissinger wrote the Vanity Fair cover story about Caitlyn Jenner and her transition and then collaborated with Jenner on her memoir, Secrets of My Life. The documentary is currently streaming on HBO Max.
Andrew recently completed a new fiction film, I'll Be There, written by RTF colleague Cindy McCreery and starring Jasmine Batchelor and Ryan Cooper. Andrew and Cindy plan to premiere the film in the fall of 2023.
Andrew holds an M.F.A. from USC's School of Cinematic Arts, an M.F.A. from the School of Theatre at CalArts, a J.D. from Northeastern University School of Law, and a B.A. from Hampshire College. He is a member of the Directors Guild of America, the Writers Guild of America and the Stage Directors and Choreographers Society.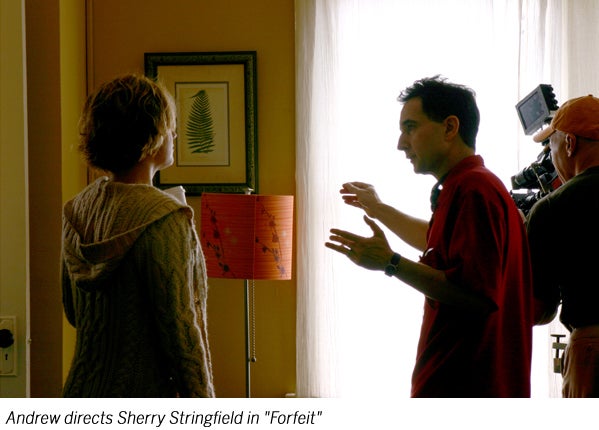 MFA School of Cinema 1994 USC Los Angeles, CA
MFA 1985 California Institute of Arts Santa Clarita, CA
JD Law 1982 Northeastern University
Production
Directing
Screenwriting
Narrative filmmaking
Documentary filmmaking