Karen Kocher's "Origins of a Green Identity" airs on PBS
April TV broadcasts and streaming
Even as Austin's population continues to explode, growing denser every day, a key attribute residents come to treasure about the city is the rich supply of green spaces along its waterways. The fact that these spaces are accessible to the public today is not happenstance, but rather the result of tireless efforts on the part of conservationists who fought against the privatization of this land and for the creation of parks and trails.
Beginning over fifty years ago, two pioneering citizens led this conservation movement, facing opposition as they pushed back against developers and the ill effects of rapid and unregulated growth: Chairman of the Austin Parks Board (and UT alum!), Roberta Crenshaw, and Director of the Austin Parks and Recreation Department, Beverly Sheffield.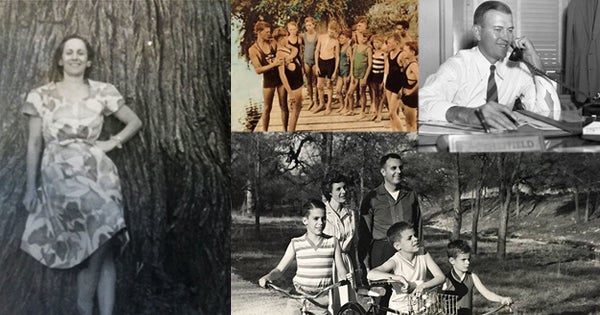 The latest episode in RTF Associate Professor of Practice Karen Kocher's on-going documentary series, Living Springs, is an hour-long documentary, "Origins of a Green Identity," which focuses on these early conservationists and their efforts to preserve Barton Springs and Barton Creek. The film, which was narrated by Texas novelist, Sarah Bird, and features original music from Austin's Graham Reynolds and guitarist, David Murray, premiered on PBS and will be rebroadcast on Austin's KLRU on 4/18 at 1 pm CDT and on 4/22 (Earth Day) at 10 pm CDT. It is also streaming through the station's website. If you listen closely, you will hear the voices of some RTF faculty and staff in the voiceover narration.
We asked Kocher a few questions:
Q: What inspires you to focus your work on Austin's green spaces? Why talk about them?
Hill Country green spaces and clean water make Austin unique compared to the other large cities in Texas. Over and over when I interview people, they talk about how these parks and trails factored into their decision to move to Austin or to stay in Austin after they moved here for a different reason. I think that so many people appreciate these amenities but don't really understand the difficulties that securing them and protecting them entailed. By delving into these stories, I hope that people can appreciate them more deeply and hopefully also feel called to advocate for their continued protection.
Q: Is there a connection between delving into the history of Austin's conservation movement with addressing the needs and identity of today's Austin?
The point of the documentary is stated so beautifully by one of our interviewees. Mary Arnold, a longtime advocate for open space protection said, "When people come to Austin, they say how beautiful and wonderful it is, and I say, we had to work hard to get it that way and we have to work hard to keep it that way." I think her points makes clear the connection.
Q: Do you feel that the work of Roberta and Beverly, who fought against the status quo, has influenced you as an independent environmentally-focused filmmaker?
It makes me realize that until our society has a paradigm shift, these struggles will continue and they will not be pleasant for those people who know in their hearts and minds that humans are part of nature and must do more to live in harmony with nature. I hope that my work, by bringing attention to what is special about the natural world, will be part of the solution to helping people realize how lucky we are to have such beauty around us everyday. Hopefully more people will feel motivated to get involved through voting, advocating and volunteering. To date, I have discovered that the work speaks most deeply to those who are already engaged by shining a light on these environmental stories and thereby acknowledging their importance.
Q: What would you say to RTF students that want to dive into documentary filmmaking but don't know where to start?
Find a story that you care about and go for it. Technology has become so much more affordable and better. Phones can shoot 4K video now! And, watch, watch, watch. Learn the art of storytelling by watching the work of others. You can learn a lot about what works and what doesn't by watching. One thing that I love about documentary making is that it is an excuse for lifelong learning. This keeps life fresh and engaging.