Punching the glass ceiling
Assistant Professor Jennifer McClearen's new book, "Fighting Visibility," takes on sexist labor practices in the UFC
Sports media scholar. RTF assistant professor. Martial arts black belt...Jennifer McClearen explores the intersection of her passions in her new book, Fighting Visibility: Sports Media and Female Athletes in the UFC (University of Illinois Press). The first academic book on the Ultimate Fighting Championship (UFC), Fighting Visibility considers the UFC's exploitation of the labor of diverse female athletes, in spite of increased visibility of women in the sport. A panel on April 29, 2021, will discuss the book in a conversation open to the public.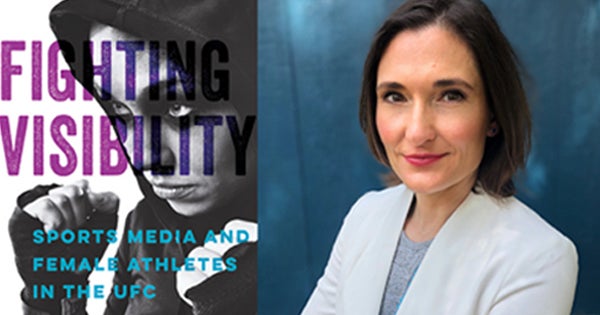 In the early 2010s, Ronda Rousey famously convinced the world's largest mixed-martial arts (MMA) promotion, the UFC, to include female fighters, an act which heralded a new fervor for sportswomen in an infamously hypermasculine cultural milieu. The contemporary popularity of women in the UFC might suggest that female fighters are breaking the barriers of a notoriously stubborn glass ceiling. However, Fighting Visibility urges advocates of women's sports to consider the limits of representation for cultural change and urges caution against discourses celebrating visibility. Part cultural history of the UFC as a media juggernaut and part cautionary tale for the future of women as sports laborers, Fighting Visibility argues that the UFC's promotion of diverse female athletes actually serves as a seductive mirage of progress that enables the brand's exploitative labor practices. The UFC's labor model disproportionately taxes female athletes, particularly women of color and gender non-normative women, despite also promoting them at unprecedented levels. Fighting Visibility complicates a prevalent cultural notion the increased visibility of female athletes will lead to greater equity in sports media and instead urges us to question who ultimately benefits from that visibility in neoliberal brand culture. 
Jennifer McClearen is a feminist media scholar whose research examines the cultural production of difference in popular media with a focus on sports and consumer culture. She is an assistant professor of media studies in the Department of Radio-Television-Film at the University of Texas at Austin where she is also affiliated faculty with the Center for Sports Communication and Media and the Center for Media and Entertainment Industries. 
Read more about the book in this Q&A with McClearen.