Saying Goodbye to RTF Professor Paul Stekler
Former department chair retires after 25 years at UT
Professor Paul Stekler is graduating (aka "retiring") from UT at the end of this academic year.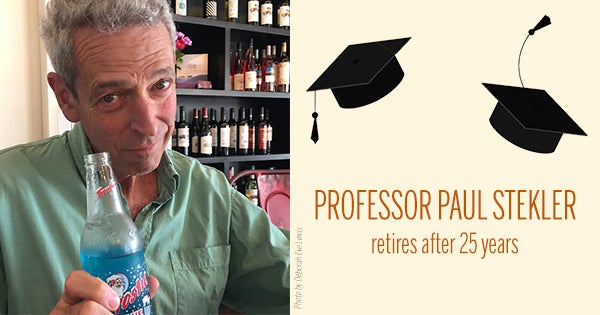 photo by Deborah Eve Lewis.
Named the Wofford Denius Chair in Entertainment Studies, Paul has been significantly shaping the UT Radio-Television-Film program for over 25 years. He has beefed up the production area, diversified our faculty, and raised funds for initiatives. He has also held a joint appointment with UT's LBJ School of Public Affairs, where he founded the Center for Politics and Governance.
Paul has served the RTF department in many roles: Area Head, Chair, Professor, and unofficial mentor to many students and alumni (though officially named the 2014 Variety "Mentor of the Year!"). He is of course also a nationally recognized documentary filmmaker: his films have won two George Foster Peabody Awards, three Alfred I. duPont-Columbia University Journalism Awards, three national Emmy Awards, and a special jury prize at the Sundance Film Festival.
On the personal side, Paul is a keen lover of film, art, politics, and great conversations, and he heartily champions the accomplishments of his peers and students. Along those lines, he always shows up—an avuncular, low-profile cheerleader—at their milestone events.
Before leaving UT, Paul penned a "commencement speech" designed to be "part farewell, part thank-you" to his colleagues and students, published in the Austin Chronicle. He leaves the university with this message, a play on the UT slogan: "What happens in your heart can change your world."
Find Paul's films and more info at paulstekler.com.