Fall 2020 End of Semester Streamings
Taking place online Dec 10-13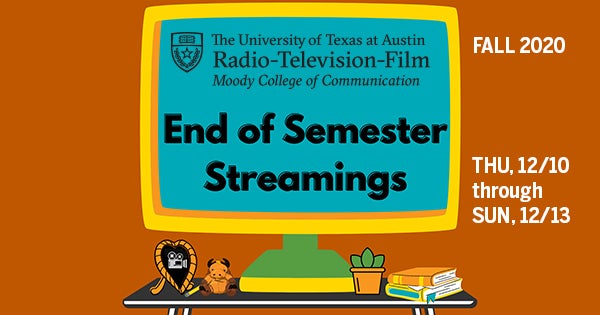 The Department of Radio-Television-Film welcomes the public to attend virtual screenings of student films completed during this historic 2020 Fall Semester. Our students have been working harder than ever, and often under extraordinarily challenging circumstances during the Covid-19 crisis. We're proud to celebrate their achievements.
The screenings will be broadcast Thursday-Sunday evenings, Dec 10–13, via YouTube Premiere according to the schedule below. Log into Zoom after each screening to join a Q&A discussion with the filmmakers.
Schedule
Notes:
• All times listed are Central Standard Time.
• Program and viewing links will be provided approximately 24 hours in advance under the class name.
• After each screening, join our live Q&As with the filmmakers! You must log in first to Zoom and enter this meeting code: 98519042463.
THURSDAY, DEC 10
 
3:00–4:30 pm - 337 Ears Only: Audio Storytelling - Andrew Garrison
WATCH on YouTube    Program Details
5:00–7:30 pm - 366K Documentary Production - Deb Lewis
WATCH on YouTube    Program Details
8:00–9:15 pm - 366K Narrative Production – Nancy Schiesari
WATCH on YouTube    Program Details
---
FRIDAY, DEC 11
 
2:15–3:30 pm - 318 Intro to Image & Sound - Deb Lewis
WATCH on YouTube    Program Details
4:00–5:30 pm - 341 Audio Production into Post - Andrew Garrison
*This program will air over Zoom. Log in to Zoom first and use this meeting code: 98519042463.
WATCH on  Zoom   Program Details
6:00–7:00 pm - 366K Narrative Production - Vanessa Uhlig
WATCH on YouTube    Program Details
7:30–8:30 pm - 366K Narrative Production - Steve Mims
WATCH on YouTube    Program Details
---
SATURDAY, DEC 12
 
2:00–4:00 pm - 388P Advanced Directing Dogme - Andrew Shea
WATCH on YouTube    Program Details
4:30–6:30 pm - 343 Advanced Narrative Production (a Web Series) - Miguel Alvarez, Nancy Schiesari – with Adriana Serrano & Cindy McCreery
WATCH on UT Box    Program Details   *Read about the 4-class collaboration!*
7:00–8:00 pm - 343 Advanced Music Production - PJ Raval
WATCH on YouTube   Program Details
---
SUNDAY, DEC 13
 
1:00–3:30 pm - 1st Year MFA Narrative films (KBs, from spring 2020) - Miguel Alvarez
WATCH on YouTube    Program Details
4:00–6:15 pm - 1st Year MFA Documentaries (KAs) - Paul Stekler & Anne Lewis
WATCH on YouTube    Program Details
6:45–9:15 pm - MFA Prethesis Films (from spring 2020) - Miguel Alvarez & Anne Lewis
WATCH on YouTube    Program Details