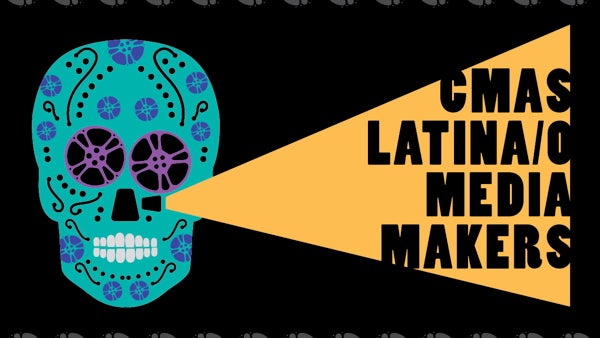 The Center for Mexican American Studies (CMAS), in collaboration with the Department of Radio-Television-Film (RTF), is proud to present the Latina/o Media Makers series, showcasing three Latina/o film and media makers who have made significant contributions to Latina/o visibility and media production.
All events will take place from 5:30 pm -7:30 pm in BMC 5.102 and include screenings of selections of the filmmakers' work, followed by moderated Q&A sessions. More details about the media makers can be found below.
Tuesday Feb. 28 - Rose Troche
Rose Troche is an award-winning writer, director, and producer of film, television, and new media. Her film work includes: Go Fish (Teddy Award winner for Best Feature Film, Berlin International Film Festival; Audience Award winner, Deauville Film Festival; Open Palm Award, Gotham Awards; and nominated for the Grand Jury Prize, Sundance Film Festival); Bedrooms and Hallways (Audience Award winner, London Film Festival); and The Safety of Objects (Critics Award winner, Deauville Film Festival for best screenplay and best actress, Patricia Clarkson).
She was sole producer on Concussion which was nominated for an Independent Spirit Award for Best First Feature and won Best New Director at IFP's Gotham Awards. She was a consulting producer on Cherien Dabis's May in The Summer and Deb Shoval's AWOL. She also executive produced Little Boxes, which sold to Netflix in the largest purchase of the 2016 Tribeca Film Festival.
Troche has worked extensively in television directing the pilots for The L Word and South of Nowhere, where she served as co-executive producer, writer, director and consulting producer, respectively. Most recently, she served as producing director on Lee Daniels's series, Star. Additional television work includes Six Feet Under, Ugly Betty, Law & Order, and Finding Carter.
Troche turned her attention to the web, developing and executive producing Hunting Season. She worked with Rodrigo Garcia and Jon Avnet on their wildly popular web channel, Wigs, directing the limited series, Rochelle.She then teamed up with ITVS to write and direct Elliot King Is Third. She then created the limited series, SugarPBS Digital, which was released in March 2016.
Troche has also been working in Virtual Reality since 2014, writing, directing and producing the acclaimed series,Perspective; Chapter 1: The Party and Chapter 2: The Misdemeanor both premiered at the Sundance Film Festival in 2015 and 16 respectively. In 2016, she was awarded the Sundance Institute Time Warner Fellowship Program Grant for her upcoming VR comedy series, LGBTQIA.
Tuesday March 7 - Jesús Treviño
Jesús Salvador Treviño is writer/director whose television directing credits include CRIMINAL MINDS, LAW & ORDER CRIMINAL INTENT, PRISON BREAK, ER, BONES, CROSSING JORDAN, THIRD WATCH, NYPD BLUE, CHICAGO HOPE, THE PRACTICE, THE O.C., DAWSON'S CREEK, NASH BRIDGES, STAR TREK VOYAGER and many others.
His national PBS documentaries about Latinos include YO SOY CHICANO, AMERICA TROPICAL, LA RAZA UNIDA, CHICANO MORATORIUM and THE SALAZAR INQUEST. He was Co-Executive Producer of the PBS documentary series, CHICANO! HISTORY OF THE MEXICAN AMERICAN CIVIL RIGHTS MOVEMENT. He wrote and directed the Mexican feature film RAICES DE SANGRE (ROOTS OF BLOOD) and SEGUIN, an American Playhouse drama of the Alamo saga told from a Mexican American point of view.
Mr. Treviño's collection of short stories, THE FABULOUS SINKHOLE AND OTHER STORIES was published in 1995. A memoir of his experiences as an activist filmmaker during the turbulent 1960s, EYEWITNESS: A FILMMAKER'S MEMOIR OF THE CHICANO MOVEMENT was published in 2001. A second collection of short stories, THE SKYSCRAPER THAT FLEW, was published in 2005. His most recent collection of short stories RETURN TO ARROYO GRANDE was published in 2015 and won the 2016 American Book Award. Mr. Trevino's latest effort is a video website showcasing Latino history, art, music, theater, literature, cinema and food:www.Latinopia.com.
Tuesday April 11 - Jim Mendiola
Jim Mendiola is an independent filmmaker, programmer, and writer based in his hometown of San Antonio, Texas. A Rockefeller Intercultural Media Fellow, Mendiola's award winning films have screened in numerous film festivals, museums, and colleges in the U.S., Mexico and Europe, public television and cable TV. His projects have been supported by the Independent Television Service, Film Independent, Latino Public Broadcasting, Mun2, PBS, SiTV, and the Sundance Filmmakers Lab, among others. As a programmer, Mendiola created the film program at Yerba Buena Center for the Arts in San Francisco, and is currently directing the San Antonio CineFestival. Along with fellow filmmaker Cruz Angeles, Mendiola co-created the Latino Screenwriting Lab, an annual ongoing workshop produced in partnership with the Sundance Institute. He is a currently artist-in-residence at the University of Texas at Austin where he is writing a book on the history of U.S. Chicano/Latino independent filmmaking.