Micah Barber's "The Adventures of Thomas and Felix" released nationwide Jan. 26, 2021
Gravitas Ventures streams film on iTunes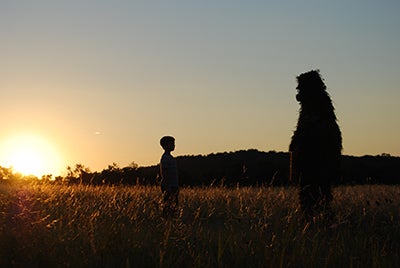 Assistant Professor of Practice Micah Barber's debut feature film THE ADVENTURES OF THOMAS & FELIX will be released nationwide by Gravitas Ventures on January 26th.
Produced by Terrence Malick's wife Alexandra, THE ADVENTURES OF THOMAS & FELIX tells the story of a ten-year-old boy and his best friend, Felix the Fox. Thomas's parents want him to make "real friends," so they send him to summer camp. He hates it. After a midnight escape, Thomas and Felix find themselves deep in the forest of the Who Knows, where they pursue a mythical being called the Totem and decide to catch it.
The screenplay, co-written by Barber and MFA alum Tony Faia, received Nicholl Semifinalist recognition from the Academy of Motion Picture Arts & Sciences, and stars Bryce Gheisar (Disney's WALK THE PRANK, Nickelodeon's ARE YOU AFRAID OF THE DARK?, and A DOG'S PURPOSE).
Barber's followup kids & family movie WINTER ISLAND has been optioned by 8750 Films in Los Angeles for production in 2021.
THE ADVENTURES OF THOMAS & FELIX can be preordered on iTunes.