New Radio-Television-Film chair
Noah Isenberg appointed to lead Department of Radio-Television-Film, beginning January 2019
Noah Isenberg, an accomplished scholar, author and administrator, has been appointed Professor and Chair of the Department of Radio-Television-Film at The University of Texas at Austin. He will also be the holder of George Christian Centennial Professorship. His appointment begins Jan. 1, 2019.*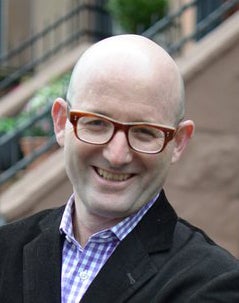 Dr. Isenberg is currently Professor of Culture and Media at the New School's Eugene Lang College of Liberal Arts in New York City, where he also directs the Screen Studies program. He is the author of four books, including the recent bestseller, "We'll Always Have 'Casablanca': The Life, Legend, and Afterlife of Hollywood's Most Beloved Movie" (W.W. Norton, 2017). His writing has appeared in The New Republic, The Nation, New York Review of Books, Wall Street Journal and the New York Times.
"Owing to the remarkably high quality of its faculty, students and staff, not to mention the extraordinary resources of the university at large, the Department of Radio-Television-Film has long enjoyed world-class distinction. I feel particularly honored to be given the opportunity to help guide the department into what promises to be an equally auspicious new phase of its existence," Isenberg said. "Similarly, I look forward to working together with Dean Bernhardt and with all members of the greater RTF community, past and present, to meet the current challenges and to forge a vital path for the future."
Isenberg has been awarded grants and fellowships from the National Endowment for the Humanities (NEH), the Austrian Fulbright Commission, the Internal Research Center for Cultural Studies in Vienna, and the Alexander von Humboldt Foundation, among others. He is also a fellow at the New York Institute for the Humanities and the recipient of an inaugural NEH Public Scholar award in 2015-16.
Prior to arriving at The New School, he taught German and film studies at Wesleyan University in Middleton, CT from 1995-2004. He has been a visiting professor at the University of Pennsylvania and at Dartmouth College.
A graduate of the University of Pennsylvania (B.A. in European history, 1989), Isenberg also holds advanced degrees from the University of Washington (M.A. in German literature, 1991) and the University of California at Berkeley (Ph.D. in German studies, 1995).
"Noah is an internationally-respected scholar of cinema who also possesses extensive experience in academic administration," said Jay Bernhardt, Dean of the Moody College of Communication. "He is well-positioned to bring together our many talented and diverse faculty, staff, students and alumni toward a shared vision for the future in the media arts and studies."
Bernhardt describes the Radio-Television-Film program as one of The University of Texas at Austin's  "crown jewels," because of its national reputation and high ranking in both TV/Film Production and Media Studies. Finding a leader who would continue to prioritize that breadth and depth was a key component of the search for a new chair, Bernhardt said.
"In Dr. Noah Isenberg, we found the ideal leader and scholar who understands and values all aspects of the work conducted in RTF," Bernhardt said.
*Note: During the fall 2018 semester, Associate Professor Richard Lewis will act as Interim Department Chair.