RTF Webinar Series presents Latina Filmmaker Panel
Thursday, May 7 • 5–7 pm CT via Webinar
The Department of Radio-Television-Film is excited to present the first panel in the RTF Webinar Series on Thursday, May 7, focused on Latina filmmakers.
Moderated by incoming RTF production professor, Iliana Sosa, the Latina Filmmakers Panel will open a conversation about what it means to be a Latina filmmaker in an industry that typically does not prioritize the inclusion of marginalized identities. These filmmakers (bios below) will discuss how they are breaking barriers and bringing their voices to the forefront.
The department aims to support marginalized filmmakers who are coming up in our program and are very excited about our panelists, many of whom are RTF alumni! Their bios are listed below.
Co-sponsored by Latino Media Arts & Studies, this event was organized by Marisela Campos, with support from student filmmakers Mari Estrada and Aylin Martinez Barrera.  
Watch the video online. [Coming soon]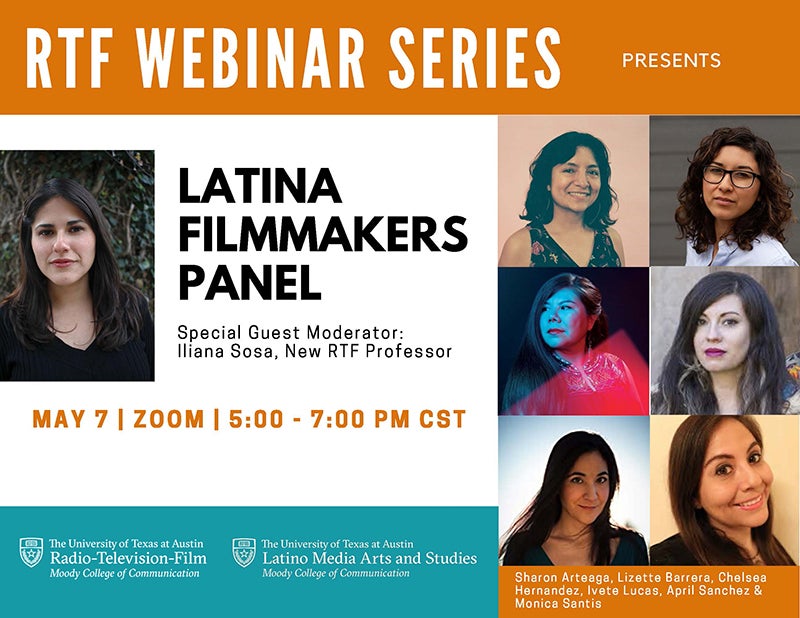 Moderator
ILIANA SOSA
Incoming RTF faculty member Iliana Sosa is a documentary and narrative fiction filmmaker that divides her time between El Paso and Austin. She was born and raised in El Paso, Texas, by Mexican immigrant parents. A former Bill Gates Millennium Scholar, she holds an MFA in film production and directing from UCLA. She is the recipient of numerous awards, including the Steven Bochco Fellowship, the Hollywood Foreign Press Award, the Edie and Lew Wasserman Fellowship, and the National Hispanic Foundation of the Arts Scholarship, among others. Her MFA thesis film, CHILD OF THE DESERT, won Best Short Film and the Texas Award at the Oscar-qualifying 2012 USA Film Festival. She was a 2013 Film Independent Project Involve Directing Fellow and was selected for the 2013 TransAtlantic Talent Lab in Reykjavik, Iceland. In 2014, she was selected for the Sundance sponsored Latino Screenwriting Project with her script, PAPER BIRDS LEARN TO FLY. Iliana has directed short documentaries, fiction shorts, and a narrative fiction feature, DETAINED IN THE DESERT, which had its World Premiere at the 2012 Los Angeles Latino International Film Festival. In 2017, Firelight Media awarded her an Impact Producer Fellowship. In 2018, she was selected as a Berlinale Talent and most recently co-directed a short documentary, AN UNCERTAIN FUTURE, with Chelsea Hernandez. The short has screened at the 2018 SXSW Film Festival and won a Jury Award for Best Texas Short. It has also screened at the 2018 Aspen ShortsFest where it won the Youth Jury Award. She is a 2018-2019 Sundance Development Fellow with her first feature documentary, What We Leave Behind.
Panelists:
SHARON ARTEAGA
Writer/Director/Producer Sharon Arteaga is a first-generation Mexican-American filmmaker from Corpus Christi, Texas, who convinced her mom to buy her a video camera instead of a Quinceañera. She has won numerous shorts competitions including being selected out of 900+ films to tour the US and Canada with LUNAFEST. Arteaga received the highly-competitive Austin Film Society Grant for her short film Plane Pretend which has won four best shorts awards and is currently in the festival circuit. Arteaga was recently a 2019 Tribeca Through Her Lens finalist for her short screenplay "In Tow." She is in plans to release the video essay "When You Clean a Stranger's Home" in 2020 (pending covid-19 developments). Arteaga is working on several narrative shorts about life on the Texas coastal bend while developing her first feature film. She recently started her own production company One Lunchbox Productions, which has done work for clients like CapMetro and Blue Cross Blue Shield. Arteaga is a passionate educator who loves teaching others to also tell their stories through film.
APRIL M. SÁNCHEZ
Award winning screenwriter April M. Sánchez was born and raised in the U.S. border town of El Paso, TX. Growing up in a bicultural city has inspired her media projects which are imbued with the beauty, wonder and traditional elements of the border town Latino culture.
April holds a bachelors degree in Screenwriting and a Latino Media Studies certification from the University of Texas in Austin. Her scripts have made their way to the finalist round in many screenplay competitions including the Sundance Screenwriters Lab, as a Semi-finalist for the Academy Nicholl Fellowship, and at the Austin Film Festival as a Second Rounder with 3 scripts. She has participated in the NALIP Screenwriting Lab, the Stowe Story Lab, the Athena Film Festival LA TV & Screenwriting Lab, and her script won the 2019 Best Feature Screenplay at the Sidewalk Film Festival.
CHELSEA HERNANDEZ 
Chelsea Hernandez is a Mexican-American filmmaker based in Austin, Texas. Her work focuses on the unique perspectives of various issues and topics through the lens of ordinary people who challenge the status quo and injustices across the globe.
IVETE LUCAS
Ivete Lucas is a director, producer, and editor based in Austin, Texas. She was born in Brazil, grew up in Mexico, and holds an MFA in Film Production from the University of Texas at Austin. For the past 10 years, she has been making video art and co-directing observational documentaries with her partner Patrick Bresnan.
She started her career in Mexico with a grant from the Mexican Film Institute (IMCINE) to direct the short film ASMA, which was shortlisted for an Ariel (the Mexican equivalent of the Academy Award). Her short documentary THE SEND-OFF, co-directed with Patrick Bresnan, premiered at Sundance in 2016 and won jury awards at SXSW, AFI Fest, and the San Francisco International Film Festival. She directed ROADSIDE ATTRACTION, a documentary short that premiered at Toronto International Film Festival 2017. SKIP DAY, which she co-directed, premiered at Cannes and was awarded best short film. She co-directed, produced and edited PAHOKEE, which premiered in the Documentary Competition at the 2019 Sundance Film Festival. She is currently in production with her partner Patrick Bresnan on a new feature film about naturism at a Central Florida nudist resort.
MONICA SANTIS
Monica is a director, producer & screenwriter based in Austin, Texas. After earning her M.A. in Latin American & Hemispheric Studies from George Washington University, she enrolled at the London Film School where she received her M.A. in filmmaking with a specialization in directing. She was selected for 'Austin Film Festival's 25 Screenwriters to Watch in 2018' list presented by MovieMaker Magazine. Her award-winning short film, Hacia el Sol (Towards the Sun), premiered at Palm Springs International ShortFest and was included in Remezcla's 'The 10 Best Short Films By US Latino Directors of 2018' list.
LIZETTE BARRERA
licensed short film MOSCA (FLY) and ESPN licensed short documentary film Mr. Pastor Jones. She was awarded the EBW Austin Film Society Grant in 2017 by Sandra Adair for empowering female filmmakers for her short film CHICLE (GUM), which World Premiered at SXSW in 2019. In addition, she received the Femme Frontera Award at the 2019 El Paso Film Festival and the Filmmaker to Watch Award at the 2016 Women Texas Film Festival.
She has received her MFA in Film Production at The University of Texas at Austin and has previously served as a Senior Lecturer and Adjunct Assistant Professor at The University of Texas at Arlington. She is currently working as a Producer for Prelude Films.
Currently in Development for two features and a short.