Fifty years ago, back in 1965, when we filmed motion pictures with WWII field cameras on celluloid and cut them together with razors and tape on Moviolas, the University of Texas at Austin launched the Department of Radio-Television-Film.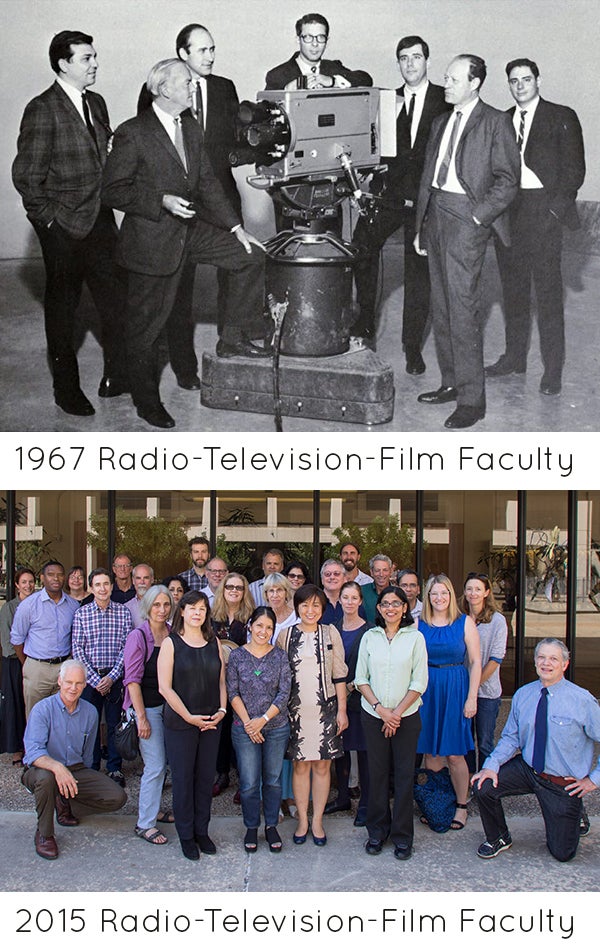 A lot has changed in fifty years. (See photos to the right!)
Today's RTF program still embodies the fiercely independent spirit for which Texas is known. We stand for creative freedom built on rigorous scholarship.
The most affordable top-tier U.S. program in both the cinematic arts and the academic study of media, we offer a diverse community of 1000 undergraduate and 150 graduate students a comprehensive media education, unmatched among our peer institutions for the depth of our curriculum — a blend of hands-on, real-world opportunities for developing the crafts of cinematic storytelling with the critical examination of the historical, cultural, and global contexts in which media impacts our 21st century world.
Even as our alumni have been garnering major recognition and carving new careers in all areas of the media industries, we've been shaking things up here at home, expanding and emboldening our curriculum to better prepare our students to lead the next generation of media innovations.
We're pioneering education in immersive storytelling with UT3D, the nation's first 3D production program.
 
We're investing in emerging, state-of-the art technologies, with digital media classes in virtual reality development, motion graphics, gaming, interactive storytelling, and animation.
 
We're developing film preservation policies and techniques through an exclusive partnership with the Texas Archive of the Moving Image.
 
We're investigating both new and classic media forms from around the world, with a special emphasis on works from Mexico, Brazil, the Middle East, and Asia.
 
We're providing unique opportunities for our students to engage with media professionals about the current state of the industry through programs such as the University of Texas at Austin Semester in Los Angeles (UTLA), tailored internships, and the new Media Industry Conversations (MIC) speaker series and Entertainment Industry master class.
 
We're opening doors for our screenwriters through career-building internships and groundbreaking classes such as the MFA TV Writers' Room: Co-taught by veteran TV Showrunner Scott Shepherd (The Equalizer, Quantum Leap, The Dead Zone), the Writers' Room is the only class in the country in which students create an entire season of a television show based on a pilot that already has attached producers—including Robert Redford's Sundance Productions (attached to the first series)—and is then shopped around Hollywood to every major network and cable outlet.
 
We're examining and engaging with global media industries, new and interactive media, and global media policies through innovative research and centers such as the Technology and Information Policy Institute.
 
We're crafting award-winning documentaries, including content for radio broadcast and podcasting, screening within local East Austin communities, and streaming on the Mental Health Channel.
 
We're supporting millennials' entrepreneurial and creative use of digital media through projects like the MacArthur Foundation-funded Social Innovation Lab and the new Doing Innovation interactive site.
 
We're building on the individualized mentoring and top-notch production and post resources that we've always provided our production students by now offering the financial assistance needed to produce ambitious MFA thesis films, through the new Moody Innovation Fund.
 
We're giving students an insider's education on the script-to-screen development of a major motion picture, through RTF alumnus Matthew McConaughey's one-of-a-kind advanced producing class that closely tracks the ongoing progress of preproduction, production, post, and distribution for THE FREE STATE OF JONES, directed by Gary Ross (The Hunger Games) and starring McConaughey.
 
And we're forging rich collaborations with other UT departments, local organizations, and international institutions such as a co-taught class with UT's Department of Theater and Dance; international exchange programs through UT Portugal and the UT South Asia Institute grant with the National College of Arts in Pakistan; and The Washington Post-hosted, Knight Foundation-funded virtual reality project with the UT School of Journalism. 
As RTF reflects on where we've been over the past half-century and—together with our community of alumni, faculty, students, and supporters—where we will steer the next fifty years, this Golden Anniversary marks a golden opportunity to reimagine media education and to lead the nation in transforming the future landscape of the industry. As UT's motto declares: What Starts Here Changes the World. Stay tuned as we co-create the next exciting episode!
—Paul Stekler, Chair, Department of Radio-Television-FIlm
---
RTF memories you want to share? Contact: rtf-department@austin.utexas.edu
RTF alum with news to share with the community? Fill out this questionnaire.