Thanks to a new class offered in partnership with the UT3D Program, RTF undergraduates will design their own immersive, virtual reality (VR) projects.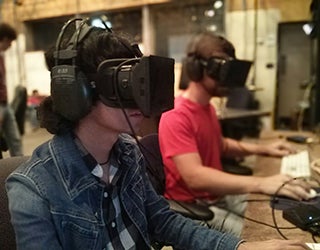 Combining elements of virtual reality, stereoscopic 3D, and advanced media techniques, the Intro to Immersive Media course will teach students to create virtual and photoreal media projects that can be viewed on head-mounted displays like the Oculus Rift, HTC Vive, and Samsung Gear VR. The course, which will be offered every fall and spring, will emphasize the interdisciplinary nature of the technology and also explore the possibilities for immersive media in various industries.
MFA alumnus Deepak Chetty is teaching the course, which also features special lectures by RTF visual effects and motion graphics instructor, Ben Bays. Chetty has long been intrigued by the potential applications of VR, and as an MFA student designed an immersive game-engine experience for a graduate research project supervised by Bays.
And now Chetty will have the opportunity to test applications of VR beyond games. This fall, the UT School of Journalism received a prestigious Knight Foundation grant for a virtual reality journalism project in collaboration with The Washington Post. For this effort, they have partnered with RTF's UT3D program to provide stereoscopic videography and with the Texas Advanced Computing Center to develop an accessible VR plug-in for journalists, which Chetty says will be "an almost drag-and-drop way to publish VR." Chetty, along with filmmakers Juan Pablo González (MFA '15) and Cameron Quevedo (MFA student), will help create 360 degree video content for the project.
This innovative application for VR technology is something Chetty hopes will inspire his students. "There's a live-action element," says Chetty, "which is mainly 360-degree photography and videography, but then there's also a completely virtual element, which is the CG realm—for which we use game engines like Unreal and Unity."
UT3D Program Director Don Howard sees VR as playing an important role in the program's curriculum. "Virtual reality systems are an obvious outgrowth of 3D-style presentations," he says, "and thus a natural extension of UT3D's interests. So we're really happy to be building our program into this area, and Deepak—with his background in graphics and gaming, and the 3D production experience he has gained in our program—is uniquely qualified to lead this effort."
VR technology has made major headlines lately as tech companies compete with one another to introduce affordable head-mounted displays and VR content to consumers. Last spring, Facebook acquired Oculus VR, the manufacturer of the Oculus Rift virtual reality headset, for $2 billion, and recently announced plans to release an Xbox-compatible headset early next year.
For now, RTF students will have the chance to master the basics of a rapidly emerging technology, and Chetty hopes to build a strong foundation of the fundamentals. "Currently they're creating non-narrative content," he says. "It's more about creating and defining immersive spaces and creating experiences around those spaces. Storytelling…that, we'll develop hopefully in the future since it requires a little bit more advanced use of these tools."