Nancy Schiesari's new documentary "Citizens at Last" explores the Texas suffrage movement
Winner of 2022 Creative Achievement Award
Just a little over a hundred years ago, on August 18, 1920, the 19th Amendment to the U.S. Constitution was ratified, granting women the right to vote. The campaign for this landmark legislation was hard-fought, and many Texas women played crucial roles. Winner of the Moody College's 2022 Creative Achievement Award, Professor Nancy Schiesari's latest documentary, Citizens at Last: Texas Women Fight for the Vote, tells the story of these Lone Star State suffragists, who according to Schiesari, pushed back with "grit, persistence, and tactical smarts" against the anti-suffragists and prevailing Jim Crow policies.
After the film's 2021 regional premiere on PBS during Women's History Month, World Channel picked up the documentary for national distribution. It began airing in July 2021 as part of the channel's "Democracy!" theme.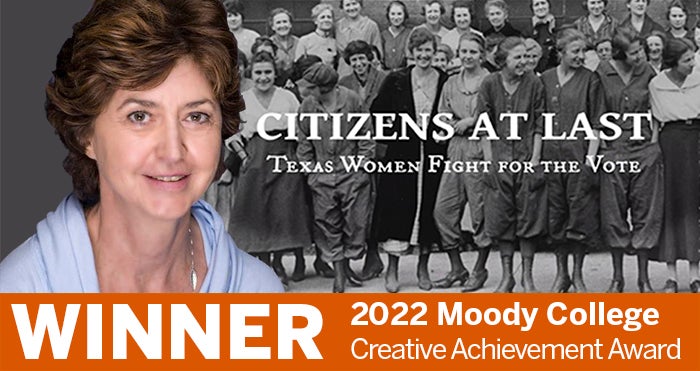 A pioneering filmmaker herself, Schiesari employed motion graphics and special effects for scripted reenactments threaded throughout the documentary. We asked her a few questions about her process.
Q: What originally drew you to make this documentary?
The idea for making the film came from a conversation with the producer, Ellen Temple, who published two books in the 1980's on Texas women's suffrage. Ellen was passionate about getting the untold story of suffrage leader Minnie Fisher Cunningham out to the public, and we both felt an obligation to educate and inspire other women with this story. Through Ellen's connections with historians, I had access to women scholars who were experts on Texas suffrage history.
Q: You approached the documentary in a non-traditional way, using Moody College's green screen and special effects. How did you employ these techniques to tell this story?
I knew I wanted to use a hybrid approach, incorporating traditional documentary interviews with theatrical readings, staged tableaux, and 3D effects applied to archive photography.
Green screen was the perfect medium to project historical images and to play with text as a formal device. Cycling throughout the film are images of words as they are typed—suffrage strategy, as well as intimate thoughts shared between suffrage leaders. These communications occupy the green-screen space. The mastery of these tableaus is thanks to filmmaker and RTF professor, Simon Quiroz, who created the composite space in post, while his team added 3D effects and motion to some 800 still photographs.
The research and discovery of hundreds of rare images are thanks to filmmaker Daniel Earney [MFA '17], who tirelessly scouted Texas archive sources and found exquisite images never before exhibited in public.
Q: What influenced your placement of the reenactments?
I wanted to represent our beautiful Capitol building as a space to signify power held jealously by white males only at the time, contested and fought over by disenfranchised women. Texas Suffragists of all ethnicities fought for decades to win the right to vote, pursuing a dream to serve our democracy as voters and as elected officials. The struggle continues…
Q: In addition to using the green screen and special effects team, were there other RTF ties with the film?
Many RTF students, faculty, and alumni were instrumental to the production and held key positions, including those listed below. You can find complete bios of the team, along with historical information about Texas suffragists, on our website, citizensatlastfilm.com.
DP: Rachel Bardin
Editor: Michele Nehme
Co-producer, editor, and archival researcher: Daniel Earney
Associate Producer, Casting Director: Melba Martinez
Composer Vik Muthusamy
Special Effects Supervisor and Overall Design of Visual effects: Simon Quiroz
Motion Graphic artists: Joel Mendez-Zarate and Mariah Espinosa
Titles: Xilu Fang
Colorist: Anand Modi
Camera: Jason Gamble Harter, Chris Foito, Mariana Gonzales
Actor: Mikala Gibson
Sound: Matt Lennon, Dana Reilly, Jocelyn Lyon
Re-recording mixer: Eric Friend
Sound design: Korey Pereira
Assistant editor:  Elizabet Sanchez
Editing consultant: Anne Lewis
Key grip: Eric Gerzymisch
Web designer: Kristopher Ohlendorf
---
"Citizens at Last," is available on the PBS app and streaming online. See the film's website for more information on where to watch.