March 11-19, 2022 • Austin, TX
The 2022 SXSW Film Festival is back in person this year. Because of the Covid-19 global pandemic, the last time the streets of Austin were filled with spring festival-goers was 2019, three years ago. Yet, during this challenging period, our students, alumni, and faculty have continued to make excellent films and critically analyze the media we consume.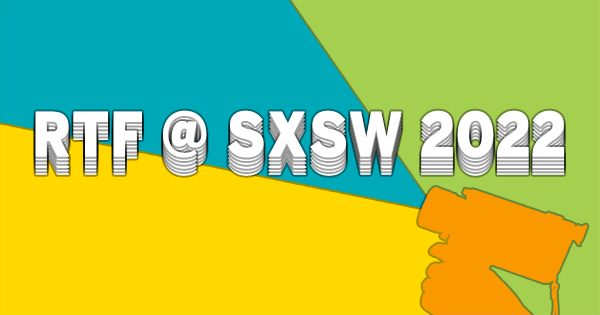 Check out below some of the RTF affiliates who are participating in the 2022 SXSW Film Festival. You can also follow the UT RTF Department SXSW Schedule.
Note: If you are an alum or student with SXSW events and we missed your details, please get in touch with us!
SCHEDULE
FILMS
Shorts
UT RTF LONGHORN DENIUS STUDENT FILM SHOWCASE
Sunday, March 13 • 8 pm • AFS Cinema
Charette

– Sara Pinar Onder

A Stray Calf

– Sebastian Valdivieso

Susannah Joffe: "Backseat"

– Susannah Joffe & Jackson Ingraham

Baahar

– Prakshi Malik

Favorite Daughter

– Dana Reilly

Toyah

– Marcelo De Stefano

Comadre

– Nicole Chi

Alpenglow

– Austin Leih

**Paid Modeling Gig**

– Matt Lennon

Moving Together

– Maggie M. Bailey
Director: Katherine Propper
Producer: Sophia Loffreda
Screenwriter: Katherine Propper
Cinematographer: Sam Mohney
Editor: Katherine Propper
Directors: Grace Potter, Emily Potter
Producer: C. Bailey Werner, Grace Potter, Emily Potter
Screenwriter: Grace Potter, C. Bailey Werner
Editor: Jacob Bottorff
Production Designer: Emily Potter & Grace Potter
Sound Designer: Eric Friend
Director: Amy Bench
Producer: Amy Bench, Carolyn Merriman
Sound Designer: Eric Friend
Animation: Sebastian Bisbal



Feature - Documentaries
Director: Iliana Sosa
*Update: Winner of 2 SXSW Special Awards: the Fandor New Voices Award and the Louis Black "Lone Star" Award
Director: Bradley Jackson
Cinematographer: Amy Bench
Cinematographer: Amy Bench
Editor: Nina Vizcarrondo
Associate Producer: Maggie M. Bailey

Features - Narrative
Cinematographer: Amy Bench
 
PANELS/SPEAKERS
Mar 12, 2022
4:00pm — 5:00pm
Ya'Ke Smith
Miguel Alvarez
Iliana Sosa
Vanessa Uhlig
Mar 13, 2022
2:30pm — 3:30pm



MENTORS