How often do scholars find the opportunity to break down disciplinary boundaries and fully participate in and contribute towards vibrant discussions on contemporary trends and issues in media?
This year's Flow Conference, which ran September 15th to 17th, marked the tenth anniversary of exactly this kind of forum. The biennial gathering, organized entirely by graduate students from the UT Department of Radio-Television-Film, attracts leading voices in television and media studies – including scholars, journalists, activists, and industry practitioners – to discuss the past, present, and future of television and media culture.
"Flow reflects RTF's rich history as a central site for the study of television criticism, dating back from [former Department Chair] Horace Newcomb's time in the department in the 1980s and 1990s, while at the same time continually innovating how we think and talk about TV—and beyond," comments RTF Associate Professor Alisa Perren, who, along with Assistant Professor Suzanne Scott, served as faculty co-advisor (Flow 2014, 2016).
Background
The conference was originally inspired by the Flow online monthly journal, which RTF graduate students have published, coordinated, and edited since 2004, with more than 700 authors from the U.S. and around the world contributing over 1400 columns.
"With the motto of 'TV studies at the rate of TV,' the journal has maximized the Internet's capabilities to deliver timely critical commentary on television culture as we wait and wait and wait for print publications to arrive," said faculty advisor, Mary Celeste Kearney, associate professor in the Department of Film, Theater, and Television at the University of Notre Dame. "As the online Flow journal developed, it committed to fostering real-life conversations about TV culture."
And so sprung the conference. To keep "pace with the myriad transformations in media industries, technologies, and cultures over the past decade" (Perren), the graduate student coordinators developed a somewhat risky information model, "privileging conversation and networking," as Kearney puts it, over a traditional presentational style academic conference.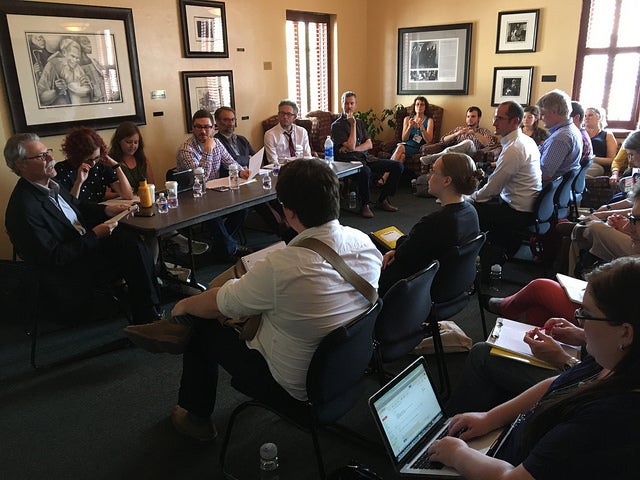 "The founding organizers understood that while there are plenty of places in academia for meticulously written presentations, we are so isolated from one other," said Aymar Jean Christian, assistant professor of Communication Studies at Northwestern University. "[Scholars] find it hard to build the kind of knowledge that only comes from sustained discussion about particular methodological, theoretical, or empirical conundrums."
The result? An "electric space for media studies scholars" (Derek Kompare, chair and associate professor of Film and Media Arts at Southern Methodist University).
Christine Becker, associate professor at University of Notre Dame, describes the long-term impact of this generative, workshop-style approach on the field of media studies as the "Flow Effect": "Flow helped to illustrate how valuable open discussions among focused audiences can be, and I think it has inspired many scholars to try to replicate that intimate dynamic at larger conferences like SCMS [the Society for Cinema and Media Studies flagship media studies conference]."
These scholarly discussions even inspired a book, Flow TV: Television in the Age of Media Convergence (Routledge, 2010). Co-edited by Flow organizers/attendees Michael Kackman, Marnie Binfield, Matthew Thomas Payne, Allison Perlman, and Bryan Sebok, this collection of essays builds on dialogues initiated in the conference and journal by examining the changing cultural, social, and political meanings of television in the 21st-century convergent era.
Flow Conference 2016
[See photos from the Conference here.]
A conference highlight this year was a special 10-year anniversary reunion plenary in which six of the original conference founders discussed dramatic changes that have taken place in the medium and study of television through the last decade—what issues are recurring, what issues remain unresolved, and what is new. A special issue of the Flow journal, which includes posts by the panelists, was expanded upon during the discussion.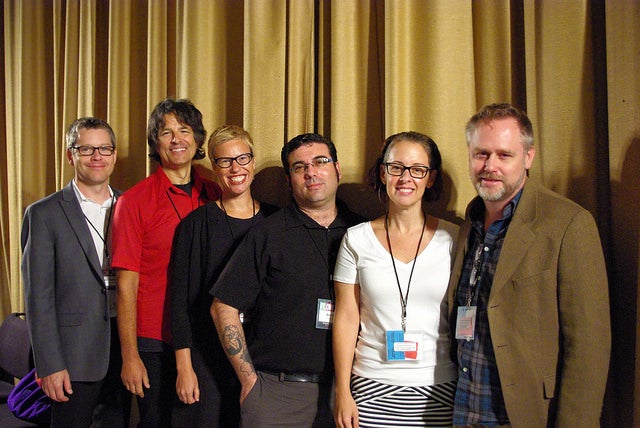 Moderators this year included many PhD students and most of RTF's media studies faculty including Madhavi Mallapragada, Craig Watkins, Sharon Strover, Suzanne Scott, Mary Beltrán, Joe Straubhaar, and Tom Schatz. Faculty Alisa Perren, Kathy Fuller Seeley, Caroline Frick, Paul Stekler, and Curran Nault served on panels.
In addition to three days of roundtable panels featuring conversations on a range of timely topics, this year's conference included a special screening of the documentary "TV Family." The documentary goes behind the scenes of the production of an early reality show about an Amarillo, Texas-based family. The public program began with selected shorts from the Texas Archive of the Moving Image, provided by TAMI Executive Director and Associate Professor Caroline Frick. Filmmaker and UT Austin alumnus Ethan Thompson (B.A. '96), along with several subjects from the film, participated i a question and answer session after the film.
For the closing event, the Flow Conference partnered with the ATX Television Festival at the Google Fiber Space in downtown Austin. This RSVP-only screening featured the pilot episode of "Queen Sugar," now airing on OWN. Created by award-winning filmmaker Ava DuVernay and produced by Oprah Winfrey, the television series is notably directed solely by women, including by former RTF lecturer Kat Candler (director of two episodes). Candler, along with JoAnne Yarrow (BS '01), who edited four episodes, were in attendance for a Q&A after the screening, in a panel moderated by Associate Professor Mary Beltrán (watch below). The Flow Conference closing reception  immediately followed. 
---
Watch: "Queen Sugar" Q&A Panel
---
People
Matthew Payne, assistant professor at University of Notre Dame, remarked that the journal and conference both would have "ceased *long* ago were it not for the collective hard work of RTF's grads." He continued, "The fact that these twin venues continue to attract punchy and pithy media criticism—now, more than a decade after its original conceptualization—is a living testament to the collective spirit of inquiry and community-building shared by generations of RTF grad students."
And this work pays off. Previous column editors and Flow Conference Coordinators have moved on to impressive careers at places like Buzzfeed and such universities as Old Dominion, Boston University, UC Irvine, Notre Dame, University of Oregon, and Texas Christian University. Still, many alumni return to UT every two years for the Flow Conference.
Says Kearney, "Everyone feels at home at Flow, and I can't wait to return and to be re-energized again."
Faculty, students, and visiting scholars were invited to attend. For the full conference schedule and more information, see http://www.flowjournal.org/flow-conference-2016/ .
*The ATX Television Festival is a four-day event that celebrates the television medium: looking back at its history, where it is now, and where it is headed. The festival consists of panels, screenings and events where attendees and leaders in the TV industry talk, watch, and experience television together as one community. Badges for Season 6 (June 8-11, 2017) are on sale now at www.atxfestival.com. Use code ATXFLOW16 for 15% off of one festival badge!