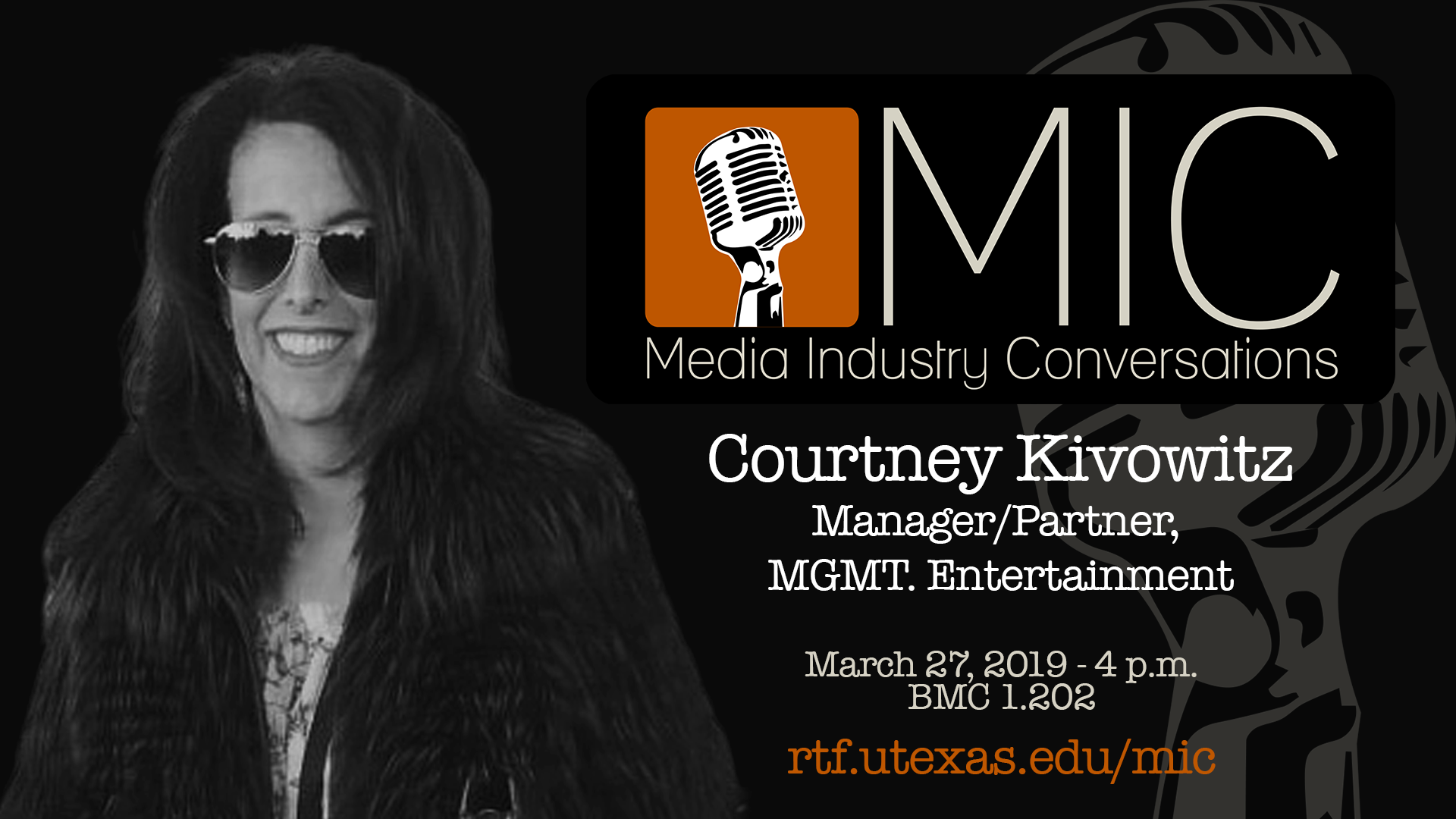 Courtney Kivowitz (Partner & Manager, MGMT. Entertainment)
When: Wednesday, March 27, 2019 - 4-5:15 p.m.
Where: BMC 1.202
Please join the Department of Radio-Television-Film for a Q&A session with Courtney Kivowitz (RTF BS '94).
 
Courtney Kivowitz's Biography 
Courtney Kivowitz is a founder & partner of the management & production company MGMT. Entertainment. After graduating from the RTF Department at UT, she moved to Los Angeles to start her career in the training program at CAA. She spent an incredible 8 1/2 years with the agency, where she was primarily focused on representing actors in the talent department, with specialty in independent film.  Courtney then transitioned her passion for artists to the management side of the business & started the talent division of BenderSpink, a management & production company that was already deeply vested in the literary world, but had never represented actors. 7 1/2 yrs later & through the experience on the film "Crazy Heart," she moved her business (along with partner Christian Donatelli) to The Schiffco, which was later rebranded & reestablished as MGMT. Entertainment. Currently she co-manages the company & also represents an extraordinary roster of actors, writers & directors including: Justin Bartha, Ellen Burstyn, Sara Colangelo, Dane DeHaan, Ben Falcone, Maggie Gyllenhaal, Colin Hanks,The Malloy Bros, Melissa McCarthy, Aubrey Plaza, Fatima Robinson, Odeya Rush, Alia Shawkat & Sissy Spacek among others. MGMT. Entertainment also produces the hit show "Atlanta," created by client Donald Glover.