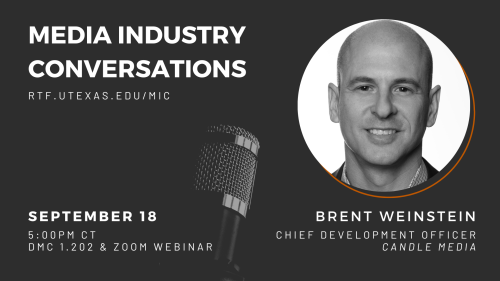 Brent Weinstein (Chief Development Officer, Candle Media)
When: Monday, September 18, 2023 - 5:00-6:15 pm CT
Note: Speaker sessions are subject to change based on evolving guest schedules.
Please join us for a Q&A session where we discuss Brent Weinstein's career trajectory, his roles and responsibilities, and his views on the current state of the media industries.
To RSVP, fill out this form & we will send out the Zoom link day-of. 
---
Speaker Biography
Brent Weinstein is Chief Development Officer at Candle Media, helping to drive the next-generation media company's corporate and business development efforts, and also leading its global Consumer Products & Experiences team. Recognized as one of the entertainment industry's leading innovators, Weinstein has long been on the forefront of creating and driving iconic, groundbreaking deals across all forms of media. Prior to Candle, Weinstein spent nearly 20 years at United Talent Agency, most recently as Partner and Chief Innovation Officer, where he was at the forefront of many of UTA's key growth initiatives, including leading the company's entry into the Digital Talent business, and developing and managing its Live Events, Podcasting, Ventures, Heartland and Web3 divisions. Weinstein also co-managed UTA's industry-leading Insights and News divisions, drove growth strategies for additional practice areas including UTA's Global Music business, played a central role integrating its numerous acquisitions, and drove key technology and other corporate initiatives.
Prior to joining UTA, Weinstein practiced corporate and business litigation. He is a graduate of the University of Southern California, where he earned a Bachelor's degree in Business Administration, and the University of San Diego School of Law. He lives in Los Angeles with his wife and two children. He serves on philanthropic Boards for CoachArt and the Friends of the Saban Community Clinic.
Fall 2023 MIC Speakers
Guests include Ben Harizman (Executive Assistant to the CEO, OBB Media), Zachary Smith (Line Producer's Assistant, 20th Television), Hemrani Vyas (Assistant Manager of Programming, TCM), and Rachel Wang (Associate Producer, Up Entertainment).
5:00–6:15 pm CT
Guests: Davia Carter (Tulsa King), Jim Ehrich (literary agent, Rothman Brecher Ehrich Livingston) & Cindy McCreery (RTF Interim Chair, Honey Girls)
5:00–6:15 pm CT
Chief Development Officer, Candle Media
5:00–6:15 pm CT
Senior Executive Vice President, Global Policy & Government Affairs, Motion Picture Association
5:00-6:15pm CT
Professor Emeritus, University of Texas at Austin
5:00–6:15 pm CT
Guests include Wofford Denius (Attorney, Eisner, LLP), Jonathan Eshak (Co-President, Mick Music), Margaret Galton (Promoter, C3 Presents), Dan Goscombe (Managing Director, Cal Financial Group), and Kevin Shivers (Partner, WME).
5:00–6:15 pm CT
Director, Comedy Series, Netflix
5:00-6:15pm CT
Vice President, Film & Television, Black Bear Pictures
5:00-6:15pm CT
Executive Producer and Creative Director, Riverside Entertainment
5:00-6:15pm CT
Senior Production Executive, Amazon Studios
5:00-6:15pm CT
PJ Shapiro & Greg Slewett (lawyers and partners, Johnson Shapiro Slewett & Kole)
5:00–6:15 pm CT
Nov 27 - TBA
Come back for more details soon!
Dec. 4 - TBA
Come back for more details soon!