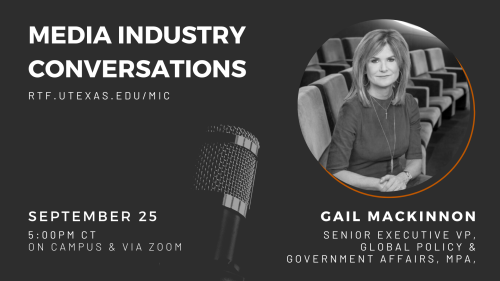 Gail MacKinnon (Senior Executive Vice President | Global Policy & Government Affairs)
When: Monday, September 25, 2023 - 5:00-6:15 pm CT
Note: Speaker sessions are subject to change based on evolving guest schedules.
Please join us for a Q&A session where we discuss Gail MacKinnon's career trajectory, her roles and responsibilities, and her views on the current state of the media industries.
To RSVP, fill out this form & we will send out the Zoom link day-of. 
---
Speaker Biography
Gail MacKinnon joined the Motion Picture Association (MPA) in November 2017 and is the current Senior Executive Vice President for Global Policy & Government Affairs. A skilled senior executive with experience in public policy advocacy, issues management, and strategy development, Gail oversees the MPA's government relations portfolio and policy agenda, as well as its international advocacy and policy, including in the APAC and EMEA regions.
Previously, Gail served as Executive Vice President, Government Relations for Time Warner Cable, where she led all aspects of federal, state, and local government relations for the telecommunications company. She positioned the company as a trusted advisor to government leaders on a range of public policy issues; including video reform, cybersecurity, tax, and privacy.
Prior to her role at Time Warner Cable, Gail was Senior Vice President of Government Relations at the National Cable & Telecommunications Association. She has held senior positions at Viacom, CBS Inc., Telecommunications Inc., and Turner Broadcasting. She began her career on Capitol Hill, serving as Legislative Director for Congressman Jack Fields (R-TX).
In 2016, Gail helped co-found WE Capital, a consortium of women in the Washington, DC business community investing in female-led startups focused on social impact work. She was named one of Washingtonian's Most Powerful Women in 2019. Gail received a bachelor's degree from Georgetown University.
Fall 2023 MIC Speakers
Guests include Ben Harizman (Executive Assistant to the CEO, OBB Media), Zachary Smith (Line Producer's Assistant, 20th Television), Hemrani Vyas (Assistant Manager of Programming, TCM), and Rachel Wang (Associate Producer, Up Entertainment).
5:00–6:15 pm CT
Guests: Davia Carter (Tulsa King), Jim Ehrich (literary agent, Rothman Brecher Ehrich Livingston) & Cindy McCreery (RTF Interim Chair, Honey Girls)
5:00–6:15 pm CT
Chief Development Officer, Candle Media
5:00–6:15 pm CT
Senior Executive Vice President, Global Policy & Government Affairs, Motion Picture Association
5:00-6:15pm CT
Professor Emeritus, University of Texas at Austin
5:00–6:15 pm CT
Guests include Wofford Denius (Attorney, Eisner, LLP), Jonathan Eshak (Co-President, Mick Music), Margaret Galton (Promoter, C3 Presents), Dan Goscombe (Managing Director, Cal Financial Group), and Kevin Shivers (Partner, WME).
5:00–6:15 pm CT
Director, Comedy Series, Netflix
5:00-6:15pm CT
Vice President, Film & Television, Black Bear Pictures
5:00-6:15pm CT
Executive Producer and Creative Director, Riverside Entertainment
5:00-6:15pm CT
Senior Production Executive, Amazon Studios
5:00-6:15pm CT
PJ Shapiro & Greg Slewett (lawyers and partners, Johnson Shapiro Slewett & Kole)
5:00–6:15 pm CT
Nov 27 - TBA
Come back for more details soon!
Dec. 4 - TBA
Come back for more details soon!