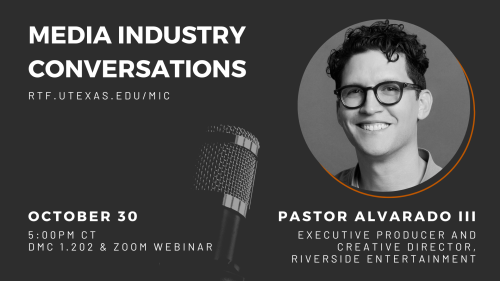 Pastor Alvarado III (Executive Producer and Creative Director, Riverside Entertainment)
When: Monday, October 30, 2023 - 5:00-6:15 pm CT
Note: Speaker sessions are subject to change based on evolving guest schedules.
Please join us for a Q&A session where we discuss Pastor Alvarado's career trajectory, his roles and responsibilities, and his views on the current state of the media industries.
To RSVP, fill out this form & we will send out the Zoom link day-of. 
---
Speaker Biography
Pastor Alvarado III is Co-Founder and Executive Producer for Riverside Entertainment, a Nashville and Los Angeles-based production company specializing in scripted, unscripted and commercial content. In 2022, Inc. Magazine included Riverside Entertainment on its annual Inc. 5000 list. as the #1 fastest growing production company in America.
Born in Panama, Pastor's family immigrated to the U.S. when he was very young, settling in a South Texas border town, but the family traveled often, allowing Pastor to observe other cultures and communities, instill a sense of adventure and great imagination in him.
After earning his Bachelor of Arts in Radio, Television and Film from the University of Texas at Austin, he moved to New York and began his career at MTV Networks, eventually moving into independent film and various art projects for the likes of Michael Heneke, Kim Gordon, Michel Gondry and more. In 2010 Pastor moved to Los Angeles to produce content for Disney/ABC, working extensively with Marvel and earning two Producer Guild Award nominations.
Pastor co-founded Riverside entertainment with his Disney/ABC colleagues Jeff Molyneaux and Brian Loschiavo. He presently oversees the Los Angeles office and in addition to his shared producing duties, he prioritizes building bridges through projects and diversifying talent across all Riverside productions. Among Riverside's 100+ credits, Pastor recently produced Disney Insider for Disney+ and took his short film, Bumblebees, to premiere at the Tribeca Film Festival. He was also nominated for "Outstanding Short Form Nonfiction or Reality Series" Emmy Awards in both 2018 ("The Americans: The Final Season") and 2019 ("Fosse Verdon: Inside Look").
Riverside recently announced their first feature film, slated for a 2023 release, Manodrome, starring Academy Award® nominee Jesse Eisenberg (The Social Network) and Academy Award® winner Adrien Brody (The Pianist).
Pastor still resides in Los Angeles with his wife Genn and their two children.
For more, please visit www.riverside-ent.com.
Fall 2023 MIC Speakers
Guests include Ben Harizman (Executive Assistant to the CEO, OBB Media), Zachary Smith (Line Producer's Assistant, 20th Television), Hemrani Vyas (Assistant Manager of Programming, TCM), and Rachel Wang (Associate Producer, Up Entertainment).
5:00–6:15 pm CT
Guests: Davia Carter (Tulsa King), Jim Ehrich (literary agent, Rothman Brecher Ehrich Livingston) & Cindy McCreery (RTF Interim Chair, Honey Girls)
5:00–6:15 pm CT
Chief Development Officer, Candle Media
5:00–6:15 pm CT
Senior Executive Vice President, Global Policy & Government Affairs, Motion Picture Association
5:00-6:15pm CT
Professor Emeritus, University of Texas at Austin
5:00–6:15 pm CT
Guests include Wofford Denius (Attorney, Eisner, LLP), Jonathan Eshak (Co-President, Mick Music), Margaret Galton (Promoter, C3 Presents), Dan Goscombe (Managing Director, Cal Financial Group), and Kevin Shivers (Partner, WME).
5:00–6:15 pm CT
Director, Comedy Series, Netflix
5:00-6:15pm CT
Vice President, Film & Television, Black Bear Pictures
5:00-6:15pm CT
Executive Producer and Creative Director, Riverside Entertainment
5:00-6:15pm CT
Senior Production Executive, Amazon Studios
5:00-6:15pm CT
PJ Shapiro & Greg Slewett (lawyers and partners, Johnson Shapiro Slewett & Kole)
5:00–6:15 pm CT
Nov 27 - TBA
Come back for more details soon!
Dec. 4 - TBA
Come back for more details soon!