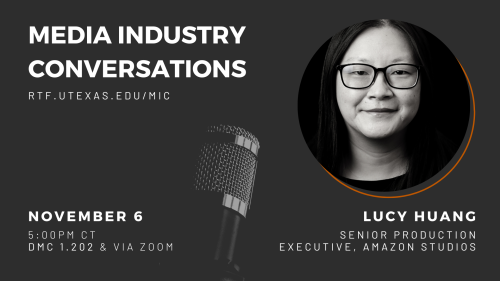 Lucy Huang (Senior Production Executive, Amazon Studios)
When: Monday, November 6, 2023 - 5:00-6:15 pm CT
Note: Speaker sessions are subject to change based on evolving guest schedules.
Please join us for a Q&A session where we discuss Lucy Huang's career trajectory, her roles and responsibilities, and her views on the current state of the media industries.
To RSVP, please fill out this form & we will send out the Zoom link day-of. 
---
Speaker Biography
Lucy is a Senior Production Executive for scripted Amazon Studios Original Series. The Production department is responsible for budgeting, scheduling and physical production of series from development, pre-production, production, and delivery. Lucy has overseen production on over 20 series including Dead Ringers, The Peripheral, Outer Range, and Fallout. Past projects include: Modern Love, Homecoming, and Transparent. Prior to Amazon Studios, Lucy freelanced in production on scripted and non-scripted content including single and multi-camera formats for television and film.
Fall 2023 MIC Speakers
Guests include Ben Harizman (Executive Assistant to the CEO, OBB Media), Zachary Smith (Line Producer's Assistant, 20th Television), Hemrani Vyas (Assistant Manager of Programming, TCM), and Rachel Wang (Associate Producer, Up Entertainment).
5:00–6:15 pm CT
Guests: Davia Carter (Tulsa King), Jim Ehrich (literary agent, Rothman Brecher Ehrich Livingston) & Cindy McCreery (RTF Interim Chair, Honey Girls)
5:00–6:15 pm CT
Chief Development Officer, Candle Media
5:00–6:15 pm CT
Senior Executive Vice President, Global Policy & Government Affairs, Motion Picture Association
5:00-6:15pm CT
Professor Emeritus, University of Texas at Austin
5:00–6:15 pm CT
Guests include Wofford Denius (Attorney, Eisner, LLP), Jonathan Eshak (Co-President, Mick Music), Margaret Galton (Promoter, C3 Presents), Dan Goscombe (Managing Director, Cal Financial Group), and Kevin Shivers (Partner, WME).
5:00–6:15 pm CT
Director, Comedy Series, Netflix
5:00-6:15pm CT
Vice President, Film & Television, Black Bear Pictures
5:00-6:15pm CT
Executive Producer and Creative Director, Riverside Entertainment
5:00-6:15pm CT
Senior Production Executive, Amazon Studios
5:00-6:15pm CT
PJ Shapiro & Greg Slewett (lawyers and partners, Johnson Shapiro Slewett & Kole)
5:00–6:15 pm CT
Nov 27 - TBA
Come back for more details soon!
Dec. 4 - TBA
Come back for more details soon!