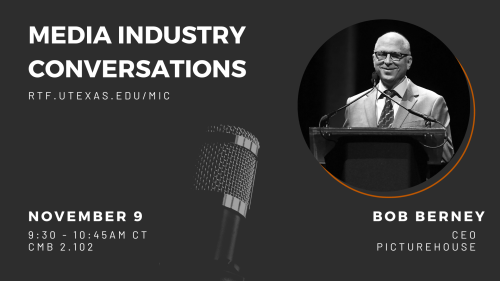 Bob Berney (CEO, Picturehouse)
When: Thursday, November 9, 2023 - 9:30-10:45 am CT
Note: Speaker sessions are subject to change based on evolving guest schedules.
Please join us for a Q&A session where we discuss Bob Berney's career trajectory, his roles and responsibilities, and his views on the current state of the media industries.
To RSVP, please fill out this form. This MIC session will take place in-person only. 
---
Speaker Biography
Bob Berney, CEO of Picturehouse, is a leading figure in the world of global content distribution. He is known for his strong relationships with filmmakers and industry executives along with having a keen eye for content and extraordinary marketing acumen. The stories he has helped shepherd to the screen since 2000 have amassed more than $1 billion in domestic box office, won multiple Academy Awards® and made an enduring impact on the cultural landscape. In addition to Picturehouse, Berney co-founded and operated four of the most successful independent film distribution and marketing companies: FilmDistrict, Apparition, Newmarket Films and IFC Films. In 2015, he became head of marketing and distribution for Amazon Studios. Berney is a member of the Academy of Motion Pictures Arts and Sciences (Executive Branch), the British Academy of Film and Television Arts (BAFTA) and the European Film Academy.