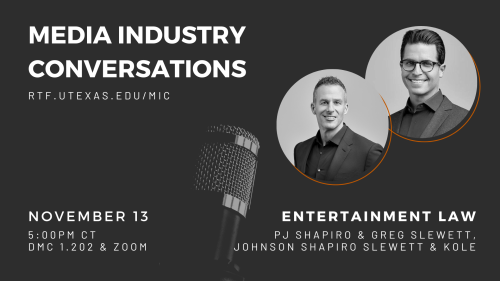 Entertainment Law Panel
When: Monday, November 13, 2023 - 5:00-6:15 pm CT
Please join us for a Q&A session where P.J. Shapiro and Greg Slewett (lawyers and partners at Johnson Shapiro Slewett & Kole) discuss their career trajectories, the scope of their work, and their views on the current state of the media industries.
To RSVP, please fill out this form & we will send out the Zoom link day-of. 
---
Speaker Biographies 
P.J. Shapiro (entertainment lawyer, partner at Johnson Shapiro Slewett & Kole)
P.J. Shapiro is a Founding Partner of Johnson Shapiro Slewett & Kole LLP. He has an extensive film and television practice, representing some of today's most successful on-camera talent as well as many acclaimed film and television producers, directors, writers and content creators. He also represents some of the most celebrated artists in the world of music through a myriad of ventures and business transactions.
P.J. has structured and negotiated groundbreaking transactions in the media and entertainment industries – resulting in both lucrative financial benefits and unprecedented creative control for his clients. He has worked with clients to identify and exploit important and novel ancillary revenue sources, generating lucrative publishing, endorsement, licensing and merchandising deals. P.J. has also helped his clients establish significant commercial ventures across the beauty, apparel, fragrance, automotive, technology and wellness industries. P.J. supports his clients' civic and philanthropic passions by assisting in the creation and execution of foundations devoted to causes including domestic violence education and prevention, mental health advocacy and cancer awareness and treatment.
P.J. serves as an advisor to a select group of leading-edge companies in the media and technology sectors including Spire Animation, Jam City and Kidaptive Media. An active investor in early-stage companies with a keen entrepreneurial eye, P.J. co-founded BeautyCounter, a non-toxic skin care and cosmetic company recently acquired by The Carlyle Group.  
In 2012, P.J. was the youngest person recognized by The Hollywood Reporter as one of the 100 Power Lawyers in the Entertainment Industry and has remained on that list every year since.  He was listed among Vanity Fair's 2010 Next Establishment List (Vanity Fair's selection of the nation's emerging leaders in business, media and the arts), as well as a member of Variety's 2012 Legal Impact Report.
P.J. received his Bachelor's degree in Social Sciences (with a Minor in Physiological Sciences) from UCLA. P.J. graduated Order of the Coif from USC Law School and received an MBA from the USC Marshall School of Business, achieving Dean's List recognition each semester during his tenure at the University.
He serves on the Board of Trustees and is Chairman of the Development Committee at The Laurence School and is a proud member of the Board of Trustees of The Heart of Los Angeles, whose important mission is to give underserved kids an equal chance to succeed through a comprehensive array of after-school academic, arts, athletics and wellness programs. He most recently served as the Managing Partner of Ziffren Brittenham.  
---
Greg Slewett (entertainment lawyer, partner at Johnson Shapiro Slewett & Kole)
Greg Slewett is a Founding Partner and is Co-Managing Partner of Johnson, Shapiro Slewett & Kole.  He represents some of the most in-demand actors, writers, directors and producers, as well as prominent media companies, from around the globe. 
In addition to his traditional talent practice, Greg focuses on brand building for his clients. He has overseen the successful creation of several companies, including media companies, talent management companies, production companies, marketing and consulting agencies, and consumer product brands. He also has negotiated several groundbreaking overall deals for top content creators and on-camera talent.
Greg graduated from The University of Texas at Austin (with a degree in Radio, Television & Film), and from Cardozo School of Law in New York City. He regularly appears on The Hollywood Reporter's Power Lawyers list. Prior to launching Johnson, Shapiro Slewett & Kole, he was a partner at the iconic law firms Bloom Hergott and Ziffren Brittenham.
Throughout his career, Greg has been active in numerous charitable, civic and entertainment industry activities, and has been a guest lecturer at several film festivals (including SXSW) and other entertainment industry events. He is married to Chiara Slewett with whom he has two sons, Luca and Sebastian. They live in Benedict Canyon in Los Angeles.
Fall 2023 MIC Speakers
Guests include Ben Harizman (Executive Assistant to the CEO, OBB Media), Zachary Smith (Line Producer's Assistant, 20th Television), Hemrani Vyas (Assistant Manager of Programming, TCM), and Rachel Wang (Associate Producer, Up Entertainment).
5:00–6:15 pm CT
Guests: Davia Carter (Tulsa King), Jim Ehrich (literary agent, Rothman Brecher Ehrich Livingston) & Cindy McCreery (RTF Interim Chair, Honey Girls)
5:00–6:15 pm CT
Chief Development Officer, Candle Media
5:00–6:15 pm CT
Senior Executive Vice President, Global Policy & Government Affairs, Motion Picture Association
5:00-6:15pm CT
Professor Emeritus, University of Texas at Austin
5:00–6:15 pm CT
Guests include Wofford Denius (Attorney, Eisner, LLP), Jonathan Eshak (Co-President, Mick Music), Margaret Galton (Promoter, C3 Presents), Dan Goscombe (Managing Director, Cal Financial Group), and Kevin Shivers (Partner, WME).
5:00–6:15 pm CT
Director, Comedy Series, Netflix
5:00-6:15pm CT
Vice President, Film & Television, Black Bear Pictures
5:00-6:15pm CT
Executive Producer and Creative Director, Riverside Entertainment
5:00-6:15pm CT
Senior Production Executive, Amazon Studios
5:00-6:15pm CT
PJ Shapiro & Greg Slewett (lawyers and partners, Johnson Shapiro Slewett & Kole)
5:00–6:15 pm CT
Nov 27 - TBA
Come back for more details soon!
Dec. 4 - TBA
Come back for more details soon!