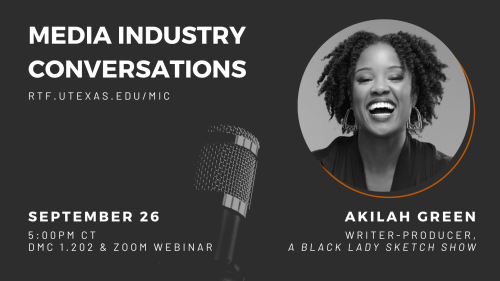 Akilah Green (Writer-Producer)
When: Monday, September 26, 2022 - 5:00-6:15 pm CT
Note: Speaker sessions are subject to change based on evolving guest schedules.
Please join us for a Q&A session where we discuss Akilah Green's career trajectory, her roles and responsibilities, and her views on the current state of the media industries.
To RSVP, please fill out this form & we will send out the Zoom link day-of. 
---
Speaker Biography
Akilah Green is a lawyer-turned-TV writer who spent several years working as a lobbyist in Washington, D.C. before switching careers. Akilah has written for Showtime's Black Monday, both seasons of HBO's A Black Lady Sketch Show, for which she was nominated for an Emmy, and both seasons of Amazon's Yearly Departed, for which she won a Gracie Award and has been nominated for two Writers Guild of America awards. She has also written for NBC's Perfect Harmony and specials like The 72nd Primetime Emmys hosted by Jimmy Kimmel, Jon Stewart: The Kennedy Center Mark Twain Prize, and NBC's A Legendary Christmas with John and Chrissy. She is currently a writer-producer on an Apple TV show that was developed by Taika Waititi.