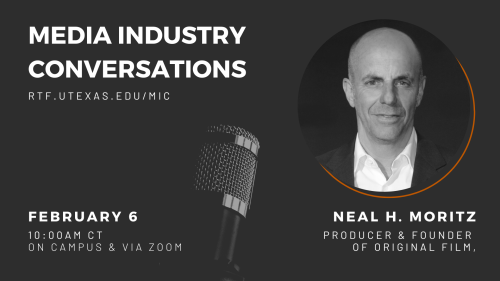 Neal H. Moritz (Producer & Founder of Original Film)
Please join us for a Q&A session where we discuss Neal H. Moritz's career trajectory, his roles and responsibilities as a prolific media producer, and his views on the current state of the media industries.
If you are interested in attending this event—either in person or via Zoom—you will need to first RSVP. Please fill out this RSVP form and we will contact you with details a couple of days before the event.
---
Speaker Biography
Neal H. Moritz is the founder of Original Film and one of the most prolific producers in Hollywood today. Moritz has produced over 60 major motion pictures, which have earned a total of over 11 billion dollars at the box office worldwide. He has produced every film in the Fast & Furious franchise, including the upcoming Fast & Furious 10. His most recent release, Sonic the Hedgehog 2, debuted to $72 million domestic, and the franchise is slated for two more features as well as a TV spinoff. Additional film credits include 21 & 22 Jump Street, Goosebumps 1 & 2, and the teen classics I Know What You Did Last Summer and Cruel Intentions. Moritz also has a successful television business with several series on the air including Emmy-nominated The Boys, which is Amazon's most watched series and S.W.A.T. which CBS has renewed for a 6th season. Past television credits include Preacher for AMC, Happy! for SyFy, and Prison Break for Fox. A Los Angeles native, Moritz completed his undergraduate studies in economics at UCLA before earning a graduate degree from the Peter Stark Producing Program at the University of Southern California.