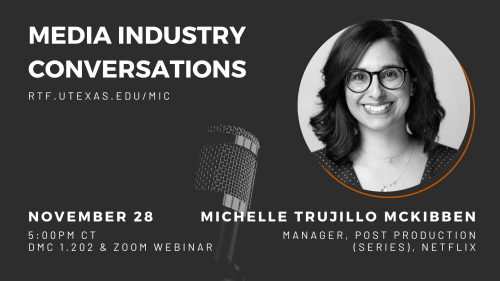 Michelle Trujillo McKibben (Manager, Post Production-Series, Netflix)
When: Monday, November 28, 2022 - 5:00-6:15 pm CT
Note: Speaker sessions are subject to change based on evolving guest schedules.
Please join us for a Q&A session where we discuss Michelle Trujillo McKibben's career trajectory, her roles and responsibilities, and her views on the current state of the media industries.
To RSVP, please fill out this form & we will send out the Zoom link day-of. 
---
Speaker Biography
Michelle Trujillo McKibben graduated from the University of Texas in 2001 with a BA in Theatre & Dance and moved to Los Angeles in 2006 to pursue a career in television. She began her career at ABC Studios after landing a position in its Associate Program, where her focus was in Post Production. She has since worked in the Post Production department on several high-profile series, including The Walking Dead, Marvel's Agents of S.H.I.E.L.D., and Scrubs. Michelle now works at Netflix overseeing Post Production on Original Series programming.