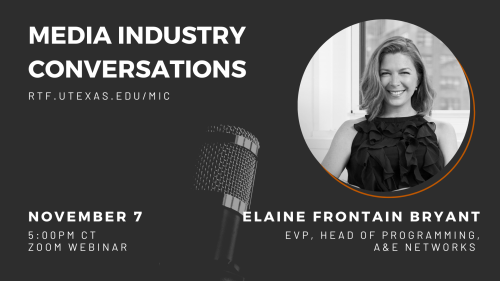 Elaine Frontain Bryant (EVP, Head of Programming at A&E)
When: Monday, November 7, 2022 - 5:00-6:15 pm CT
Note: Speaker sessions are subject to change based on evolving guest schedules.
Please join us for a Q&A session where we discuss Elaine Frontain Bryant's career trajectory, her roles and responsibilities, and her views on the current state of the media industries.
To RSVP, please fill out this form & we will send out the Zoom link day-of. 
---
Speaker Biography
Elaine Frontain Bryant is Executive Vice President and Head of Programming at A&E Network, a position she has held since March 2015. She manages the A&E programming team and is responsible for overseeing the development, creation and execution of all programming for the network. She is also charged with integrating new programming with digital initiatives and developing ways to expand the brand across multiple platforms. She reports to Rob Sharenow, President, Programming, A+E Networks.
Under Frontain Bryant, the A&E programming team has developed a bold and critically acclaimed non-fiction programming slate, garnering her numerous Emmy Awards®. Frontain Bryant launched the groundbreaking series, Leah Remini: Scientology and the Aftermath, winner of the 2017 Emmy Award for Outstanding Informational Series or Special and the 2020 Emmy Award for Outstanding Hosted Nonfiction Series or Special. She launched The Day I Picked My Parents, which won the 2020 Daytime Emmy Award for Outstanding Special Class Series, and the 2016 Emmy Award winner for Outstanding Unstructured Reality Programming and recipient of a 2016 Television Academy Honors, Born This Way. She developed the cutting-edge live documentary series Live PD, and the network's second live franchise Live Rescue. She also developed the network's hit series, Court Cam. More recently, Frontain Bryant developed the acclaimed documentary series, Secrets of Playboy, and the upcoming Origins of Hip Hop. 
Frontain Bryant is overseeing the network's multi-year partnership with WWE, comprising more than 130 hours of original content including WWE-themed series and specials. She is also leading A&E's new weekend lifestyle block, Home.Made.Nation, developing a growing slate of series in the home and food genres.
Frontain Bryant led the successful relaunch of several acclaimed A&E franchises, including the Emmy Award-winning Biography series, which has featured episodes on Garth Brooks and Bobby Brown. Other renewed series include the Emmy Award-winning Intervention, the Emmy Award-nominated Cold Case Files, and American Justice. Frontain Bryant served as Executive Producer on The Clinton Affair, a six-part documentary series from award winning producer Alex Gibney and director Blair Foster, as well as several documentary features from the A&E IndieFilms theatrical slate including City of Ghosts from Emmy Award-winner Matthew Heineman; Erik Nelson's A Gray State; the Emmy Award-nominated Divide and Conquer: The Story of Roger Ailes from award winning director/producer Alexis Bloom; and director Matt Yoka's Whirlybird.
Frontain Bryant was previously Senior Vice President of Programming and Development at HISTORY where she oversaw series including The Curse of Oak Island, Forged in Fire, Alone and Hunting Hitler, and worked on development of scripted fair including Texas Rising and Sons of Liberty. Prior to joining HISTORY, Frontain Bryant served as Senior Vice President of Non-Fiction & Alternative Programming for A&E Network, responsible for such hits as Wahlburgers, Duck Dynasty and Storage Wars.
Earlier in her career, Frontain Bryant served as Vice President, Creative Development and Production at Magna Global Entertainment, overseeing the creation and production of original television programming, including the Emmy Award-nominated film, The Wool Cap, starring William H. Macy. Before that, she directed and produced two seasons of the non-scripted series Girls vs Boys, and produced more than 15 episodes of the Peabody Award-winning A Walk in Your Shoes.  
Frontain Bryant also produced the independent film The Farmhouse. She served as director of creative affairs for Fred Berner Films and associate-produced the Emmy-nominated special About Us: The Dignity of Children.
Frontain Bryant is a graduate of Texas Christian University and lives in Connecticut with her husband and daughters.